Think Like A Man Too & the Greening of Hollywood Films
From a distance, the film industry appears be a well-oiled machine, operating seamlessly and churning out interest pieces for every type of audience. But rarely do we look closer at the process of creating and sharing the films we love. The film industry is modernizing in front of our faces, progressing without audiences noticing.
Behind the scenes, actors, directors, producers, and studios have begun to take note of excesses within the industry and have been on a campaign of self-reform. Industry members have noticed equipment-filled vans left idling, cast and crew members using hundreds of cups and water bottles a day, actors receiving single-sided scripts, pounds of uneaten food getting thrown away, and multiple planes flying cast and crew to each location. Financially and environmentally, this system needed streamlining. Reusable water bottle, hybrid cars, filming locally when feasible and food donations are a part of the new calculus that goes into film production. Instead of waiting for new legislation to answer these questions, many film studios and production companies are pushing industry standards and setting their own sustainability goals, motivating their competitors to follow suit. Industry members are finding creative ways to decrease the waste within film production.
One such reformer is producer Glenn Gainor, who has been pushing the film industry towards more sustainable and eco-friendly alternatives to industry norms. He produced Screen Gem films Think Like a Man and the more recent Think Like a Man Too. Both films set a new standard when he chose to light the sets using only LED lighting. Unlike regular incandescent bulbs, these lights produce four times the light with the same amount of energy. These bulbs also produce less heat, meaning less air conditioning for the set. Gainor also encouraged Sony Pictures to transition from paper to digital, chairing the movement by using digital devices to access scripts, call sheets, production notes, and even legal paperwork.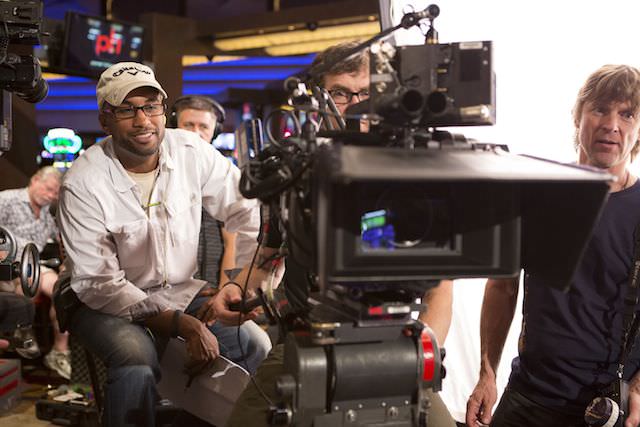 But the real shining star in all this is Sony Pictures. The company as a whole seems to be setting the industry standard, aiming for zero waste by 2050. In 2008, the company launched the "Sony Pictures A Greener World" initiative, setting goals that the company has since achieved. Sony Pictures' offices in Culver City have managed to divert 90% of their trash from going to landfills, even managing to create a closed loop compost system. This means the company collects waste, turns it into compost, and uses the compost for landscaping (as well as offering it to employees for their own gardening needs). Sony Pictures also gives employees "eco-incentives" to lead greener lifestyles, including purchasing fuel-efficient cars and installing home solar panels. According to a 2013 press release from Sony Pictures, "Over 260 vehicles have been purchased and 55 employees have installed solar on their homes, saving over 200,000 gallons of gasoline and generating 563 mega-watt hours of clean energy."
When watching a Sony Pictures film or television show, see if you can spot a repeated piece of furniture or set. This is no coincidence—Sony Pictures stores over 15,000 set pieces that are reused and loaned out to productions in the area. Sony estimates that the reuse of set pieces rather than creating sets from scratch has saved an estimated one million plus pounds of material.
Sony Pictures also tries to leave places better than when they arrived. The company has a policy to plant a tree for each production day in whichever city it's shooting in. In Los Angeles, a frequent shooting location for the locally-focused company, Sony Pictures has partnered with the nonprofit organization A Million Trees LA. According to Sony, last year 725 trees were planted on behalf of Columbia and Screen Gems productions. The company also makes sure to provide two years of support (water and care) for the trees planted to ensure survival. A mature tree can absorb about 48 pounds of carbon in a year and provide enough oxygen to support two people, making the tree-planting policy more sustainable than simply purchasing carbon offsets.
The company also considers the environmental footprint of their final products: films and DVDs. Over the last three years, some 25,000 prints were rejuvenated, negating the need for 250 million feet of new film and 145,000 used prints were recycled in North America, eliminating 3,200 tons of potential landfill waste. The company has also redesigned its DVD packaging to eliminate 22% of carbon emissions. But the most environmentally-friendly move viewers can make, a move Sony Pictures encourages, is to purchase/rent films digitally, which the company believes will reduce emissions by more than 75%.
And finally, in the spirit of leading viewers towards a more eco-friendly lifestyle, Sony Pictures works subtle green advertising into its productions. Look in the fridge when your favorite character opens the door, Sony stocks it chock full of organic products. Characters purposely carry tote bags and use the recycling bins. Television shows and films, including Community, 21 Jump Street, The Big C, Karate Kid and Happy Endings have included characters debating and partaking in sustainable practices. Using story lines, dialogue, products, and props, Sony Pictures attempts to sneakily encourage green activities.
These are not all the steps Sony Pictures takes to reach complete sustainability, they're merely a few statistics of many. Sony Pictures is helping lead the way to remind all filmmakers that quality does not need to be sacrificed to reduce environmental impact, a message studios from Walt Disney Pictures to Paramount are championing as well. Film industry standards are changing and Sony Pictures has helped speed the process. A great frog puppet once said it's not easy being green, but it sure is worthwhile.