Chatting With Greer Grammer of MTV's hit Series Awkward
Greer Grammer knows a thing or two about multitasking. The young actress, currently shooting the fourth season of MTV's breakout scripted drama Awkward, is also making her way through her junior year at the University of Southern California. This sometimes means being on set until 5 a.m., returning to her apartment for two hours of sleep and then heading off to class. The theater major's not complaining, however. Having nabbed a regular role on the critically acclaimed Awkward, as Grammer's also recently starred in Life Partners with Leighton Meester, Adam Brody and Gabourey Sidibe, which was named one of Tribeca Film Festival's top ten indie films.
Grammer has grown up in the business. Her father, Kelsey Grammer, has a long and distinguished television career, from Cheers to Frasier to the criminally short-lived Boss, not to mention his varied film work. Her half sister Spencer has had numerous television and film roles, including the four-time GLAAD Media Award nominated series Greek. Greer began her own career at the Idlywild Arts Academy, majoring in musical theater, and landed her first TV role on Nickelodeon's popular iCarly series.
We spoke to the young actress about the surprising success of Awkward, going from stage to screen (to stage again), and the advice she got from her sister and father about making the most of this very fickle business.
So for our readers who haven't seen Awkward, can you give us a synopsis?
The show is about Jenna Hamilton [played by Ashley Rickhards], and her rise in high school from being a nobody to being a somebody for the wrong reason….people think she tried to kill herself. She didn't. It's about her being thrust into spotlight and how she deals with that.
Tell us about nabbing your role of Lissa on the show.
I had an audition for the pilot, and I walked in there in boots, leggings and a plain t-shirt, and every other girl was in a sundress and looked adorable. I thought, 'I'm not going to get this.' So I did the scene twice and they told me I was very funny. I left and said, okay, that's not happening. About three weeks later I got a call from my agent that I'd booked it. I was like, 'Oh, wow.'
Did you have any inkling that the show was going to fare as well as it has?
Well, we did the pilot and I thought it was hilarious, but I didn't know what was going to come of it. So I started at USC that fall and I got the call in September that we got picked up. I was so excited. It's crazy how much the show has grown. We've been pretty critically acclaimed for a scripted show on MTV, and it was great to see how people really related to it. I wasn't sure we were going to get a first season, let alone a fourth.
Tell us about your character, Lissa. Was she supposed to be a regular?
They were not planning on Lissa being a big part of the series. For the pilot my character was a possible recurring character. She was maybe supposed to be in three or four episodes if the show went to series. Then I ended up being in seven of the first twelve episodes of the first season. It was so great to get a storyline, and to continue through second and third season. I just became a regular this past season, our fourth, and it was very nice to have that security.
So how'd you make it happen?
Awkward's creator, Lauren Iungerich, said that I was funny, and she liked the dynamic between my character and Molly [Tarlov]'s character, Sadie. The fans love, I think, our sweet and sour kind of a thing.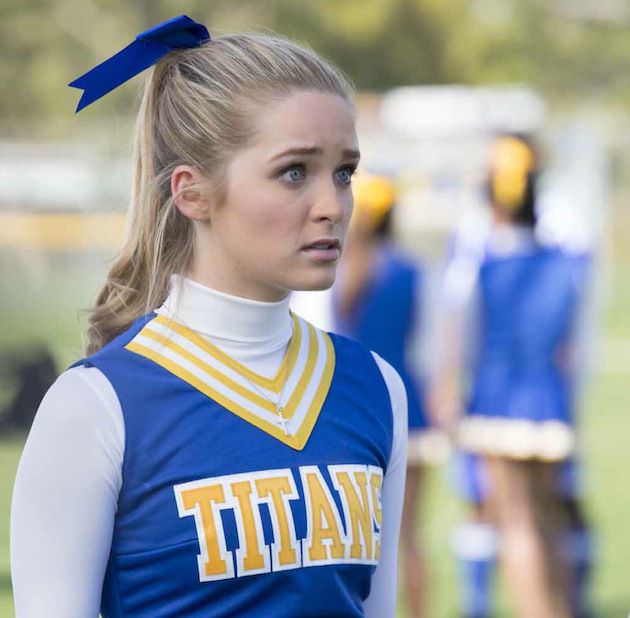 You're sweet and she's sour?
Well Lissa fits in to that mean girl group, but she's not the mean girl, she's just the best friend of the mean girl, and that's Sadie. We've seen Lissa become nicer throughout the seasons and stand on her own two feet. But to Jenna, that's who Lissa is, she's Sadies' best friend, she's the Christian girl.
How Christian is she?
Lissa is president of the Christian club, president of the abstinence club…there was an episode in the second season where we get to go to Church camp, and that was fun.
What's your take on the show?
I think everyone kind of relates to Jenna, that's what so great about her. My high school self relates to Jenna. I had a crush on the popular boy who liked me, but also didn't like me because of his friends.
It's got a Mean Girls thing happening?
Yeah, a bit. For example, Sadie would be like Regina George (Rachel McAdams supreme mean girl), and Lissa's more like Karen (Amanda Seyfried's character), she's not on the smart side, and Jenna would be like Lindsey Lohan. There's definitely a Mean Girls-esque kind of scenario to it.
How about landing a role on Susanna Fogel's Life Partners?
It focuses on these two girls, Sasha [Leighton Meester] and Page [Gillian Jacobs], and their friendship, and how they kind of deal with each other's relationships. One is a lesbian and one is straight, and then Page starts dating this boy and they get serious. The movie looks at how you fit your friends and significant others into your life.
Did you have to audition for that role?
They knew me and called me and offered me the part right away, which was awesome because that was the first time that ever happened to me. It was so great to get a call from my agent and said, 'We have a role for you, I'll send you the script and tell me what you think.' When I heard who was in it, I was like, 'I'm in, I don't need to read it!' [Laughs]. My character, Mia, is this young, fun loving hipster kind of girl who kind of dates Leighton Meester's character Sasha. It was so different from Lissa on Awkward.
Lots of actors try to do the college and career at the same time thing. How's that going?
It's very difficult. I'll get off of night shoots at five a.m., sleep for three hours, and then go take my morning class. You have to be ready work very, very hard if you're trying to do both. I have to take summer school classes to be able to finish on time. I do part time during the spring, and even taking three classes is incredibly tough, just being able to make it to class and to make it your shoot.
What kind of advice have you gotten from your family?
I would honestly say my sister Spencer gives me more acting advice than my dad because she gets what it's like to be a woman at my age in this world. My dad always gives me great advice, which is mainly to love it, and if I don't love it to not do it anymore. My favorite conversation we had about acting in Hollywood is to not let the 'Hollywood' part of it get to me. It can be so hard on women, it can really tear you down, and that was one thing he always wanted me to be aware of, he wanted me to be prepared for how tough it could be. It was cute because he kind of got all emotional about it.
Who are some of your favorite characters in film?
There's so many…I'm obsessed with Legally Blonde, I would love to play an Elle Woods kind of character. I love comedy and that stuff really resonates with me. I'd also love to play an ingénue, like Rachel McAdams in The Notebook, but I really do love Reese Witherspoon, I loved her in so many films. Like Election, I'd love to play a character like Tracy Flick.
You study theater and you act in TV and on film. Do you have a preference?
There's something magical about theater acting, where it's a different experience every night doing a show. In film or TV, you get that "what's my line?" opportunity. But I also love film and TV because you get to see all that emotion in a person's face, in their eyes…in theater you have to do these big hand gestures and body movements to convey how you're feeling. In film it's more about genuine emotion, you can't lie to the camera.
Have you had trouble switching between the two?
When I first took a film class, up to that point I'd only done theater, and people were like, "No, no, no— you're overacting! You're projecting! Stop using your hands so much.' And then I'd do film, come back to my theater classes, and they were saying, 'You're too small, too quiet! I don't know what you're doing, use your hands!'