John Lloyd Young is Frankie Valli in Clint Eastwood's Jersey Boys
For a Broadway debut, it doesn't get any better than winning the coveted quartet of stage awards. Such was the case for John Lloyd Young, who took home the 2006 Tony, Drama Desk, Outer Critics Circle and Theatre World Awards for lead actor in a musical following his stellar, if not life-altering, turn as Four Seasons frontman Frankie Valli in Jersey Boys. Young left the show in 2007, but reprised his role for short engagements both on the Great White Way and most recently London's West End. On June 20 he'll portray Valli on the silver screen in Warner Bros.' feature-film adaptation of the musical, directed by Clint Eastwood.
Oddly enough, Young didn't land the part in Jersey Boys' pre-Broadway run. He did, however, hone his performance chops in numerous regional and off-Broadway productions after graduating with a theatre arts degree from Brown University. Since Jersey Boys, he's played Marius in Les Miserables at the Hollywood Bowl, sung at Carnegie Hall and many other notable venues, appeared on TV and in movies, and become an accomplished post-pop contemporary artist. Young's lifelong love of and commitment to the arts was recognized this past November, when Barack Obama appointed him to the President's Committee on the Arts and Humanities.
The Credits caught up with Young to talk about his Jersey Boys experience, working with Dirty Harry, and what it was like to take his performance from stage to screen.
The Credits: Is it true you were inspired as a child to become an actor after watching Tootsie and Amadeus?
Yes, and I can tell you one thing: To have the character of Mozart and Dustin Hoffman as Tootsie as the archetypes at the beginning of your life hasn't always been the best thing [laughs], but it's made for an interesting life. I think what really took me with them was their deep irreverence and high degree of creativity. I was riveted by both of those characters and wanted to be that kind of creative person going forward. I have a sort of internal kind of rebelliousness that unfortunately those movies inspired, but serve my artwork and my work as an actor and singer very well.
You were busy off-Broadway for 10 years before debuting on Broadway. Did you ever set a deadline for yourself about making that dream come true?
I discovered Joseph Campbell and his philosophies of following your bliss, and even though a life in the arts is inherently unstable, I always kind of understood that idea of following your bliss and knew that we have one chance on this planet to live the life we dream of living. And so even through deep dark adversity, you know starting out as a struggling actor in New York—it is not an easy place to be struggling at anything—there was always a ray of hope and I just tried with every step forward to consolidate those small successes and nudge the happenings of my life into the story I want my life to ultimately tell.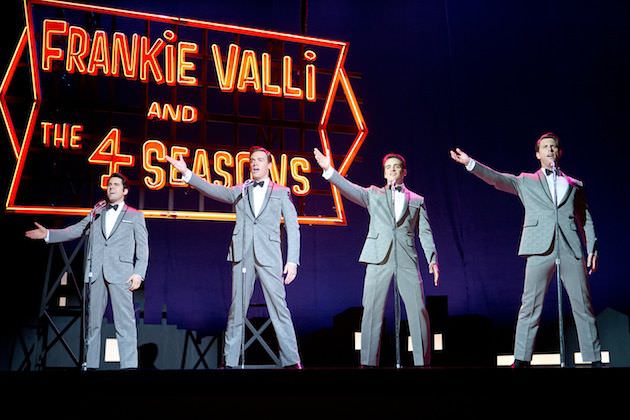 What a great run you had with Jersey Boys on Broadway. Was the acclaim overwhelming?
I would describe it as being on a high speed train going across the country seeing sights that you always wanted to see, but never getting the chance to get off the train to visit them [laughs]. Yeah, it was so rapid. Take for example, the Tony Awards; I had no time for that to even sink in, because that same night, an hour after the ceremony, we got on an overnight tour bus to go to the White House to perform at a luncheon the next day. And then we were back on a bus right after that to have a performance that night on Broadway again. The things that were happening were racked up so quickly there was no time to really savor or even understand them. It actually took several years to kind of understand the impact of the things that happened.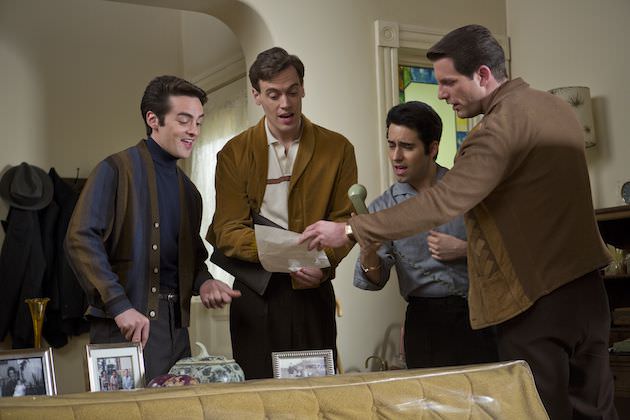 Tell me about working with Clint Eastwood on the Jersey Boys film adaptation.
I was a little apprehensive working with Clint Eastwood, because I heard that he didn't do many takes. I was talking to my manager about, you know, I wonder if Clint Eastwood is going to be patient with somebody who doesn't have much film experience. And then I kind of answered my own question and said that if I had done hundreds of film and television roles and directed hundreds of things, having had an illustrious life in film and television and Hollywood, I would consider it a pleasure to share my insight with this guy I decided to cast in my movie. Once I realized that that was the logical thing to expect, once I got there, that was exactly what I experienced. He was very generous, very calm, trusted me implicitly, which then made me feel confident, so some of my nerves were unfounded and my instincts that had helped carry me through the role, probably about 1,300 times on stage, served me very well on set.
Were any scenes filmed in New Jersey?
We finished the shoot in New Jersey on location, and one of the locations was very important because it was the actual housing project where Frankie Valli grew up.
Where's that?
It's in Belleville in Newark, at the Stephen Crane Village Housing Project, and Frankie was on set that day and he and I, during breaks, just sat on his childhood stoop and he regaled me with stories of his neighborhood. His girlfriend lived across the street and he used to have a block party in the summer and turn on the hydrants. I'd never seen him in the eight years that I've know him, since opening on Broadway, so proud. He was just so proud to behold how far he has come in his life.
Is there anything notably different about the movie version of Jersey Boys?
I think what is the most important difference between the movie and the show is that the movie goes much deeper into the character. For example, in the show Frankie's daughter is only touched upon, but in the movie we see her at three stages of her life, so we really get to understand his relationship to his daughter. We see her at 4, at 11, and at 17. Three different actresses play her as she's aging. You get to go a lot deeper with the character.
I find that one of the great joys in acting is enveloping yourself in the character. On stage there are so many artificial elements, the lights, the audience right there in front of you, certain scenery things, the quick changes that you have to do, that sort of take you out of the illusion in your mind. You have to really block certain things out that let you know, as the actor, that you're not actually really in these circumstances. You have to push your imagination into high gear. But what it's like on a film set is everything around you is so real, it's like stepping into the life of the other person as closely as you can. For me, film acting is the closest you could get to actually believing the fantasy.
Have you seen the finished film?
You can't underestimate the power of Mr. Eastwood. He did a fantastic job. [I've seen] only pieces, but he really had a grasp of this material and a strong vision for this story. I'm really excited to see his movie.
Your appointment to the President's Committee on the Arts and Humanities must be so rewarding, given how deeply important you feel the arts are for everyone.
Here's why I believe the arts are important in education: This country needs, for its future health and for its current and future vitality, expressive leadership. We're using arts in education so that people can become leaders and communicators and they know how to express abstract ideas outside of themselves. To be involved with that, trying to articulate that, trying to promote that in the national culture, is deeply gratifying because it's something I care so much about.
Featured image: John Lloyd Young as Frankie Valli. Courtesy Warner Bros. Pictures.