Missing 87-Year old John Ford Film Upstream Found, Screened With Live Score
This past Monday, composer Michael Mortilla and Nicole Garcia brought a slew of instruments (a piano, violin, kazoo, handbell, even a bag filled with aluminum cans) and performed a live score accompanying a screening of the 1927 John Ford film Upstream. "My basic role is to provide a soundtrack for a film that never had a soundtrack," Mortilla says. He and Garcia performed their Upstream score in front of a live audience in the screening room at the Motion Picture of Association's headquarters on Eye Street in Washington D.C. The performance was special—watching (and hearing) current artists communicate, so to speak, with artists from another era is a breathtaking experience, but also, it's something of a miracle they were able to score Ford's 87-year old film in the first place.
(Listen to an excerpt of their score here.)
Upstream was rediscovered with 75 other silent films and fragments in the New Zealand Film Archive in 2009. Between 1898 and 1929, hundreds of films were shipped from country to country, with New Zealand often being the final destination. Because shipping was expensive, and the early film stock was highly flammable, most of these early films were never intended to be sent back to the United States. They could be stored, sold, or, as often was the case, destroyed.
As the New York Times noted, many of the films that were recovered in New Zealand exposed the crucial contribution women made to early cinema, including Mary of the Movies (which Sony has paid to have restored), as well as films by major directors, such as Ford's Upstream and Alfred Hitchcock's The White Shadow, which had been mislabeled Two Sisters and languished, unseen and largely forgotten, for years. To get the films back to the U.S. required a joint effort to battle the effects of advanced nitrate decay. For Upstream, Twentieth Century Fox, the Academy of Motion Pictures Arts and Sciences (AMPAS), the New Zealand Film Archive and the National Film Preservation Foundation collaborated to restore it.
Projectionists originally saved many of these films, Mortilla says. "The thing that I find really interesting is the underlying story about why they didn't destroy those films—it wasn't that they were thinking preservation. Basically it was the projectionists, once done with the films, felt a personal love for them, so they held onto them in their attics, then their families would find the reels, be unsure what to do with them, and donate them to archive."
Upstream was found in nearly complete form, the reel measuring almost it's original length. As the National Film Preservation Foundation wrote, although the film is "minor Ford," and without recognizable stars, it represents "the most exciting sort of find—something that could not have been anticipated before its discovery." The legendary director of major works such as The Searchers, They Were Expendable, and The Grapes of Wrath directed this lively ensemble story about struggling vaudeville performers in a New York boarding house. A love story is at the heart of the narrative, between an aspiring actor and a girl from a knife-throwing act.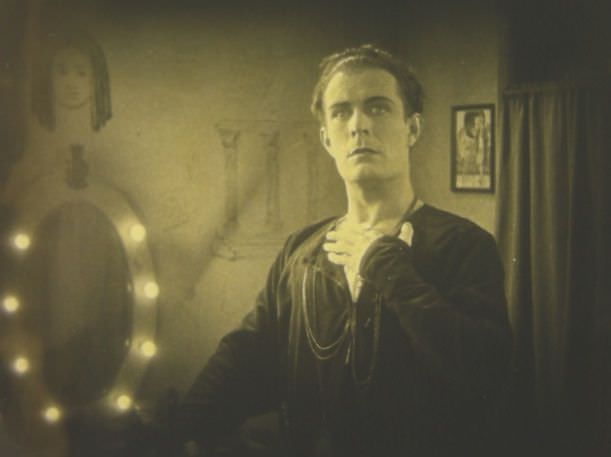 "My take on the film is that it's really is a story about what it's like to be in show business in the twenties," Mortilla says. "The strongest thing about this piece for me is that it's a true ensemble, each individual has their own little bit that they do, and every single one of them is the star of the film."
This wasn't Mortilla's first time providing a live score to a silent film. He's been working with AMPAS since 2000, playing music over silent films, at special events, and even at Oscar Nominee luncheons. "When this film became known again, and was restored, the man in charge of special programs at the time, Randy Haberkamp [newly promoted to managing director of programming, education and preservation at AMPAS], had contacted me to see if I could put together some kind of a special score," he says. "I'll frequently just improvise of the piano, but for this particular program he asked me to put together an ensemble piece, piano, violin, and woodwinds."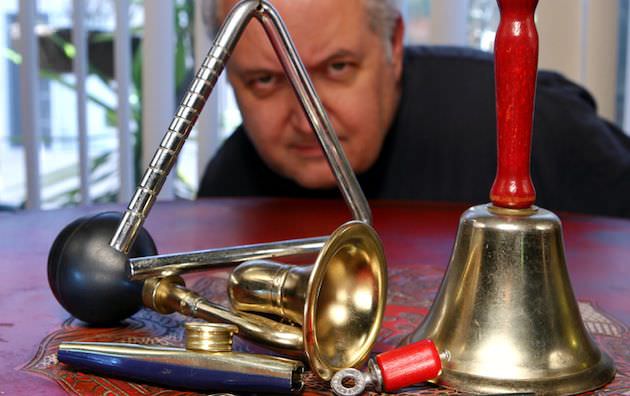 So how does Mortilla create a score for a nearly 90-year old silent film? He begins by watching it two or three times in a row, breaking the story down in his head. "I'll try to imagine what kind of a score would work, what instruments could represent the various characters and situations, trying to capture what the emotional content of the film is." Then he sits at his piano and improvises for a bit, working his way through potential themes for various characters. "Sometimes they come into existence and it's almost magical to me," he says. "When I composed for Hitchcock's The White Shadow, it felt like the score wrote itself." Mortilla says that these fugue-like spells in which the music seems to arrive at his fingertips unbidden can typically be attributed to the incredible work of the filmmakers. "The great writing of the screenwriter, the work of the director and the performers, especially in silent films, if they're not convincing then I don't hear music, but if they are they practically write the music for me."
Once he comes up with a rough score, he'll refine it, scene-by-scene. "I'll locate those emotional highpoints and try to emphasize where the key plot points are," Mortilla says. "A big part of the storytelling aspect is the score, and it can take the audience in a lot of different directions, so I have to be careful that I don't send mixed signals." Mortilla creates a sonic narrative in much the same way foley artists do, using various instruments (in this sense, 'instrument' can be anything that makes noise, which, in a way, can be anything) to highlight or shade a particular moment.
"In scoring any silent film, the temptation to produce actual sounds, or replications thereof, is always there," he says. "I think one has to be at the very least judicial in their use." Mortilla was able to create his own version of a chandelier about to fall on top of two dancing vaudevillians by shaking the aforementioned garbage bag full of cans. For a flirtatious scene between a beautiful woman and a much older man (he thinks he's playing footsie with her, he's actually playing footsie with another old man), Mortilla chose a triangle. Another flirtatious scene involving two women and an older actor required a kazoo. Mortilla rings a handbell at the precise moment a dinner bell is rung on screen. When a newly famous actor is being pampered by his hairstylist, Mortilla sounded a bird call.
"For me it's a matter of striking a balance between supporting the film in a positive way (not using sounds that are at all demeaning to any character) and finding a unique and isolated sound to grab the viewers attention," he says. "And on a side note, [these instruments] are so much fun to bring through screening at the airport…never fails to get a laugh from the TSA agents."
Featured image: Emile Chautard, Earle Fox, and Nancy Nash in a scene from Upstream. Courtesy National Film Preservation Society.