Elaine Stritch: Shoot Me Director Chiemi Karasawa's Rising Star
Although she's being heralded as a breakout director for the acclaimed documentary Elaine Stritch: Shoot Me, Chiemi Karasawa is no overnight sensation. The California native moved to New York the day after she graduated from Boston University's film program and began working for a film producer. She apprenticed as a script supervisor, then worked for many years in that position on numerous films including High Fidelity, The Taking of Pelham 1 2 3, and Martin Scorsese's documentaries Shine a Light about the Rolling Stones and Public Speaking about the photographer Fran Lebowitz. Karasawa then founded her own company, Isotope Films, and started producing documentaries.
Karasawa planned to produce the intimate look at Broadway legend Stritch, who was 86 at the time (she's now 89) but it was Stritch herself who insisted that Karasawa direct it, too. And you just don't say no to a star like Elaine Stritch.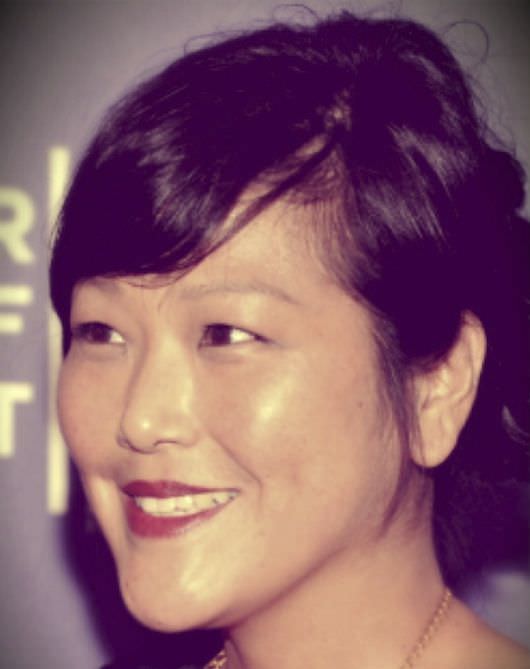 You have such an extensive resume as a producer, why did you decide to direct Shoot Me?
Having been a script supervisor in feature films and television for over 15 years, I felt very prepared to direct. You're sitting alongside directors 24/7 during the production process and I've had the honor and pleasure of working alongside Martin Scorsese, Stephen Frears, Spike Jonze and many others. Once I started producing documentaries, I worked alongside many first time directors. When you're a producer of documentaries, you're much more involved, so it prepares you to direct, if you're interested in that. Elaine demanded I direct the film. Initially I thought I'd bring on a seasoned director and that would help secure the funding. But Elaine just looked at me like, 'What are you doing, then'? I explained it to her and she said, 'I don't want someone else. I want you!' It had taken several months to gain her trust and establish the relationship so it worked out. I'm grateful to her for it. She willed it into being.
It sounds like you were ready to take charge as the director of this film after so many years supporting other directors.
One newspaper called me a 'first-time filmmaker,' and a former teacher actually called me and said, 'Who in the world would look at your IMDB and call you a first-time filmmaker?' I didn't jump out of a cake and make the movie. People have no idea what a daunting and meticulous craft it is to be a producer or script supervisor for narrative films and television and how long it goes on. You can be producing a movie for years and a director might come on and work a handful of days and you're left administrating it all and making sure the editing gets done, bringing in a composer, graphics people, etcetera. I wanted to be a director like everyone else, but when I started a business, it was easier to put projects together and raise the money [for others]. I could draw on my contacts to put a team together. Knowing how to multi-task and bring people together, women do that very well. But it's harder to be given the opportunity to step into the director's shoes. Had I given it to myself, I would have directed earlier. Now, at 45, I feel like I've earned it and have enough behind me to sustain it.
You began following Elaine around New York but you had no idea where this was going to go. The film is an entertaining look at a hard-working performer but it's also a profound meditation on aging and mortality.
I met Elaine at a [New York] hair salon. We shared the same stylish, Piet Sinthuchai, who was a great link between the two of us. Piet is an associate producer on the film, and did all the hair. The salon owner, Houri Geudelekian, is also a producer, and both of them nurtured this project from start to finish. I had no idea what I was in for. I learned about Elaine through an organic process that was instrumental to the storytelling. We'd walk with her to her hair appointments, doctor appointments; she went everywhere in Manhattan by foot at age 86, 87. We knew she was going to take [her cabaret show at the Carlyle] on tour, so that was what we initially saw as the spine of the film. Once she began performing, I realized there was a lot more going on.
She must have really trusted you to allow such access. She's really vulnerable at many points in the film.
It took me about four months of running into her at the hair salon to convince her that doing the film would be worth her while. She can have thorns and put up her guard but it's really to protect herself. She's really vulnerable, and as an artist and a talent, she's insecure about so many things. Once she has faith and trust in you, the door is wide open. It was like any other friendship; we were getting to know each other and she wanted to know every cameraman I brought around by name, what they did, what they were interested in doing. After the first couple of weeks, once she realized I had her best interests and we were all friends, then the doors opened up and we became useful to her. We helped make appointments, carried her bags from the store, we cared about her. That nurtured the entire process and we're still friends. She's a remarkably open and generous person to those she trusts and thank goodness she had that trust in me.
Do you have another project lined up?
I'm working on a documentary that Sydney Pollack shot in 1971 of Aretha Franklin's live recording of her album "Amazing Grace" in a church with a gospel choir. It's incredible. Pollack shot it over four nights. He's running through the church with bell-bottoms on and long sideburns. [Franklin] is another difficult diva and we've been trying to restore, sync, and edit it into a concert film, and we'd like to release it, but there's been a lot of back and forth with Aretha. She's protective of her performances. I hope she'll allow it to come out.
What about directing?
Hopefully, [Elaine Stritch: Shoot Me] will afford me some other opportunities. As challenging as directing is, it's not nearly as difficult as producing. Not to say I mind it. I love storytelling from any angle.