CinemaCon 2014: A Brief History of Moviegoing
There's no substitute for watching movies in a theater. These days it's easy to watch the same film at home, but without the surround sound, the larger-than-life screen, the crowd around you making every emotion more intense and the tingle of excitement as the lights darken as you and all the strangers around you set off together on a journey into another world- it's not really the same film at all.
This week CinemaCon is taking place in Las Vegas. It's the largest annual gathering of cinema owners in the country, four days of talks, exhibitions, and advance screenings all celebrating the special magic of movie theaters. In that spirit, we've assembled a brief timeline of some of the most important, influential, or just plain cool events in the history of movie-going.
1896: Lumière brothers' film amazes, terrifies onlookers
The title (L'arrivée d'un train en gare de La Ciotat) takes almost as long to say as the 'movie' takes to watch. The 50-second film by cinematography pioneers Auguste and Louis Lumière is a single shot of a train pulling into a station, and passengers getting on and off. As the legend goes, audience members were so freaked out by the locomotive coming at them that they screamed and ran from the screen. Probably just apocryphal, but we believe in the magic of cinema and therefore choose not to dig too deep on this one.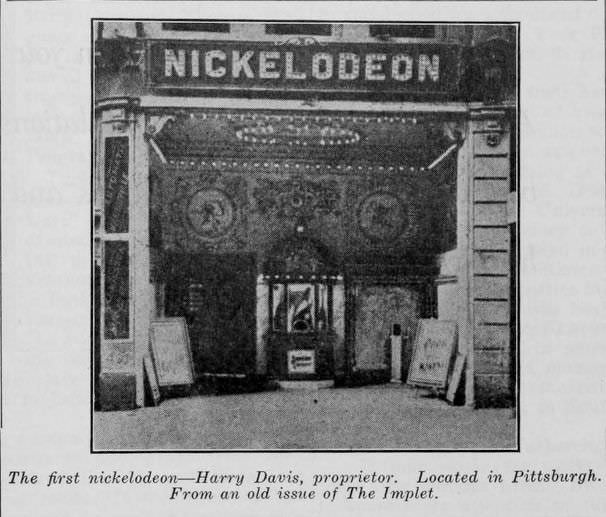 1905: The first modern movie theater opens in Pittsburgh
It was called the Nickelodeon and on its first day, 450 people lined up to pay a nickel to see a 15-minute show. Owned by Harry Davis and John P. Harris, it was the first theater in the world devoted solely to "motion picture spectacles" and screening films continuously throughout the day. Their business was an instant hit. The Nickelodeon itself was demolished after only five years, but by then similar theaters had sprung up all over the country. Fun fact: around that time, moral guardians started campaigning for movies to be shown with the lights on, for fear that the co-ed crowds were getting too frisky.
1970: El Topo ignites midnight film movement
Written, directed by, and starring Alejandro Jodorowsky, El Topo is an allegorical Mexican western that features surreal religious imagery, a troupe of deformed outcasts, Cormac McCarthy-level violence, and graves that inexplicably become swarming beehives. This may not sound like the makings of a beloved classic, but it ran for nine months straight at the Elgin in Manhattan, kicking off a trend of midnight screenings. Films on this circuit tended to be strange, transgressive, and dealing with themes outside of what mainstream cinema at the time was comfortable with.
And yes, John Lennon loved it so much that he managed to secure $1 million for Jodorowsky's next film.
1975: The Rocky Horror Picture Show is released
One such midnight movie was The Rocky Horror Picture Show, the classic "see it in theaters" film. Watch it alone and it's non sequitur-filled send-up of a long obsolete genre of B movies, but go to a screening and you're in the midst of a toast-throwing, costume-flaunting, callback-shouting sing-along extravaganza.
Released in September 1975, Rocky Horror was re-released in New York City in April, 1976, and a cult following soon grew up around it. Audience participation is half of the show, as devoted fans dress up, dance the Time Warp, throw props at certain points, and shout responses to dialogue. (By now, these callbacks are basically standardized enough to be a second script.) Some theaters will even have a "shadow cast" act out the story on a stage in front of the screen. The Oriental Theater in Milwaukee currently holds the world record for the longest continual showing of a movie: Rocky Horror has hit the big screen there every Saturday since 1978.
2010: The Sound of Music returns as a sing-along
For two glorious nights, in honor of the film's 45th anniversary, The Sound of Music: Sing-along Event graced several theaters across the country. Perhaps it was inspired by the Mamma Mia! sing-alongs in 2008, or (who knows!) by the lasting success of The Rocky Horror Picture Show. In any case, it was clearly an idea whose time has come.
Unfortunately, it was limited to October 19th and 26th of that year. But the Hollywood Bowl continues to stage Sound of Music events, complete with a warm-up session, costumes, and a pre-show parade. The next one is scheduled for September 20th.
2011: Harry Potter and the Deathly Hallows, Pt. 2 sets international box office records
The end of an era came at midnight on July 7th, 2011, and promptly set world records for midnight release and opening weekend ticket sales, among others. Harry Potter defined the adolescence of a whole generation of young people; frankly, it would have been more surprising if the final film hadn't smashed records.
2014: Rocky screened inside Philadelphia Museum of Art
Wawa Welcome America, a festival held in Philadelphia over the weeks leading up to July 4th, has made it an annual tradition to screen Rocky on the steps of the Philadelphia Museum of Art, in honor of Sylvester Stallone's famous climb.
This month, for the first time, Rocky went into the museum. The Museum held a special screening on March 10th, hoping to bridge the gap between popular and highbrow art, and to draw through the doors some of the tourists who flock to the steps every day. A museum guide gave a Rocky-themed tour beforehand, including a stop at Thomas Eakin's boxing painting Between Rounds. It's a fitting tribute for a film that turned the whole city of Philadelphia into a gorgeous and gritty work of art.