The Monuments Men Production Designer Jim Bissell Re-Creates a Ruined Europe
In The Monuments Men, art experts weave through battlefields and behind enemy lines in order to find art looted by the Nazis. Before he was a dictator, Adolf Hitler was an art student, and he planned to take the best art from the countries he conquered and assemble it in a museum that would rival the Louvre in Paris. It was the act of a lunatic, and The Monuments Men had to capture that scope.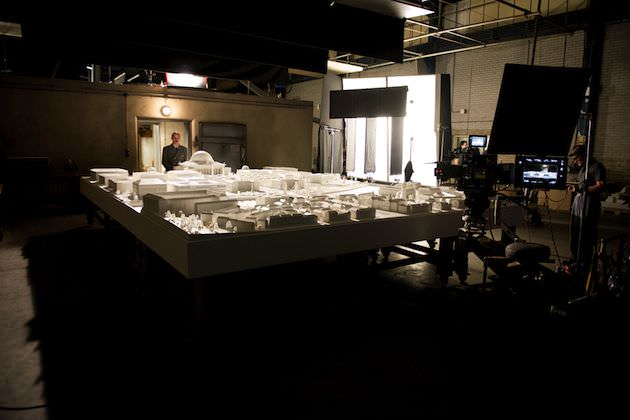 "It's mind-boggling what Hitler was able to pull off," says production designer Jim Bissell, who became something of a European history buff over the course of the production. To evoke the World War II-ravaged Europe that serves as the film's backdrop, the movie used 138 sets and locations, which he nonchalantly admits "was a huge logistical challenge." George Clooney stars in and directs the Columbia feature, which assembles big-name actors like Matt Damon, John Goodman, Bill Murray, Cate Blanchett, Hugh Bonneville (Downton Abbey) and Jean Dujardin (The Artist).
During the final months of World War II, when the movie takes place, many historic buildings were reduced to rubble. The problem was that many of the pockmarked churches and villages had since been demolished or restored, making it difficult to find locations. "It was a quest to be able to find places where we could do recreations, to find churches that looked similar to the historic churches we were trying to depict," Bissell remembers. Museums provided one good stand-in. Training scenes were shot in the U.K. at the Duxford Airfield, which is part of the Imperial War Museum. For underground scenes, the production shot at the Rammelsberg Mining Museum, which stood in for the mines in Bavaria where stolen art was cached.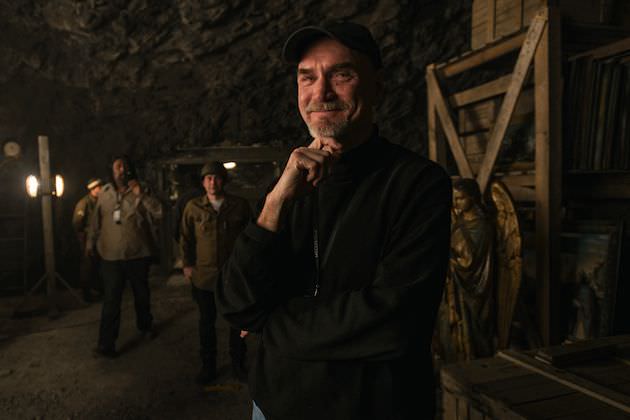 "The other thing that was hard was not just finding locations, but finding locations that would work with other locations," Bissell says. "Very often we shot two to three a day, and we couldn't have the company traipsing all over the countryside. We had to pair and triple up different locations to keep the main company's movement to a minimum." So near the mining museum, they shot in Goslar, a medieval town. A ruined fertilizer plant near Rüdersdorf offered a locations bonanza. We "used it as a backlot for a lot of our ruined towns," says Bissell, giving them a solid week of shooting in one place, and "a lot of production value out of existing relics," which translated to great "bang for our buck."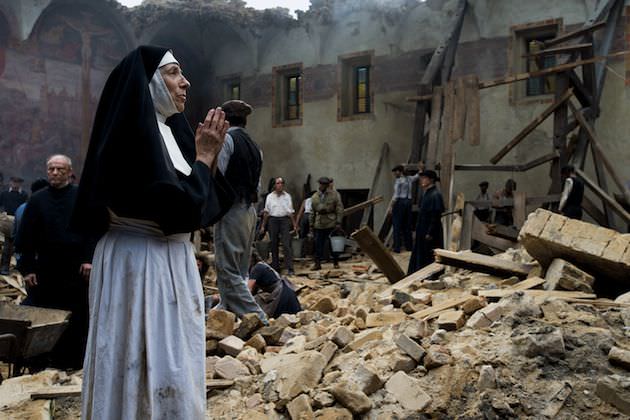 As production designer, Bissell will "open the company, and I'll be there until they get their first shot, which is usually the master," the wide shot that covers the action from start to finish. Prior to the first shot, "The five of us will walk the set: George, our director of photography, the first assistant director, [writer/producer] Grant [Heslov], and me. George would look at it and make sure he had everything he needed. Then I'd wait around and make sure nothing came up during cast rehearsal or the first shot, and then go."
Bissell, who got his start doing the production design for E.T. over three decades ago, has worked with Clooney twice before. "I always get along and do my best work when I'm working with someone who draws. He's got a great sense of humor, a really good eye, and he draws," notes Bissell. "We have a very similar approach to what's visually important. He's excellent at being decisive, he has excellent taste, and he has an encyclopedic knowledge of films, which most people don't realize, but he really knows and studies them."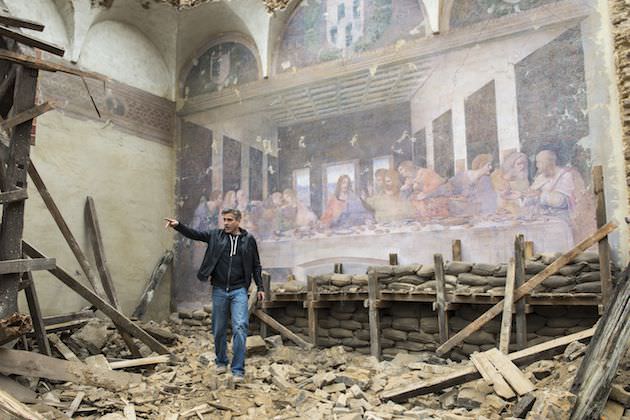 One of the movie's most stunning shots, seen in the trailer, shows the characters walking through a giant underground cavern filled with stolen art, a scene Bissell points out is similar to the closing shots of Citizen Kane and Raiders of the Lost Ark. That set, built at Berlin's Studio Babelsberg, wasn't created through digital enhancement, in part because the actors actually needed to walk through the space. "It was designing a reveal that took advantage of all the stuff we accumulated. The crating techniques pretty much match what the Nazis did in the actual caves," he explains. In actuality, the art was discovered in a series of smaller rooms, but to make it more cinematic, "we wanted to fudge it a little bit, to make sure the audience understood the scale of the theft in one giant, holy shit image," he says.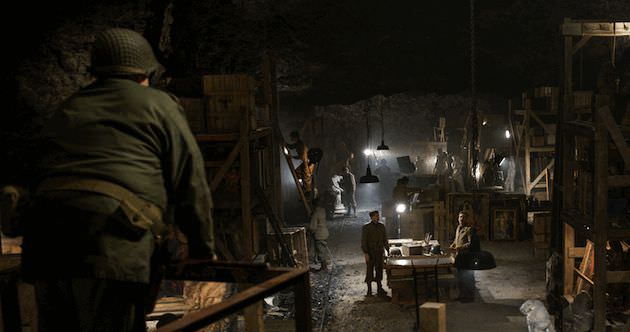 Being a production designer means putting your mark on even small things. In an opening scene where Clooney and Damon's characters meet at a bar, "I asked George for a little leeway," Bissell recalls. "Instead of putting them in a dank bar, we got permission from the Thomas Hart Benton estate to use one of his murals," which were popular in the '30s and '40s, giving the bar a lush, artistic feel. "I think the bar looks great. It shows American art, and American art with a European influence," says Bissell. The set is one of Bissell's favorites in the film, perhaps because it separates an adequate production designer from an accomplished one. Through a detail as simple as a mural, the characters become part of a world saturated with art, foreshadowing The Monuments Men's preservation fight to come.