Sonic Manipulation: Deborah Stratman on her Foley Artist Doc Hacked Circuit
Hearing is believing—this is one of the points Debroah Stratman makes with her fantastic short film about foley artists, Hacked Circuit. While we often associate our eyes as the prime mover in our emotions when we watch a film, it's our ears, Stratman argues, that moves us to really feel.
Stratman has made some very intriguing documentaries in her career. Hacked Circuit is her 28th film, her third at Sundance Film Festival. The film is a beauty, a circular, single-shot study of the Foley process that shows sound artists doing what they do best—creating and synthesizing complex layers of sonic fabrication and imposition. Stratman film moves us inside and back out of a Foley stage in Burbank, CA, showing the usually invisible sound artists at work, exposing their incredible mechanisms of filmmaking.
Stratman comes from a documentary tradition, but her work ranges from experimental to the more conventional, occasionally getting classified as a narrative film but which she prefers to call an 'essay film.' "It really depends on the subject matter," she says, and being a visual artist to boot means this is a filmmaker, and artist, who isn't terribly keen on rigid classifications.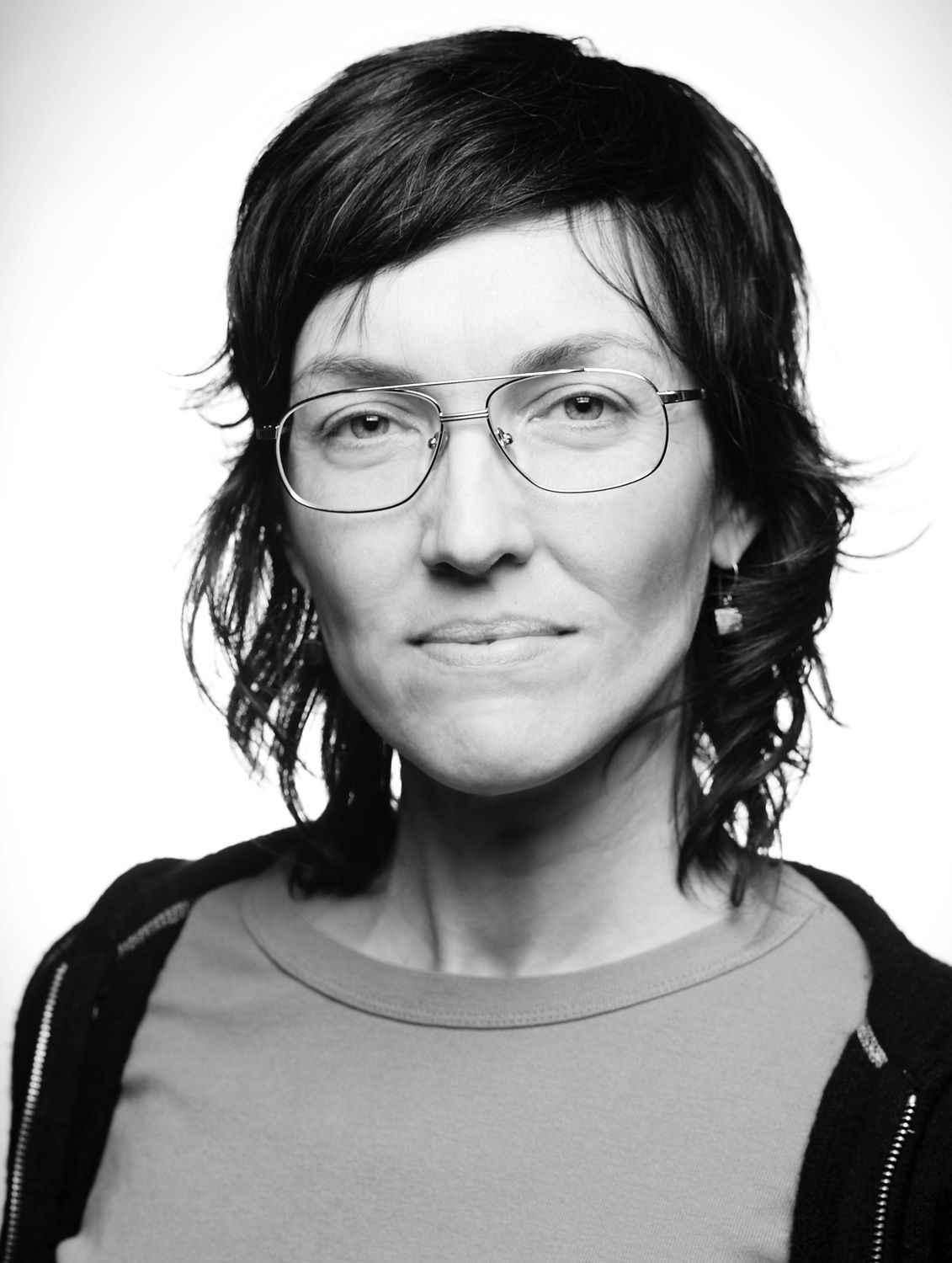 It has actually been her work as a visual artist that got her interested in making a documentary about one of the most important, and oft-overlooked, crew members on a film—the foley artist. "I was coming at foley art, and the whole idea of reinventing a sonic landscape, through cinema but also through sculpture," Stratman says. "I've done a number of sonic landscapes, which are big sculptural interventions." This can mean different things depending on the piece. One of the pieces, which was a collaboration with Steven Badgett, was a "floating, spinning Pentagon" in the Washington Channel right across from the Pentagon.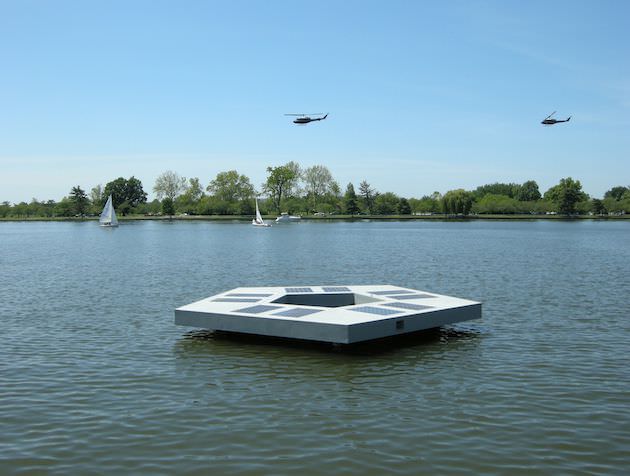 "In the 1960s when Abby Hoffman and his coterie were protesting the war, he claimed a plan to want to levitate the Pentagon to excise its evil spirits," Stratman explains, "so we created a platform in the shape of the Pentagon with solar panels, and it slowly spun, but because it was resting on barrels that you didn't see, it looked like it was levitating about a foot and a half above the water." Stratman embedded speakers in the side of the installation that played public speeches by non-governmental people who had come to D.C. over the last century, be it for Civil Rights, women's rights, anything that was the public speaking, creating what Stratman described as a "people's Pentagon," offering a unique way to use sound to create what became a public speech forum. "It was a way to listen to these oratories that are a part of our history."
Stratman also created a massive sonic soundscape that looked like a mountain topography, only one you'd encounter in a video game in very simplified, tessellated forms. "The floor itself was basically a speaker," Stratman says, "You walk in through a tunnel, then you walk up on top of the space and the sounds you hear, and the history that it talks about, is the history of sonic camouflage and sonic surveillance."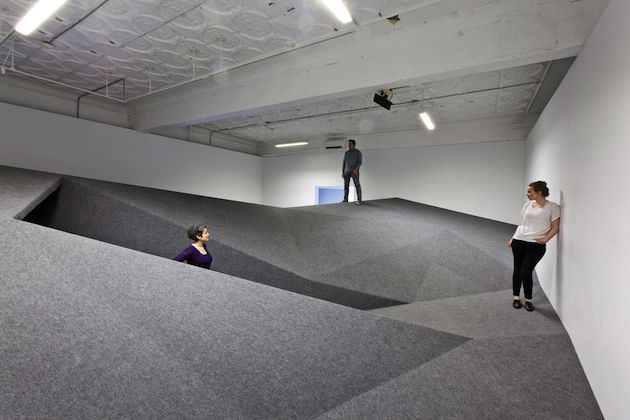 These are massive, elaborate installations that sit somewhere between architecture and sculpture. So this background, along with her filmmaking, and the fact that she has been teaching sound design for years, initially solely for cinema but now for anyone who needs to use sound to help tell a story, makes Stratman a uniquely positioned and wonderfully suited director to tackle a documentary on foley artists. "For about ten years I've been really interested in what all the trajectories of sound are."
One of the ways in which Stratman helps her students understand the importance of the foley artists work is by taking them to a foley sound stage as a workshop. "They're always so floored by this crew of people who collect these objects because they have this frozen sound potential," she says. "Foley artists don't look at these objects as a janky dollar store doll or piece of plastic, they collect these things because of their sound potential." Foley artists and sound technicians have what Stratman describes as an appreciation for the "double parallel" nature of the objects in their studio, "Everything to them has another face—a sonic face."
Stratman explains that sound informs us about our environment more than we realize. Because it's all around us, all the time, sound, rather than sight (which is in "one direction" as she notes) gives us a better sense of the landscape around us and therefore we rely on our ears heavily, even if we think our vision is tantamount to our awareness. For this reason, sound can fool us much more than our eyes. "Sound has been this huge part of the military industrial complex, there's been a long history of different military divisions using sonic surveillance, sonic camouflage, because we're so easily fooled by it."
And this is the same exact reason, Stratman says, that sound designers love using sound in film to put the audience in a place. "It's so much easier for a filmmaker to put the audience in a place sonically, because you're in the world, you're not in front of it. It's not visual, where it's over there and you're looking it…with sound, you're suddenly in the middle of it. So there's this implicit trust that's great, because it's what allows the audience to get emotionally moved, it's how they really feel things in cinema. It's not so analytic, it washes over you and it effects you." Whether it's the creaking of stairs in a horror film as a babysitter foolishly descends a darkened basement, or that odd clicking sound the Predator made when he was close by (but invisible), Stratman says that the foley artist has an incredible power over the filmgoer because we use less of our critical faculties to hearing than we do to seeing.
This notion also leads Stratman to the point that if sound can so easily fool us, it can be used in some pretty nefarious ways. This is why she chose scenes from one of the great sound-centric movies of all time, The Conversation, as her film for Hacked Circuit.
"It's the last scene, when Gene Hackman's flipping out and tearing apart his apartment because he's started to suspect a bug's been placed there. He's ripping up the floorboards and tearing everything down," Stratman explains. And what she noticed about that scene is that his apartment looks like a foley stage, and of course Hackman plays a sonic surveillance expert in the film. "In the credits [of Hacked Circuit], you hear Hackman again, twenty-years later, in Enemy of the State, when he plays an ex-NSA agent, he's also a sonic surveillance expert."
Stratman explained that she was both sculpturally interested in the location of foley and what the objects look like and how they have this frozen sound potential, but also drawn to the power dynamics of how sounds control us. "Even though the film takes you in this loop, and you go three-hundred and sixty degrees outside to inside and then back outside again, and you've been made aware that this is how the sounds are being made, and that you're being manipulated, when you come back out you still get swept right back into it again. Even though we're critically aware of the mechanism of manipulation…we have that Pavlovian response to sound. We can't turn it off. We can't not feel it."
The circuit the film makes, in this singular 15-minute tracking shot, is designed by the brilliant Stratman to represent a sonic Russian nesting doll. "I wanted the film to keep revealing its levels like that, so you don't know what to trust."