Looking at the Legendary Career of Oscar Nominated Visionary Hayao Miyazaki
This Friday marks the nationwide release of legendary Japanese anime director Hayao Miyazaki's eleventh feature film, The Wind Rises. With this picture, Miyazaki is nominated for his third Oscar for best-animated feature film. He was previously nominated in this category in 2006 for Howl's Moving Castle, and he won in 2003 for Spirited Away, the first anime movie to win in that category.
Miyazaki has had an enormous influence on animators worldwide, through his creations of strange and beautiful alternate realities, dramatic storylines based on fairy tale narratives that in many of the films trace his main character's journey from youth into adulthood, and an animation style that is simply and precisely detailed, not fussy and overwrought. Some of his most ardent admirers are animation legends in their own right, such as John Lasseter, chief creative officer at Pixar and Walt Disney Animation Studios, and also the director and writer of Toy Story, Toy Story 2, and the two Cars movies. Lasseter served as executive creative consultant for Miyazaki's Porco Rosso (1992), and then as executive producer for most of Miyazaki's subsequent films.
What's striking about the relationship between Miyazaki and Pixar/Disney/Lasseter is that while Pixar and Disney have led the way in the development and now worldwide dominance of computer generated animation, Miyazaki, except for a few experiments with CGI in a couple of his later films, has remained committed to producing most of his work by hand, using traditional animation techniques of drafting his story in ink, watercolor, and paints applied by hand to paper and animation cells.
Common themes woven through much of Miyazaki's work include war and human conflict and the difficulty pacifistic characters having living in an often violent world, and man's hubris in creating technological advancements at huge costs to the environment. These themes are clearly delineated in only his second feature, Nausicaa Of The Valley Of The Wind (1984), where warrior princess Nausicaa fulfills the prophecy of her people by reuniting the post apocalyptic worlds of man and nature.
Most of Miyazaki's films feature strong female protagonists at the cusp between youth and early adulthood, learning to navigate the ways of the often strange and initially menacing adult world. Spirited Away, which was the first anime feature film to win the Best Animated Feature Film Oscar in 2003, follows young Chihiro's dramatic efforts to rescue her parents from a startling and fantastical spirit world that is hidden behind a mundane, abandoned roadside restaurant that she and her parents stop at after taking a wrong turn on their way to their new home. Through Miyazaki's unique artistry the restaurant reveals itself to be part of a surreal alternate reality filled with hilltop castles and a cavernous bathhouse run by a witch and filled with strange spirits and anthropomorphic animals. Through Chihiro's growing confidence in navigating this new spirit world, she becomes the mother figure who is able to rescue her helpless child-like parents from the enchantment that turned them into pigs, and they all escape to resume their journey to their new home.
Loosely based on Hans Christian Anderson's The Little Mermaid, Ponyo (1998) is a charming and more lighthearted coming-of-age story about an adventurous young female goldfish that longs to become a girl. After venturing out on her own to see the world, Brunhilde becomes trapped inside a bottle and is rescued by a young boy who renames her Ponyo. An instant friendship is born, and when Ponyo and her rescuer begin to fall in love, Ponyo uses magical powers she has acquired to become human. Ponyo's transformation upsets her father, a sea wizard, as well as the natural balance of the world. This triggers a tsunami, and Ponyo exhausts her magic trying to help the humans she has befriended and reverts to her original fish form. The balance of nature is restored and Ponyo becomes fully human when the boy declares his love for her in fish or human form, and she agrees to give up her magical powers.
Miyazaki's lifelong fascination with airplanes and with man's desire for flight has informed all his work, but was most clearly evident, until this new movie, in 1992's Porco Rosso. That film was about an Italian WWI ace fighter veteran working as a bounty hunter catching air pirates over the Adriatic Sea, who is transformed into a pig by a curse and dubbed "Porco Rosso" or "Red Pig."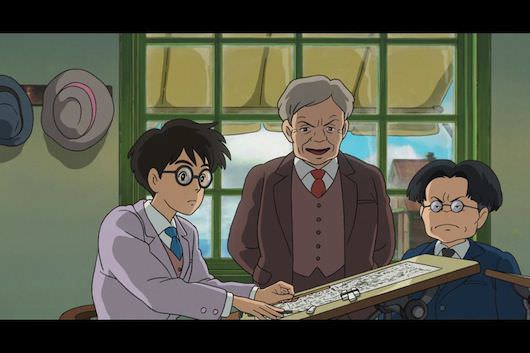 As Porco Russo was unique to Miyazaki's filmography in that it was set within the reality of recent history, so to his newest film, The Wind Rises, is set in Japan during the 20 years preceding Miyazaki's birth, in 1941. Jiro Horikoshi was an actual person, an airplane designer who created the Mitsubishi A6M1, later to become the famed Navy Type 0 Carrier Fighter, or Zero Fighter, the most advanced combat plane for three years starting in 1940. Yet Miyazaki takes poetic license with Jiro's personal story, so this character is a fictional creation. Miyazaki's Jiro is a young boy fascinated with airplanes and flying, but suffers from nearsightedness and realizes he can never be a pilot. Instead of giving in to despair, he studies over many years to become an engineer and designer of airplanes. Set against the backdrop of actual historical events from Japan's past, such as The Great Kanto Earthquake of 1921, the Great Depression, and the country's growing militarism which culminated in WWII, Miyazaki's focus is on Jiro's almost mad desire to create a beautiful airplane, which culminates in that A6M1. As Miyazaki wrote in his initial project proposal for the film, available in the US Press Kit:
"I want to portray a devoted individual who pursued his dream head on. Dreams possess an element of madness, and such poison must not be concealed. Yearning for something too beautiful can ruin you. Swaying towards beauty may come at a price. Jiro will be battered and defeated, his design career cut short. Nonetheless, Jiro was an individual of preeminent originality and talent. This is what we will strive to portray in this film."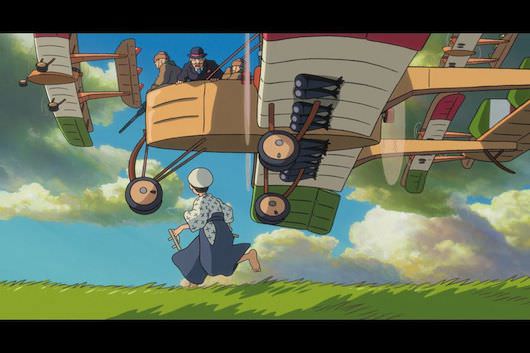 Miyazaki's family history deeply informs this movie, as his father was director of Miyazaki Airplane, which produced rudders for that infamous Zero combat fighter of WWII. His family's history is inexorably linked to Jiro's legacy, for good and for ill. A lifelong committed pacifist, Miyazaki nonetheless understands the conflict between man's desire to create beauty and his competing destructive desires for power and domination. In the dramatization of this eternal paradox of man, Miyazaki creates his art.
Featured image: Two scenes from The Wind Rises surround their incredible creator, Hayao Miyazaki. Courtesy Walt Disney Pictures