Honorary Academy Award Winner D.A. Pennebaker on the Award's Beguiling Charm
When the late, great Peter O'Toole learned he was to receive an honorary Academy Award in 2002, his initial reaction caught Hollywood by surprise. The Irish-born wag, then 70, dashed off a letter to the Academy asking them to hold off on the honor until he was 80. "I'm still in the game and might win the bugger outright," wrote O'Toole, who was counting on a future shot at winning a competitive Oscar after being shutout seven times.
O'Toole eventually relented and gratefully accepted his honorary statuette at the 2003 ceremony, cracking wise from the podium, "Always a bridesmaid, never a bride—my foot!" (And in fact, O'Toole did earn an eighth nomination three years later for Venus.) But the actor's original sentiment about being selected raises an underlying question that sometimes tags along with the honorary Oscar: Is it intended to validate a career or is it compensation for never winning the big one?
It all depends. The Academy of Motion Picture Arts and Science has been celebrating contributions to the movie industry with honorary awards of all sorts since 1927. Plaques, scrolls, medals, statuettes, and certificates have been doled out to actors, technicians, choreographers, museums, production companies, movie studios, charities, you name it.
The honorary award O'Toole picked up—Oscar himself—is the one most familiar to the public because of its presentation on TV. According to the Academy, it is given for "extraordinary lifetime achievement, exceptional contributions to the motion picture arts and sciences, or outstanding service to the Academy." It is not limited to actors and actresses, nor is it bestowed every year. The Academy's Board of Governors selects recipients after reviewing nominations and voting in secret. Just as with the competitive Oscars, campaigning on behalf of a nominee is common among Academy members.
For years, the honorary Oscar was presented live on the Academy Awards broadcast. But in 2009, the Governors established their own annual event to celebrate the recipients more robustly and give them time to thank all the people who helped them along the way without the cutoff music. The honorary Oscar presentation is now part of the Governors Awards, a star-studded black-tie banquet held each November in Hollywood that also includes the Jean Hersholt Humanitarian Award and the Irving G. Thalberg Memorial Award. Highlights of the event are featured on the Oscars broadcast and recipients are occasionally invited to reprise their moment live on stage.
O'Toole, who coincidentally went home without the bugger for a record eighth time for an actor in '06, obviously felt—at least at first—that he was on the compensation side of the question. "To Peter O'Toole," reads the inscription on his statuette, "whose remarkable talents have provided cinema history with some of its most memorable characters." By contrast, Sidney Poitier, already the proud owner of a Best Actor Oscar for 1963's Lilies of Fields, leaned towards the validation side when he collected an honorary statuette 38 years later for "his remarkable accomplishments as an artist and a human being."
Documentary filmmaker D.A. Pennebaker, a 2012 honoree, most likely embodied both sides of the question. Introduced at the Governors Awards by Senator Al Franken and Michael Moore as "one of the founders of the cinéma vérité movement," Pennebaker's six decades of credits is legend. Along with various collaborators, "Penny" produced Don't Look Back (1965), the fly-on-the-wall chronicle of Bob Dylan's tour of England after going electric; Monterey Pop (1967), featuring Jimi Hendrix setting his Stratocaster ablaze; and The War Room (1993), an intimate look at Bill Clinton's '92 presidential campaign, for which he received his only competitive Academy Award nomination (Best Documentary, Feature), but did not win.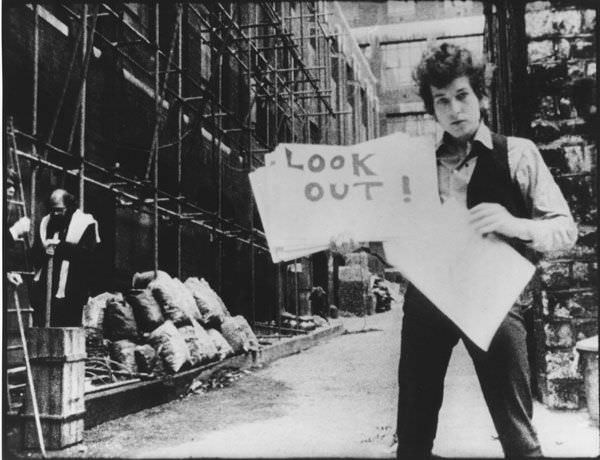 Pennebaker confessed to feeling bemused when he first learned that the Academy wanted to honor him.
"I thought they were joking," the 88-year-old filmmaker told The Credits in a recent phone call from his New York City home. "You don't expect to hear much from the Oscars here. You have to understand that there is an east coast filmmakers group, as it were, people who live in New York and don't particularly want to move to Los Angeles and aren't particularly suited to the entertainment business. The whole thing seemed to me out of the blue."
Chris Hegedus, Pennebaker's wife and collaborator of more than 30 years who is an award-winning documentarian in her own right, filled in the backstory.
"I actually knew about the award," she says. "A lot of it was due to Michael Moore and his interest in getting [greater] visibility for the documentary [category] in the Academy. He called and said he wanted to honor Penny and when you do that, it's an entire campaign. Because each branch puts up somebody and has to really vie for position and do a whole campaign on why that person should be the honoree that year."
Whatever the motivation behind the award, an honorary Oscar seems to have an intoxicating effect on its recipient. From O'Toole's cheeky glee to Pennebaker's heartfelt appreciation about being welcomed into "some kind of club I always walked by and never thought about," receiving the statuette tends to wring out a soulful sentiment.
At this past November's banquet, the Governors honored Angela Lansbury, a three-time nominee with no wins, Italian costume designer Piero Tosi (oh-for-five) and Steve Martin, who's never been nominated for his acting yet is closely associated with the Academy Awards through his three stints as host. The 68-year-old, recognized for his "excellence and achievement as a stand-up comedian, musician, and producer," teared up as he held firmly to his new golden friend at the podium.
"I knew I wasn't going to make it through the speech," Martin said while gazing down at his wife. "I read it to the dog this morning and wept."
Featured image: D.A. Pennebaker at the 2012 Governor's Ball. Courtesy ©A.M.P.A.S.