Dinner & A Movie: 10 of the Greatest Dine-In Theaters in America
Whether you call it food and a flick or dinner and a movie, the trend of cinemas offering a full menu with a ticket to the silver screen is red hot right now. Some, like Brooklyn's now famous Nitehawk Cinema, provide in-theater table seating and waiter service. Others are more casual with a buy-it-in-the lobby and carry-it-to-your-seat policy. Most, if not all, understand the value of a good libation. The ten theaters below run the gamut of service, but all have personal touches that make them stand out from the crowd. We call them, cinemas off the eatin' path.
Enzian, Maitland, FL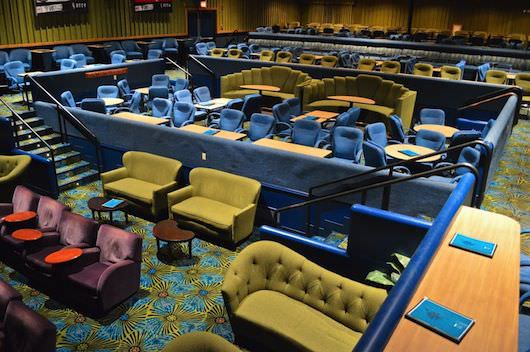 Enzian served its first grub in 1985. Back then it was a decidedly down-home affair. The family-owned spot just outside Orlando showed second-run films at a discount and offered two staples: hot dogs and pizza. Today, Enzian is first run and first class—it's currently showing the Oscar nominated short films, with the fantastic documentary Tim's Vermeer coming up next. This major art house with love seats and banquettes presents fare with flair like truffle parmesan fries, pesto crab pizza, and shrimp and loaded grits. The wait staff wears all black to discretely serve and clear during the show. Set on three lush acres and surrounded by old oak trees, Enzian is dripping with cinematic atmosphere.
The Credits requests: Some Like it Hot
Aimie's Dinner & Movie, Glens Falls, NY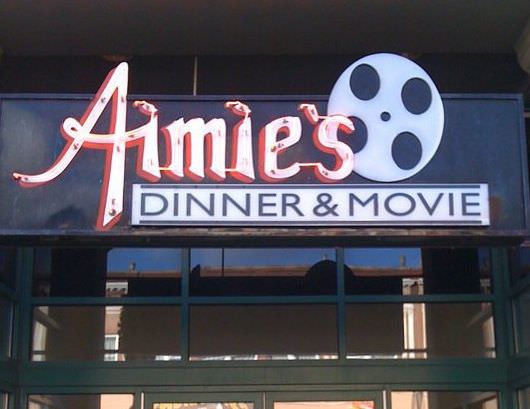 Any theater that dishes out "Lord of the Onion Rings," "Green Bean Mile," "Sandwitches of Eastwick," and "Sonny Corleone's Scampi" ("worth getting whacked for") knows its stuff. Tucked into the Three Squares Historic District of this upstate burg since 2001, Aimie's is actually two cozy 50-seat theaters back-to-back with booths, banquettes, and table service. Independent films do best, says co-owner Sandy Metivier, and she'll rent out for kids' parties and throw on the Justin Bieber DVD. A modest $7.95 minimum on food and drinks plus a tasty $5.50 ticket makes for cheap thrills in the dark.
The Credits requests: Fried Green Tomatoes
Brewvies Cinema Pub, Salt Lake City, UT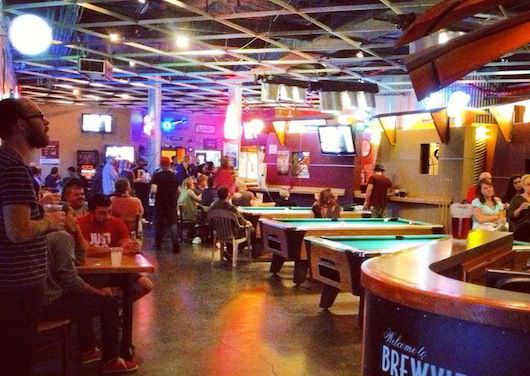 Brewvies = Brewskies + Movies, get it? With 19 different beers on tap, plus a menu of corn dogs, falafel, fish tacos, and cheese fries to soak up the suds, this 17-year-old theater has that frat feel. In fact, college students get in on a discount. Need to kill time before the show? Hang at the bar (yes, students, they sell cocktails, too) and shoot some pool. The twin 170-seat theaters feature couches and tables, plus typical theater seating with counters running the length of each row to rest your brew on. You order before entering, get a number, and when your food is ready your number lights up on the big Keno board. Come and get it!
The Credits requests: Animal House
The Lyric, Fort Collins, CO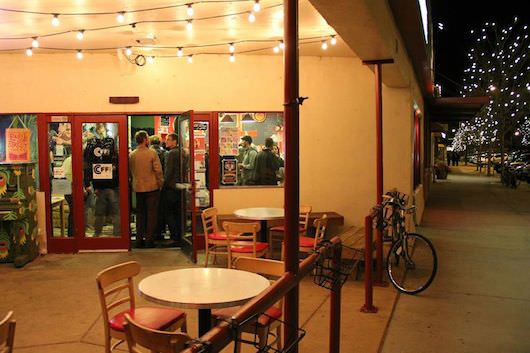 The Lyric abides: "If you want us to serve something that's relatively easy to prepare, let us know and we will see if it's feasible." That whatever from the theater's website sums up the aim-to-please charm of this funky, quaint theater celebrating its 7th anniversary in April with daily screenings of Seven Samurai. The tiny kitchen churns out tiny foods like baked Camembert or tuna melt or brats with local sauerkraut. On screen you find first runs, but also a smart mix like a month of Bill Murray flicks (sponsored by a local brewery) and a coming Wes Anderson retrospective leading up to the March release of the director's latest, The Grand Budapest Hotel.
The Credits requests: The Big Lebowski
Starlight Room, Port Townsend, WA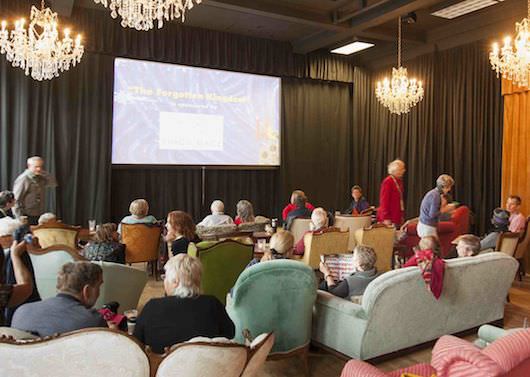 With 45 minutes between shows, you have plenty of time to stake out a spot (loveseats and couches you can move), admire the stunning view (boats on Admiralty Inlet), order your meal in the beautiful foyer (you get a small photo of a classic movie star to claim your food: "Clark Gable, your order is ready!") and sup before the lights dim. Screen selections are cerebral: Nebraska, Philomena, Her. An upscale collaboration between the renowned Rose Theatre and local favorite Silverwater Café (just downstairs), the menu is refined small plates: artichoke parmesan paté, truffle fries, coho salmon empanadas.
The Credits requests: An Officer and a Gentleman (shot right nearby)
AMC Dine-in Theatres, Columbus, OH (and 11 national locations)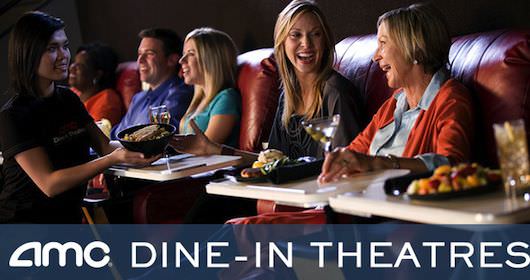 AMC has the movie and dinner deal down to a civilized science. Like some others in this franchise line, Columbus offers two dining options: the casual "Fork & Screen" for all ages (under 18 requires an adult), and the premium "Cinema Suites," for 21+ featuring luxury recliners. Both have reserved seating and seat-side service. The menu is massive: burgers, pizza, salads, tacos, popcorn (free refills) and a full cocktail bar. Big bonus in Columbus: IMAX. More gravy with your Gravity, sir?
The Credits requests: A Chris Columbus retrospective
Commodore, Portsmouth, VA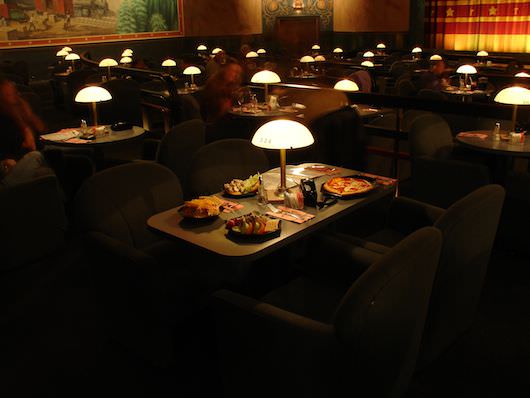 Fedora and spats are optional at Fred Schoenfeld's gorgeously restored 1945 art deco classic with crystal chandeliers celebrating 20 plus years. Try the Virginia vittles like the top-selling nacho platter with beef BBQ or the homemade chicken salad. Get a throwback thrill at one of the 58 tables (190 seats) with the Runyon-esque ordering system: pick up the phone and dial "O" for the direct line to the kitchen. (If it's busy, try again. If it rings and rings, don't hang up, you'll get bumped back in line.)
The Credits requests: The Best Years of Our Lives
Alamo Drafthouse (The Ritz), Austin, TX (and 15 national locations)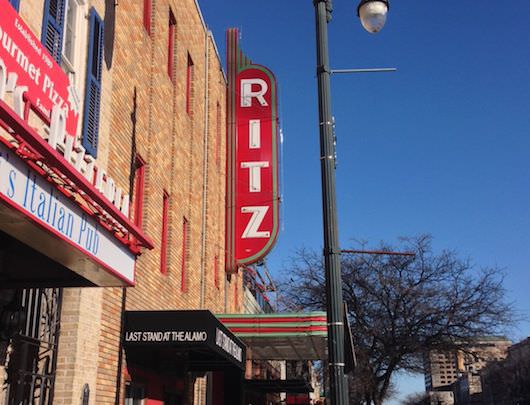 Cinephiles remember the Alamo Drafthouse. From the famously viral no-talking, no-texting policy, to wacky stunts (subtitles during The Princess Bride for audience quote-alongs) to cartoons and shorts instead of commercials, to reserved seating, seeing a flick at the Alamo is an event. Then there's the themed film and food: Italian Wedding Soup with Moonstruck on Valentine's Day, anyone? Standards include pizza, burgers, and wings. Founded in 2001 by visionary Tim League, the Alamo "prides itself on preserving the magic of moviegoing," says Entertainment Weekly.
The Credits requests: Cinema Paradiso
The Theatres at Canal Place, New Orleans, LA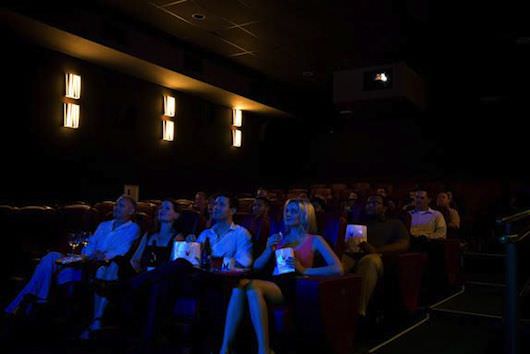 In a city where the cuisine itself is an art form, it's no surprise that a stud chef is the star of the show. At this nine-screen posh palace, Adolfo Garcia, owner of three Big Easy restaurants, serves up a mean muffaletta with serrano ham, flatbread pizza with Roman artichokes, artisanal salami with fig mustard, and popcorn topped with pimentón—that's Spanish paprika, y'all. Park your plate on the individual table that adjoins your highback stadium-style seat—and push your call button for seconds. Features a marquee of major releases, indies, and foreign films.
The Credits requests: A Streetcar Named Desire
Ragtag Cinema, Columbia, MO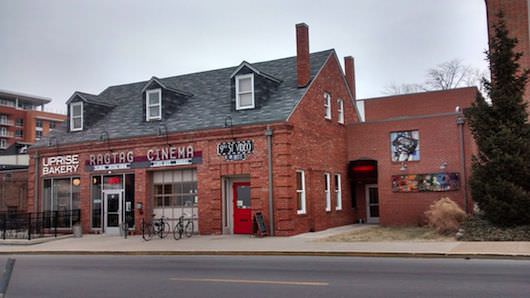 International documentaries. Locally grown popcorn. That distinctive pairing pleases the palates of the enlightened moviegoers that pack this not-for-profit two-screen arthouse started in 2000. It also highlights the partnership between Ragtag and co-tenant Uprise Bakery, which gets its ingredients from nearby farmers. Grab an apple-bacon cheddar sandwich, some beet soup, and a homemade French baguette and carry it into your theater—one has 135 seats with flip tops (like a college desk) the other is a couch and comfy chair affair for 75. The True/False Documentary festival in late February plus directors Q&A after is a big draw.
The Credits requests: Food, Inc.
Featured image: The interior of the Commodore Theater. Courtesy the Commodore Theater.