Sundance: Kristen Wiig & Bill Hader Dig Deep in Craig Johnson's The Skeleton Twins
You go in to The Skeleton Twins expecting to laugh because it stars Kristen Wiig and Bill Hader, and you do, you laugh quite a lot. But then you end up feeling almost blindsided by this bracing look at adult lives gone horribly awry, a story of estranged two siblings who have been so thoroughly messed up from the suicide of their father and their own failed lives. Craig Johnson has created something remarkable here, and Hader and Wiig are fantastic. Sony Pictures Worldwide, Roadside Attractions and Lionsgate acquired the rights to The Skeleton Twins, which is reassuring considering the film doesn't shy away from dark material or difficult characters. If anything, The Skeleton Twins, along with another Sundance comedy with nuance and dimension, Obvious Child, promises that 2014 might be the year of the deep comedy.
How many comedies have you seen that open with an attempted suicide? As Milo, a failed actor and deeply depressed gay man, Hader is magnificent. The film opens with Milo penning a suicide note, slipping into a bath, and cutting his wrists. The shot of Hader in the reddening tub, his life leaking out of him, is visceral and haunting—Johnson then cuts to his estranged sister, Maggie, also in a tub, holding a lethal handful of pills. The thing that stays her hand is a telephone call informing her that her brother has attempted suicide and is at the hospital.
When Johnson came out to introduce his film at Sundance, he told a story about his previous night. It was his parents last evening in Park City and he wanted to do something special for them, so he took them to a screening of a film that hadn't been announced. That film turned out to be Lars Von Trier's Nymphomaniac, not something you'd want to watch with your parents, or, frankly, anybody's parents. Ever. Johnson had the audience in stitches, describing how he had to put several friends between him and his mother (his parents weren't dissuaded by the film's explicit sex scenes and stayed for the screening), and his story crackled with pathos, good humor and discomfort—and it turned out to be perfectly emblematic of the impressive film he had co-written (with Mark Heyman) and directed.
Maggie flies out to Los Angeles to see her brother in the hospital (it's been ten years since they've spoken). Hader and Wiig, having honed their comedic timing together on SNL, are ridiculously good here as two smart, severely damaged siblings. The suicide of their father, a troubled but loving man who we see in an early, beautiful and odd flashback during the opening credits, has permanently unmoored them. An early scene in which Maggie unwittingly "ruins" the end of "Marley & Me," which Milo had been reading in the hospital, is a small piece of comedic gold. The film manages to toggle between being painfully funny and painfully sad without becoming melodramatic or glib. Hader, playing a gay man, is something of a revelation. He's simultaneously biting and wounded, whip smart and a total mess, believable as a frustrated, disillusioned man who has yet to truly grow up. Wiig, in a role that becomes richer and sadder as the story unfolds, believably inhabits a woman who cannot control herself, and who poisons the one relationship in her life that is healthy and decent (that of her husband Lance, a charming Luke Wilson). Maggie invites Milo to live with her and Lance in their house in upstate New York, and neither sibling is truly prepared for what it will mean to be together again. Johnson and Heyman's script balances light and dark with impressive dexterity, and you simply can't imagine anyone else in the roles of Milo and Maggie.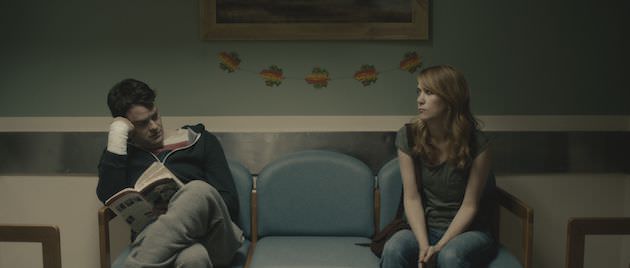 There are plenty of laugh-out-loud moments in The Skeleton Twins, including one of the best song-and-dance numbers in recent film history, but the film eschews being a vehicle for its stars comedic chops and goes for something deeper. A subplot involving Milo's first love, with his former English teacher Rich (Ty Burrell) manages to deepen the story between Milo and Maggie, and shed light on what drove them apart in the first place. Milo and Maggie are bound by their painful family history, as well as by their crackling wit and instability, you want them to be good to each other and you cringe when they're not. As we learn more about them, and their respective, considerable damages, we root for them even harder.
The Skeleton Twins has genuine uplift and effortless charm, but it the film's fearlessness in dealing with two people and their problems that sets it apart. Like Little Miss Sunshine, this is a Sundance film that isn't afraid to cast megawatt comedic talents in deeper, darker roles. Let's hope it gets the same wide exposure and acclaim, it's deserving of both. Johnson and Heyman won the Waldo Salt screenwriting award at the festival—a richly deserved award for a sharp, brilliant script.
More Sundance coverage: Jim Mickle's crackling Texas neo-Noir Cold In July. Steve James' fantastic Roger Ebert documentary, Life Itself. Aubrey Plaza in Jeff Baena's Life After Beth. Jenny Slate stars in Gillian Robespierre's very funny Obvious Girl, Macon Blair carries Jeremy Saulnier's brilliant, bold Blue Ruin, and Cat Kandler's Hellion boasts some of the strongest performances by young actors in recent memory.
Featured image: Kristen Wiig and Bill Hader star in The Skeleton Twins. Photo by Reed Morano. Courtesy Sundance Film Festival