Sundance: Jenny Slate Charms in Writer/Director Gillian Robespierre's Obvious Child
Gillian Robespierre's first crack at Obvious Child was as a short that she filmed in the winter of 2009. "We were frustrated by the limited representations of young women's experience with pregnancy, let alone growing up," she wrote on her Kickstarter page. "We were waiting to see a more honest film, or at least, a story that was closer to many of the stories we knew." The short starred comedian Jenny Slate, the ex-SNL cast member (who infamously dropped the f-bomb on her very first show), who has a recurring role as Mona Lisa Saperstein on Parks and Recreation. Obvious Child made a festival run in it's incarnation as a short film, and the conversations it sparked (a frank look at abortion through the lens of a very self-effacing and hilarious protagonist) inspired Robespierre to turn it into a feature.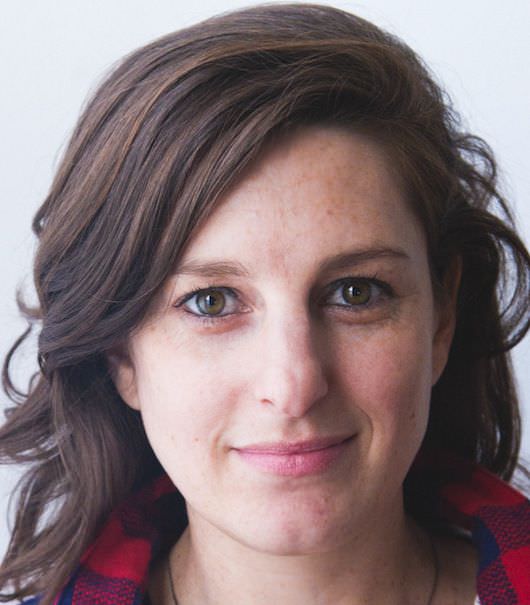 That feature, about young Brooklyn comedian Donna Stern (Slate), whose fearless raunch on stage is equaled by her genuinely sweet, open hearted disposition off, was the source of a constant stream of giggling and guffawing in the theater here at Sundance. When Donna's dumped by her philandering boyfriend, Donna's act becomes a public exorcism of her rage, sadness and confusion. More laughter. The film is rounded out by a cast of funny people, including Jake Lacy as Max, Gabby Hoffman and Gabe Liedman as her best friends Nellie and Joey, and a perfectly creepy cameo by David Cross.
Donna's stand up routines in the film become hilariously painful and awkward. Her post dumping bits are not even thinly veiled therapy sessions—they're not veiled at all. In one delirious sequence, Donna takes the stage absolutely hammered and succeeds in not telling a single joke. She's just up there flailing in a way that would be embarrassing the next day if it were in front of a single friend, let alone an audience at a bar. She's taken up some "light stalking" of her ex, who now owns a dog (the horror!) with Donna's ex-friend, the woman her boyfriend was sleeping with behind her back.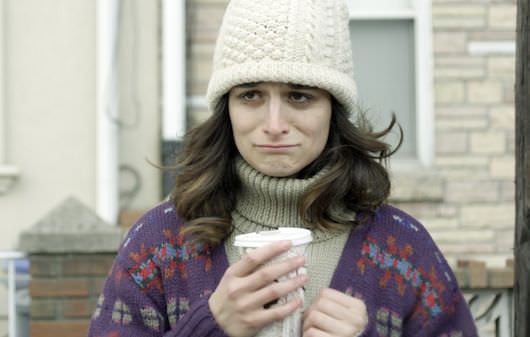 This is before the film takes a turn. Donna has a one night stand with a genuinely sweet "frat guy" in a button down who she meets after one of her shows. This is Max (Lacy), Donna's opposite in many ways. These opposites attract, their bond sealed in what has to be a first for the cinema–while peeing outside of the bar, Max accidentally farts on her head. Donna's smitten.
And then, after that one night with Max, Donna ends up pregnant. Suddenly her concerns over being "dumped up with" seem laughably minor compared to this new twist of fate. While you can't gauge the reaction of the rest of the country by the reaction of a crowd of press and industry people in Sundance, it's safe to say that Robespierre and Slate have brought something real to the screen—a young woman who decides she is not ready to be a mother, and who leans on her friends to emotionally support her as she counts off the days until she's to arrive at Planned Parenthood…on February 14th, no less. The laughter doesn't stop when the film takes this turn because Robespierre doesn't put her foot on the scale and Slate is so clearly a good person (and truly, absurdly funny) that the film remains buoyant despite dealing with Donna's very real situation.
Let's pause for a moment to comment on the filmmaking itself. Robespierre has done here what Nicole Holofcener has been doing for years—made whip smart dialogue for whip smart women sound genuinely conversational and natural. The shaggy construction of the scenes (it feels a little like eavesdropping on a conversation at a bar you wish you were in) appears so easy, which is often the mark of a director who knows exactly what she wants. When a film seems like the director has just let his or her talented cast do their thing (think Richard Linklater, Ethan Hawke and Julie Delpy's Before trilogy), it is very often the product of an incredible amount of painstaking preparation.
Obvious Child is the product, like so many films here at Sundance, of the power of crowd funding and film institutions to help allow first time feature directors like Robespierre bring their films into the world. She recently raised more than $37,000 on Kickstarter for post production, and received help from institutions like IFP, Rooftop Films, Tribeca Film Institute, and the San Francisco Film Society.
Hopefully the film is a launching pad for the film careers of Robepierre and Slate, and hopefully the two of them continue working together, like Holofcener and Catherine Keener. We need more films by women and about women—Obvious Child is both, and, perhaps most importantly, it's very, very funny. This is why A24 has picked up the film in one of the bigger deals thus far the festival.
More Sundance: Check out our story on Cat Kandler's Hellion, and Jeremey Saulnier's Blue Ruin.
Featured image: Jenny Slate and Jake Lacy in Obvious Child. Courtesy Sundance Film Festival