Interstellar, Noah, Fury & More: 2014 Movie Preview
Now that we've put a bow on one of the greatest years in recent film history, it's time to look ahead at the slate of films coming out this year.
We're taking just a small bite here, and we're breaking it down by four genres that have a robust selection of films coming out—science fiction, action/adventure, superhero and historical/period pieces.
Science Fiction
There are a lot of really exciting projects in the sci-fi genre from some very talented directors and huge stars, including the end (we think) of one of the most epic movie franchises in the medium's history.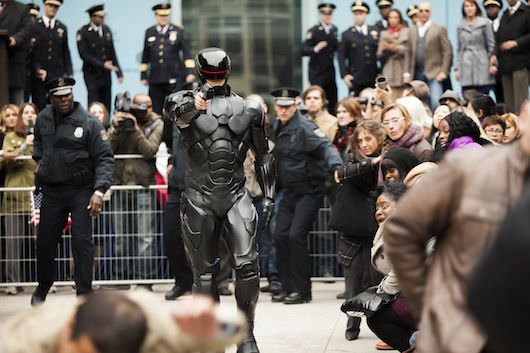 RoboCop
February 12
Dir. José Padilha
Starring: Joel Kinnaman, Gary Oldman, Abbie Cornish
Half cop, half robot Alex Murphy is back in Jose Padilha's remake of the 1987 sci-fi classic. When cop, husband and father Murphy is critically injured in the line of duty in 2028 Detroit, he becomes the giant international conglomerate OmniCorp (what an ominous name)'s pet project. This Frankenstein's monster of a policeman still has a human heart beating inside that metal chest, and it's his heart that will drive the action in the film.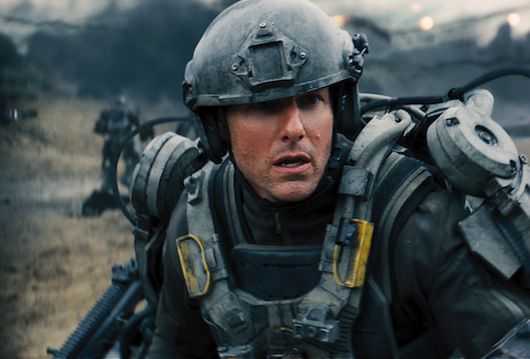 The Edge of Tomorrow
June 6
Dir. Doug Liman
Starring: Tom Cruise, Emily Blunt
A solider (Tom Cruise) caught in a time loop keeps revisiting a losing battle with a superior alien race. The trailer alone brings us hope that Liman's film, based on Hiroshi Sakurazaka's novel "All You Need is Kill," is going to be a smart, breathlessly entertaining summer blockbuster.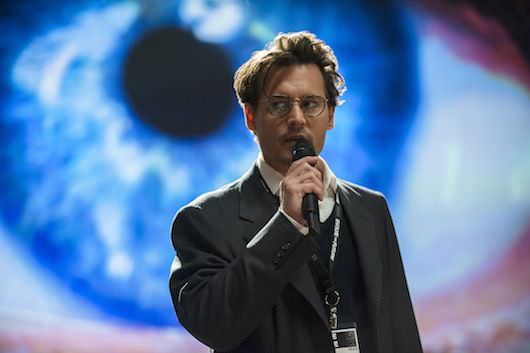 Transcendence
April 18
Dir. Wally Pfister
Starring: Johnny Depp, Rebecca Hall, Morgan Freeman, Cillian Murphy, Paul Bettany
One of the greatest cinematographers of his era (Pfister is most well known for being Christopher Nolan's DP throughout the Dark Knight trilogy) takes his first foray into directing—and it looks to be a chilling look at the potential of singularity, that great sci-fi boogey man in which artificial intelligence surpasses human intelligence. Transcendence follows the story of Will (Depp), a dying scientist who has his mind uploaded into a computer, with terrifying results.
Interstellar
November 7
Dir. Christopher Nolan
Starring: Matthew McConaughey, Jessica Chastain, Anne Hathaway, Michael Caine
Perhaps the most highly anticipated film of 2014 (which has become the case with nearly every Nolan film), what little is known of Interstellar is enough to excite and intrigue. A group of explorers find and use a wormhole to obliterate all previous limitations on human space travel. The trailer doesn't offer much, either, other than the promise that Nolan is going for something huge here. But then again, when is he not?
Action/Adventure
You might ask yourself, wait, Noah is an action/adventure film? When you watch the trailer, you'll see why it's listed here.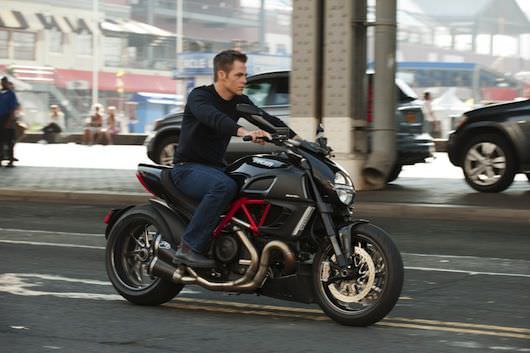 Jack Ryan: Shadow Recruit
January 17
Dir. Kenneth Branagh
Starring: Chris Pine, Keira Knightley, Kevin Costner
The recent passing of Jack Ryan creator Tom Clancy gives this latest outing by the CIA operative even more poignancy. Ryan (Chris Pine) is tasked with trying to foil a Russian plot to maul the U.S. economy with a terrorist attack.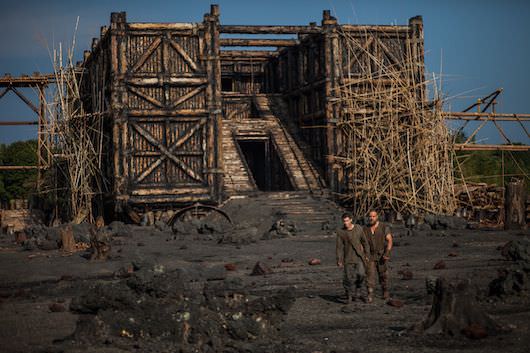 Noah
March 28
Dir. Darren Aronofsky
Starring: Russell Crowe, Jennifer Connelly, Emma Watson, Anthony Hopkins
There's been a lot of buzz about Aronofsky's take on the most biblical of all Bible stories. The trailer suggests he's crafted an epic action film that, in one snippet of a scene, almost reminds you of Crowe's turn as Maximus in Gladiator. Needless to say, it'll be exciting to see what the director of Black Swan has done with Noah and the ark.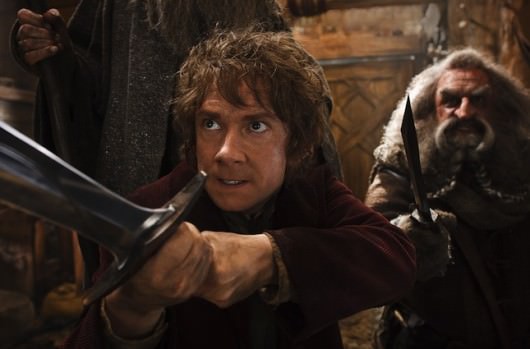 The Hobbit: There and Back Again
December 17
Dir. Peter Jackson
Starring: Martin Freeman, Ian McKellen, Richard Armitage, Orlando Bloom
Bilbo and company have finally reached Smaug's lair in their attempt to reclaim the Dwarves city of Erebor and their immense treasure. And thus concludes (we think) Peter Jackson's six-picture Tolkien tribute. It's been quite a ride.
Superheros
Captain America: The Winter Soldier
April 4
Dir. Anthony and Joe Russo
Starring: Chris Evans, Scarlett Johansson, Samuel L. Jackson, Robert Redford
The Captain's back to face a formidable foe in the form of a Soviet agent known as the Winter Soldier. Chris Evans has Scarlett Johansson's Black Widow and Samuel L. Jackson's Nick Fury on his side, as well as the unlikely, but welcome, presence of Robert Redford as Alexander Pierce.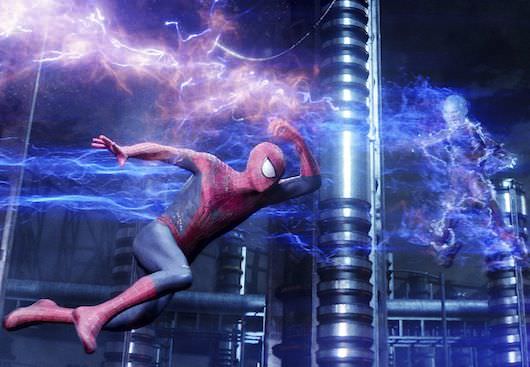 The Amazing Spider-Man 2
May 2
Dir. Marc Webb
Starring: Andrew Garfield, Jamie Foxx, Emma Stone, Sally Field, Paul Giamatti
Peter Parker's really in for it this time. The nefarious Oscorp company unleashes multiple supervillains in an effort to finally destroy the web slinger. Jamie Foxx as Electro and Paul Giamatti as The Rhino promise to bring some legitimate gravitas to Spidey's foes.
X-Men: Days of Future Past
May 23
Dir. Bryan Singer
Starring: Jennifer Lawrence, Hugh Jackman, Ian McKellen, Michael Fassbender, James McAvoy.
After 2011's excellent X-Men: First Class, there are high hopes for this latest installment in which Wolverine is sent back to the past to try and prevent a catastrophic event for both humans and mutants. The trailer is surprisingly, and pleasingly, very much focused on the emotional stakes involved here. First Class gave us an Xavier (McAvoy) and Magneto (McKellen) who very much invested in each other's survival—that is, before they became enemies.
Historical
There are two hotly anticipated WWII-era films coming out, plus one of our most meticulous auteurs releasing a lushly beautiful period piece set inside a grand hotel.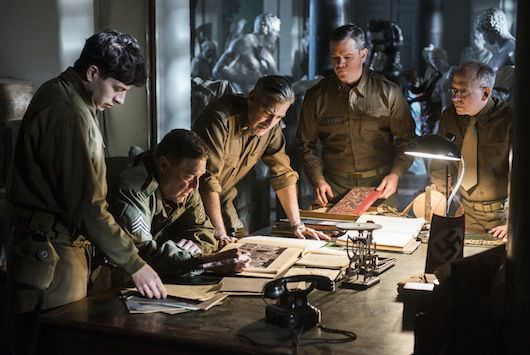 The Monuments Men
February 7
Dir. George Clooney
Starring: George Clooney, Cate Blanchett, Matt Damon, Bill Murray, John Goodman, Jean Dujardin
Clooney's star-studded WII caper, about a platoon assigned to rescue artistic masterpieces stolen by Nazis, was pushed back from December to this February in order to finish visual effects they couldn't prepare in time. No matter, as it gives us something to look forward to in the dead of winter.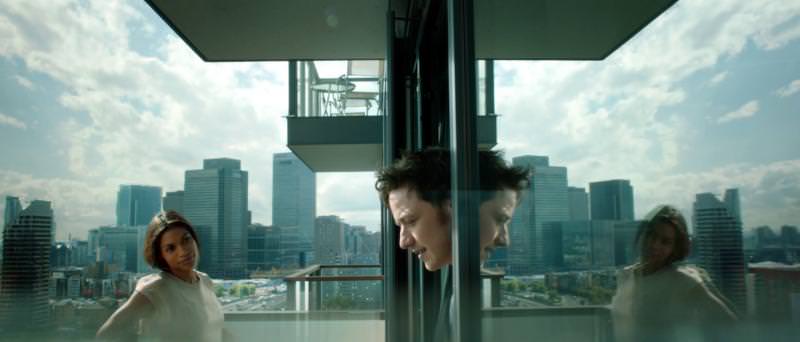 The Grand Budapest Hotel
March 7
Dir. Wes Anderson
Starring: Edward Norton, Ralph Fiennes, Saoirse Ronan, Bill Murray, Tilda Swinton
Anderson fans have been salivating over Hotel since the first glimpse of the poster was released. The trailer is pure madcap Anderson—Fiennes, playing the legendary concierge Gustave at a famous hotel between the two wars, manages his increasingly eccentric guests, a mystery at the hotel, and the hopes and dreams of Zero Moustafa (Tony Revolori), a boy who quickly becomes Gustave's trusted compatriot.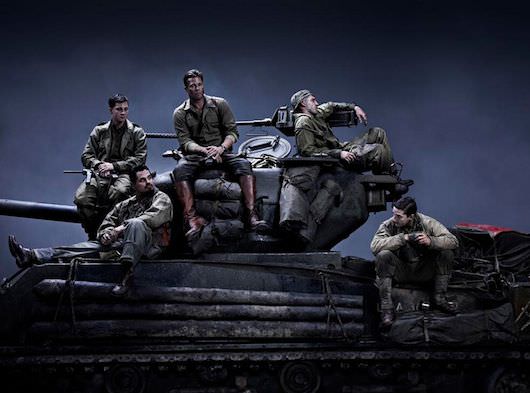 Fury
November 12
Dir. David Ayer
Starring: Brad Pitt, Logan Lerman, Shia LeBeouf, Jon Bernthal, Michael Peña
Brad Pitt stars as Wardaddy, the leader of a small band of soldiers who take on a dangerous mission at the end of WWII in Nazi Germany. No proper trailer currently exists, but the solid cast and the writing and directing of David Ayer make this a film to watch out for in 2014.
Featured Image: (l to r) John Goodman, director George Clooney and Jean Dujardin on the set of Columbia Pictures' THE MONUMENTS MEN.