Walt Disney a Movie Character for 1st Time in Delightful Saving Mr. Banks
In the tradition of the behind-the-scenes Hollywood story comes Disney's Saving Mr. Banks. The crowd-pleaser, set for a December 20 release, employs the studio's time-tested, multi-layered storytelling approach to the tale of how Walt Disney (Tom Hanks) managed in 1961 to convince prickly Australian author P.L. Travers (Emma Thompson) to release the rights to her successful books about a nanny named Mary Poppins.
It's a departure for the stalwart studio, but one that has always been eager to veer into new territory, to look into its own vault for subject matter. Never before has Walt Disney appeared as a character in a movie. That's one of the selling points of this film: the audience is whisked into Walt Disney Studios in Burbank as author Travers arrives from London in 1961. With posters for Fantasia and Snow White on the walls and portraits of Walt's daughters above his Disney figurine-cluttered desk, it's a workplace where workers are family and called by their first names — and where the boss insists they do the same. Who wouldn't want to work there?
Disney had been trying for some two decades to secure the rights to the Poppins books (there were, eventually, eight in all) ever since his daughter back in the '40s had requested it. But Travers, like most novelists, was fiercely protective of her most famous creation. She tells Disney right off: no music, no animation, no cuteness (the dancing penguins in particular are targets of her vitriol). Despite Walt's best attempts — he fills her suite at the Beverly Hills Hotel with stuffed Disney characters like Winnie-the-Pooh, Goofy and Mickey; she promptly exiles them to a closet — wooing Travers is a nightmare.
It's when Disney tries to show her what kind of film he plans to make that Saving Mr. Banks delivers its richest movie history pleasures. The film is set two to three years before Julie Andrews and Dick Van Dyke hit the soundstage. The scenes in the film take place in a small rehearsal room at Disney studios where the film was shot in its entirely in 1964. The Sherman Brothers (portrayed by Jason Schwartzman and B.J. Novak), staff songwriters at Disney Studios, were key players in persuading Travers not only that the movie could work as a musical but that their now-iconic songs — "A Spoonful of Sugar," "Feed the Birds," and "Let's Go Fly a Kite," among them — enhanced the story.
In one scene, Richard Sherman happily bangs out on an upright piano an early version of "Chim Chim Cher-ee"(which would go on to win the 1965 Academy Award for best song) complete with the invented word, "Responstible." Travers winces. She hates made up words, she says. The next shot shows Sherman quickly hiding the sheet music for "Supercalifragilisticexpialidocious."
Richard Sherman (Robert died at age 86 in 2012, just six months before filming began) served as music consultant for Saving Mr. Banks. He is the only member of the principal creative team portrayed in the film that's still alive. His input seems to have been vital to making these early rehearsal scenes so entertaining and realistic.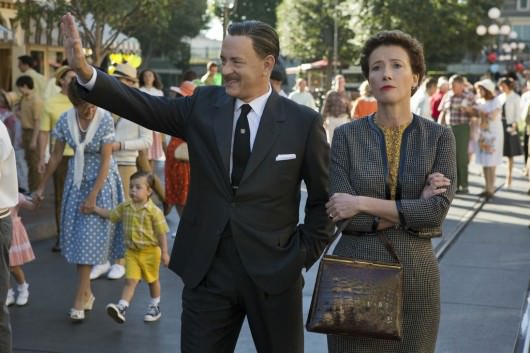 In the press notes for the film, Sherman says he told screenwriter Kelly Marcel about dialogue and phrases that "we used around the studio working with Walt. She would not have known that through any research. Once she incorporated my suggested changes into the screenplay, I was all lumped up. Very moved by the whole story as she captured it in her words. This movie is a very honest picture; it tells it the way it was," Sherman says. "Nobody in the world really knows this story. We've always said [Travers] was difficult, but this is the first time it's actually been talked about. Walt got a couple of songwriters and a story man together to create a film that he knew he could sell to the world. Walt knew what he had. But, he couldn't convince Mrs. Travers, and that's the story."
At her first script reading with the Shermans and script writer Don DaGradi (Bradley Whitford), Travers insists that their conversation be recorded. Saving Mr. Banks audiences should stay for the entire end credits just to hear the actual recording on reel-to-reel of one of those meetings. It's proof of how on-target the new film's characterizations are, especially Thompson's pitch-perfect voice and manner.
Accuracy aside, just who is the audience for Saving Mr. Banks? In true Disney fashion, it's everyone. Older kids, especially those who love books, will relish the straightforward story of how Mary Poppins went from page to screen. But it's the baby-boomers who grew up with Mary Poppins — and who've since bought the DVD for their kids and grandkids — whose nostalgia will be stoked. But more than that, adults will be moved by the flashbacks to Travers' heartbreaking childhood in Australia. Travers' beloved father, Travers Goff (Colin Farrell), was an alcoholic who worked in a bank and who served as the model for Mr. Banks. Her strict but kind aunt Ellie (Rachel Griffiths), who arrived at the Goff house (yes, toting a carpet bag) to help the family while Travers Goff was dying, was the inspiration for Mary Poppins.
One of the most pivotal scenes in the film is when Walt Disney and P.L. Travers bond over their harsh childhoods and the abandonment (in one way or another) by their fathers. Both were singular artists who transcended their pain to create something magical. If the message of Disney's Mary Poppins is that it's never too late to learn what's important in life, the message of Saving Mr. Banks is that difficult collaborations are well worth the struggle if it yields a masterpiece.