Steve Coogan on his "Surprising" Serious Turn in Philomena
Steve Coogan is a major star in Britain, but his work in American films (2010's remarkably funny The Trip and the 2004 remake of Around the World in 80 Days, among others) never made much of an impact. He first read about the real-life Philomena Lee in an article in The Guardian newspaper. He then optioned BBC correspondent Martin Sixsmith's 2009 book "The Lost Child of Philomena Lee," in which Sixsmith himself is a character. Sixsmith had contacted Lee, now an elderly widow, for an interview, and ended up going on an odyssey with her to find the long-lost boy.
"The film is personal to me," said Coogan, 48, during the Toronto International Film Festival, where Philomena was runner-up to 12 Years a Slave for top honors in the People's Choice category. Earlier in September, Coogan and Jeff Pope won the best screenplay award at the Venice International Film Festival. "The most avant-garde thing you can do right now is be sincere," said Coogan. "As I get older, I want to do things that matter to me because I don't have to worry about paying the rent. Comedy as an end in itself doesn't really interest me. I love to use comedy to try and make difficult subjects easier. It sweetens things that are bitter. Billy Wilder did that."
Like many comic actors, Coogan is serious, almost formal in an interview. There's not a whiff of his most famous creation, the pompous but clueless TV journalist Alan Partridge. Instead, Coogan's buttoned down demeanor suits the bittersweet Philomena, about a young, unwed mother in 1950s Ireland whose three year-old son was taken without her consent by the Catholic church and given up for adoption. Coogan co-wrote the script, co-produced the film and stars opposite Judi Dench, with Stephen Frears directing.
But Coogan says he and Pope used Sixsmith's book only as a jumping off point. The story Coogan really wanted to tell focused on the relationship between the working-class, Irish Catholic Philomena and Sixsmith, an out-of-work journalist chasing a good story, who eventually learns something about humility and forgiveness.
"I was moved by the photograph in the paper of Martin sitting on a bench next to Philomena. She's laughing and he's sort of impassive," Coogan explained. "It was so at odds with this tragic story that, suddenly, I was captivated by this laughing Irishwoman. I wanted [the film] to be hopeful and sincere but avoid mawkish sentimentality."
Coogan didn't hesitate to cast himself as Sixsmith opposite Dench, who signed on early for the title role.
"I don't know if it counts as nepotism to give yourself the best part in the film but I knew this was a part I wouldn't be offered," he said. "I was flat-lining a bit in my career, and bored as well, and I wanted to do a film that was about something. I was fed up with people being ironic all the time. It pissed me off. I wanted to do something sincere rather than cynical."
Already a hit in the UK before it opened in the US, Philomena has received praise for both the gentle, odd-couple relationship it portrays between Philomena and Martin and for the spotlight it puts on this Catholic church scandal, which is similar to the 2002 film The Magdalene Sisters, about church-run laundries in Ireland that virtually imprisoned young women. Since its release, Philomena has reignited controversy in Ireland about babies who were sold for adoption by nuns and Catholic institutions such as Sean Ross Abbey, where Philomena lived.
Coogan, who was raised Catholic in the middle class town of Middleton on the northern outskirts of Manchester, says that although he's no longer religious, he never set out to bash the Catholic church with the film.
"It's too easy and insulting to go after religion," he said. "For all the mistakes of the institutions, there are decent, ordinary people whose lives are based on faith. It's not black and white. I'm not religious but there are people in my life that I love and respect who are religious so it was important to me to have that in the film."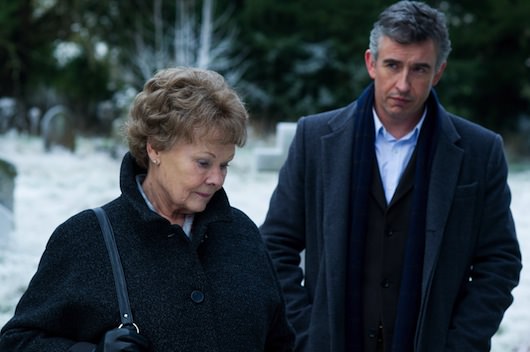 Veteran director Frears said in a separate interview in Toronto that Coogan "was so much more interesting than a conventional actor. I found his lapsed Catholicism interesting. It put the two characters in conflict."
Frears has directed some of Britain's best actors: not just Dench (they've worked together many times, including the 2005 film Mrs. Henderson Presents) but also Daniel Day-Lewis (My Beautiful Laundrette), Helen Mirren (The Queen), and 12 Years a Slave star Chiwetel Ejiofor (whom Frears cast in his breakout role in Dirty Pretty Things). The director says he understands pigeon-holed actors who want to spread their wings.
"I always liked it when Steve was vulgar [as a comic], but I could see that he wanted to take the next step," Frears recalled. "By the grace of God, I've kept out of a box but I can understand how difficult it is. Also, the story is so terrible, people don't expect [Coogan] to be larking about in Judi's presence."
The director remembered one of the most moving days of the shoot, when the real Philomena Lee visited. "The day she came on the set, we were filming in the laundry. I told her, 'Listen, you spent your life trying to get away from this; you shouldn't be here.' She laughed. She's an honorable, dignified woman who has suffered and been so graceful about it. I don't know how you forgive, as she has. It's beyond my sensibility."
Coogan said he's surprised by the enthusiastic reaction to — and now talk of awards for — his modest film. He hopes it signals his escape from the confines of British comedy.
"I've had a career of ups and downs, success and failures. In this business, you get a lot of advice — a lot of 'you ought to do this' — and I ignored all that," he explained. "I said, 'I'll do what I want and see what happens.' I just read a story in the newspaper that made me cry."
Featured image: Judi Dench and Steve Coogan star in Philomena. Courtesy The Weinstein Company