Playing Dress Up with American Hustle Costume Designer Michael Wilkinson
He was the man who dressed Leonidas and his well-toned warriors in 300, made a graphic novel come to life in Watchmen and outfitted Krypton's favorite son in Man of Steel. Sure, costume designer Michael Wilkinson had worked on smaller projects before—Garden State and American Splendor, to name a few—but he was still an unlikely choice to take on director David O. Russell's American Hustle, a late-seventies collision of con men, undercover agents and corrupt politicians.
"I'm sure David was like, 'Why are we talking to the superhero guy?'" laughs Wilkinson. "But we got in the same room together and it was apparent to both of us straightaway that we shared a deep obsession with how people present themselves to the world through their clothes."
Getting the gig was the easy part. Next, Wilkinson had to create the look of American Hustle, one that saw the world transitioning from the bright, simple styles of the mid-seventies (think leisure suits) to a grittier, edgier vibe. And he had to cover a lot of ground, from the fashionistas of Manhattan to the fur-wearing housewives of Long Island and blue-collar residents of Camden, New Jersey.
"It was an amazing collaboration between the hair, makeup and costume departments," says Wilkinson. "We wanted to create unique individuals from head to toe. It was great to think about these people in such detail and put a lot of love into their look." With that in mind, Wilkinson walked us through the film's five "heroes" to show how the clothes make the informant.
Christian Bale as Irving Rosenfeld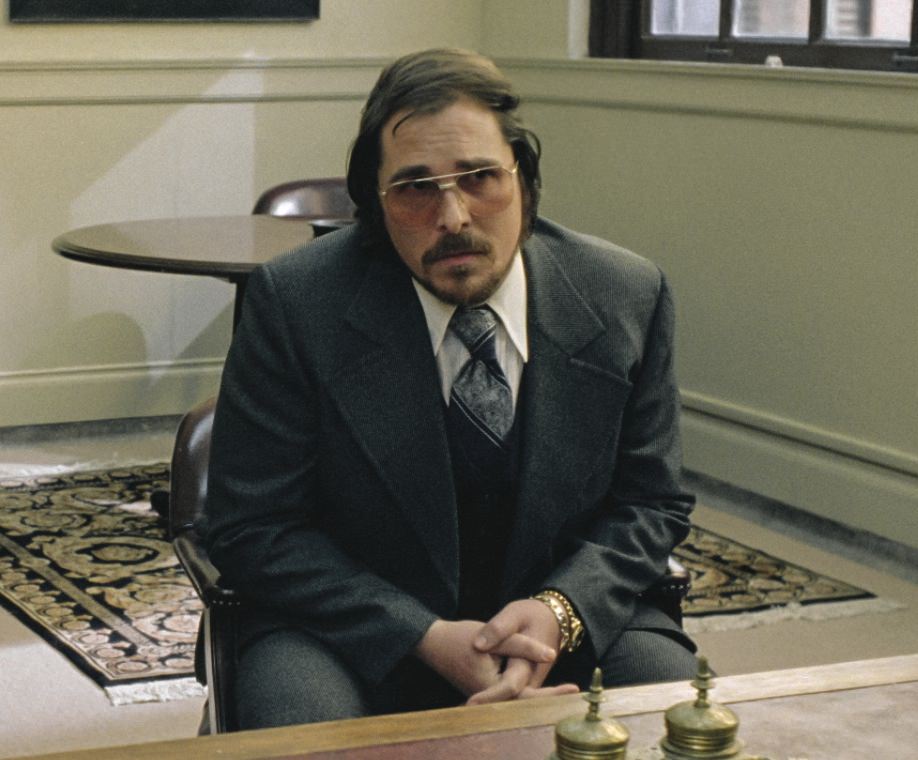 As the brilliant con man forced to help the FBI ensnare corrupt politicians, Bale brought a lot of weight to his role. Literally. "At the beginning of the film we were ready with fat pads, but Christian brought it all to the table himself," laughs Wilkinson. "As soon as we started putting clothes on him the character really started to lock together. He began hunching his shoulders and walking in a different way."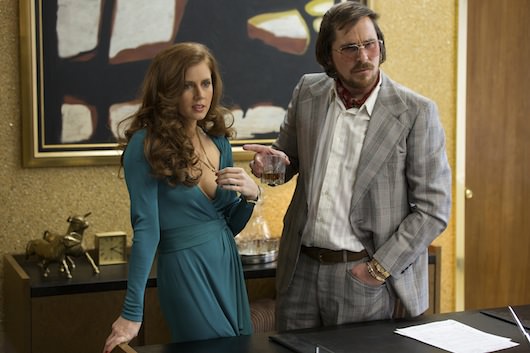 This Jewish hustler from the Bronx wants the world to think he's refined, but as his outfits (particularly his ever-present ascots) suggest, Irving isn't really in his element. "He combines lots of fabrics together in unusual ways," says Wilkinson. "Like, he'll wear stripes with polka dots or paisleys."
As one might expect from an actor notorious for his method ways, Bale was very involved in the process, helping Wilkinson pick the perfect colored lenses and plastic nose bridge for his glasses and making sure his Star of David necklace nestled in precisely the right spot in his chest hair.
Jennifer Lawrence as Rosalyn Rosenfeld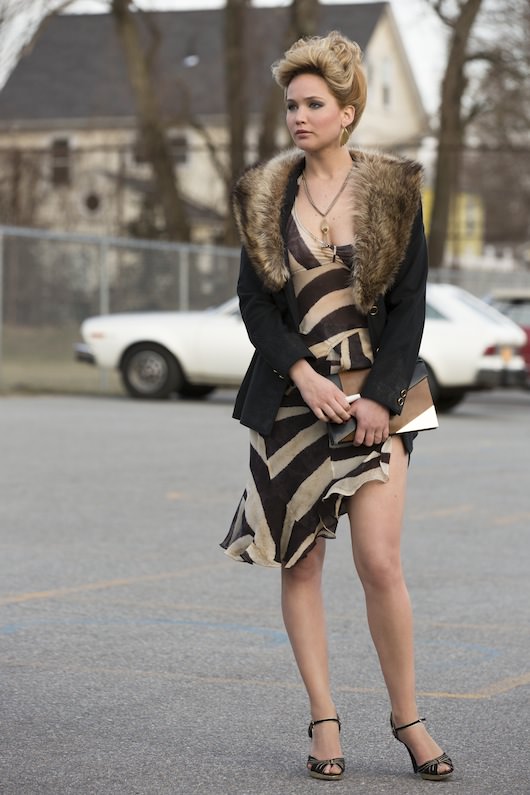 Just 1:41 into the film's second trailer, American Hustle had its iconic image: Jennifer Lawrence storming down a hallway and nearly spilling out of her white evening gown.
"We knew there had to be an element of danger with that dress," says Wilkinson. "You're on the edge of your seat. Is she going to stay in it or not?"
But getting to that memorable point took work. "I started with all of these silks and beautiful, expensive fabrics," remembers Wilkinson. "David was like, 'No! It needs to be tight and clingy and one size too small!' I ended up making the dress out of a $5/yard fabric. It caught that more suburban feel. She's a character who's maybe not the most sophisticated dresser."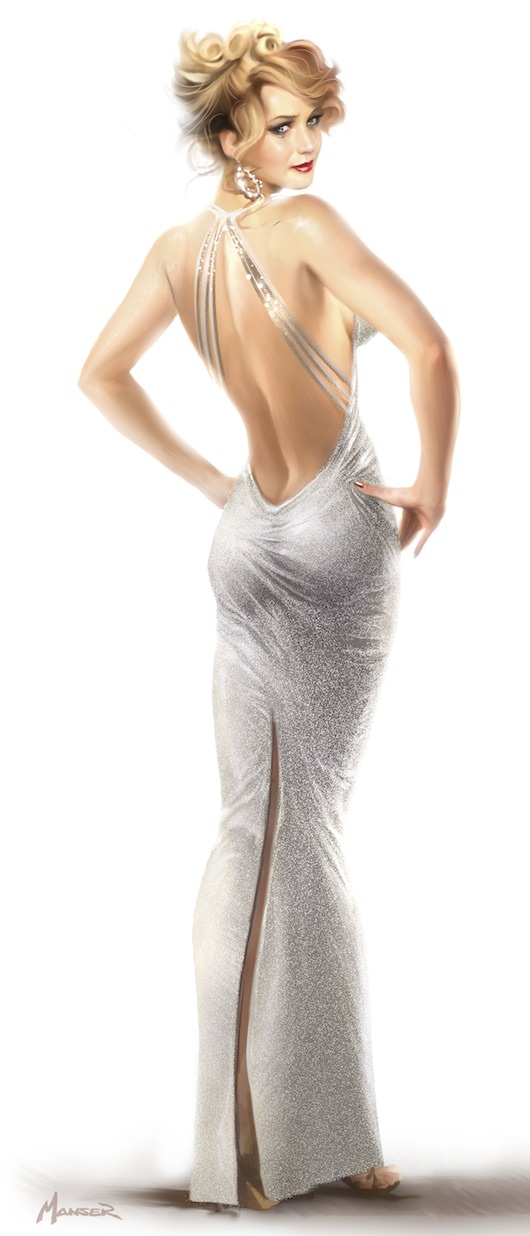 Rosalyn, a stay-at-home mom married to Bale's Irving, is also volatile, prone to mood swings that keep those around her off-balance, and Wilkinson's wardrobes highlight that. Sometimes she's a bored housewife, flipping through magazines in shapeless mumus and men's slippers. Other times she's dressed to kill. "The first time she goes out for dinner with her husband she wears a halter neck chiffon leopard-print jumpsuit," laughs Wilkinson, "so she was certainly a fascinating character study."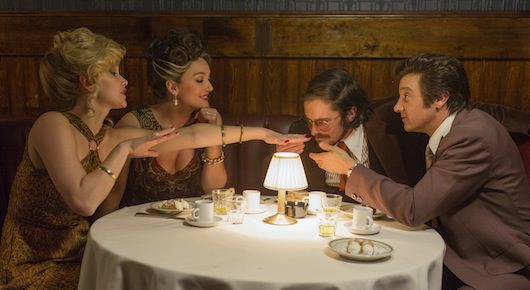 Amy Adams as Sydney Prosser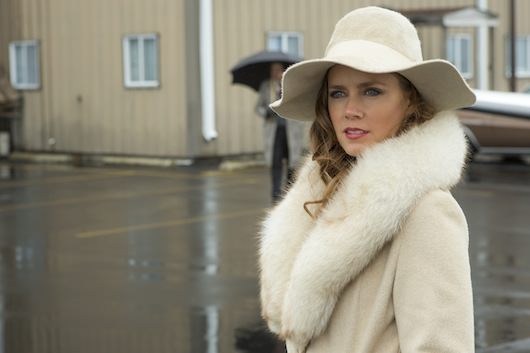 Jennifer Lawrence may be a scene stealer in the trailer, but it's Amy Adams who is American Hustle's real sex kitten, playing Irving's con artist partner and lover. And while Wilkinson outfitted Adams when she played Lois Lane, that couldn't prepare the pair for this skin-baring turn.
"Here was a character who was using her amazing physicality to her advantage," Wilkinson explains. "She meets this man, she falls in love and she gets the resources to explore high-end clothing for the first time, so we see her in Furstenberg wrap dresses and Halston blouses and camel coats."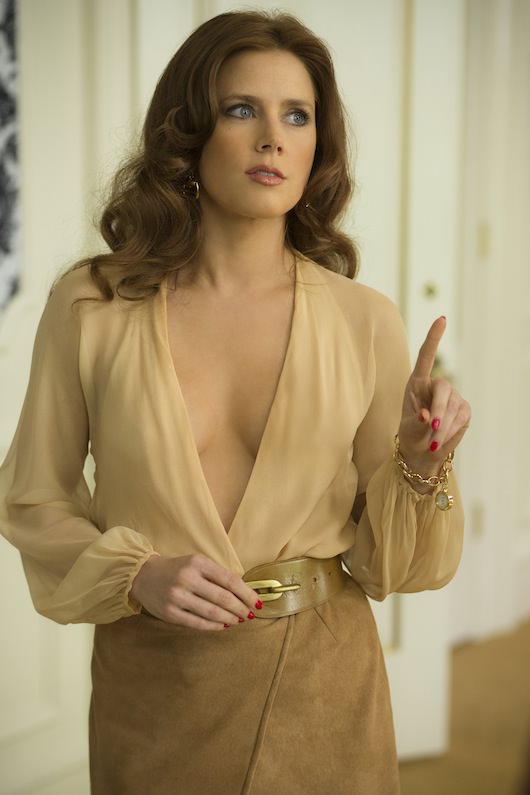 For inspiration, Wilkinson turned to the It girls of the late seventies, women like Bianca Jagger, Jerry Hall and Lauren Hutton. "They had a very daring way of dressing," he explains. "Their clothes were much less structured than those from previous periods. There are no underpinnings or foundation garments—just a simplicity and a cleanness to the lines."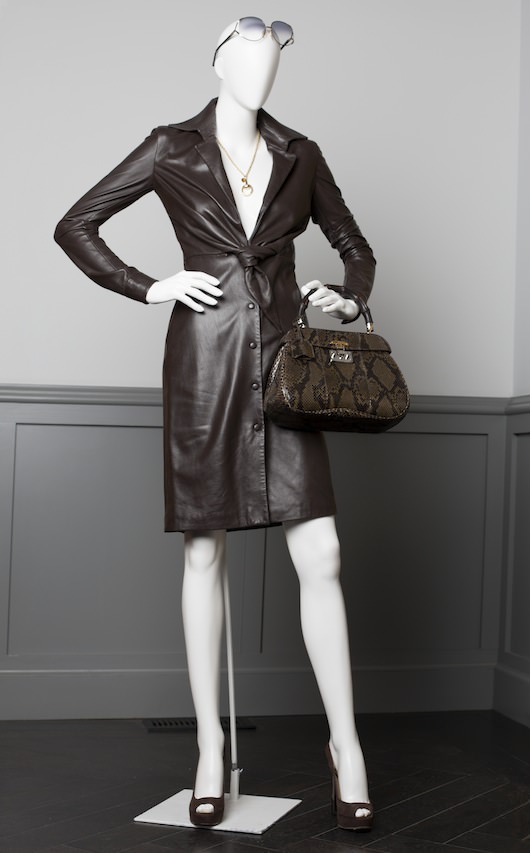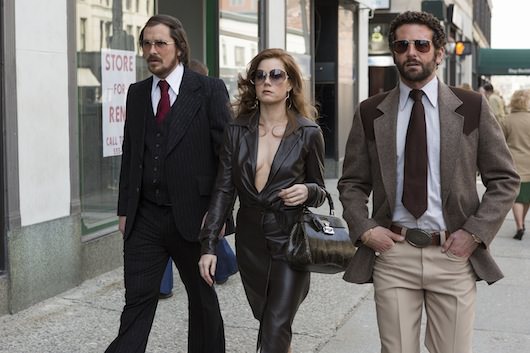 Translation: nearly everything she wears plunges down to her navel, meaning Adams had to throw her inhibitions out the window to pull it off. "Amy is incredibly fearless," says Wilkinson. "Even though in real life she's one of the most stylish women in town, she had no problem exploring this whole other way of dressing."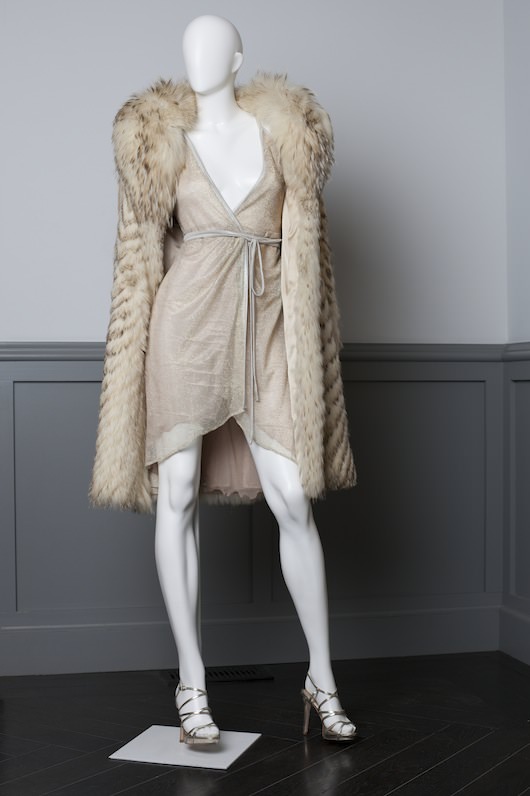 Bradley Cooper as Richie DiMaso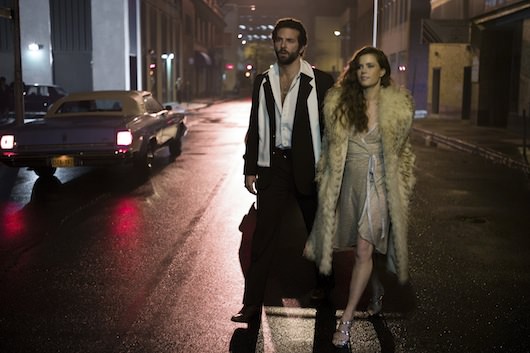 Raised in a deeply religious Bronx family where everything is black and white, Cooper's undercover FBI agent is soon introduced to a world of grey by Irving and Sydney. As that amazing perm suggests, he takes to it pretty quickly.
"All of a sudden he goes from ill-fitting polyester suits to silk shirts and wearing leather jackets to the office, which isn't exactly FBI dress code," laughs Wilkinson. "He creates his own rules. He buys cool sunglasses and some statement ties and the John Travolta, western-style sports coat with the contrasting seams.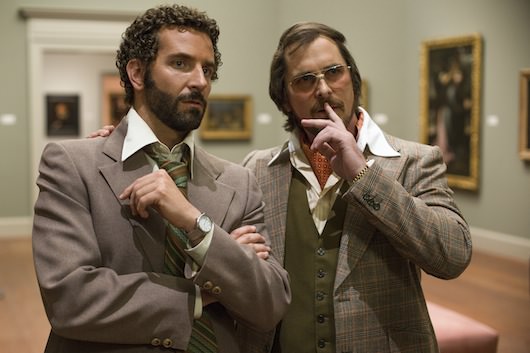 "Richie really starts exploring the impact that his clothes have on how he's perceived in the world," adds Wilkinson. "Of course, like Jennifer's character, he doesn't necessarily have the sophistication to do this in a very convincing way, so Richie has some good days and some bad days."
Jeremy Renner as Carmine Polito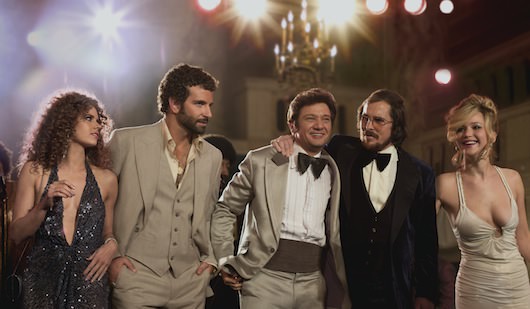 Speaking of statement ties, there's Camden mayor Carmine Polito, an idealistic politician who has one foot firmly planted in the past and is proud of it. "We wanted him to exude that old-school charm," says Wilkinson, "so we looked at photos of real New Jersey politicians and even what the Rat Pack and Sinatra were wearing in the seventies."
Eventually, the production decided to outfit Renner in his signature wide ties and pale-colored suits (spearmint, buttery beige), which paired perfectly with his immaculate pompadour hairstyle.
"We liked him in these pale colors so that as he walked down the squalid streets of Camden he was kind of an aspirational figure to people," says Wilkinson. "He is this beautiful bright figure amongst the endless greys and browns of New Jersey. It says a lot about how he sees himself in the community."
After months playing in his seventies sandbox, Wilkinson is itching to take on another period piece. But fate has other plans, namely one more collaboration with Zack Snyder as they design new Batman and Wonder Woman costumes for the film fans are calling Batman vs. Superman.
"I'm looking to take what I learned from David about getting outside your comfort zone and really stretching your creativity to the max and bringing it to this new project," says Wilkinson, who is already preparing himself for plenty of feedback. "The range of people that are invested in these characters is just mind-blowing. My grandparents care about how they look and then so do my five-year-old kids. It's incredible."
More Looks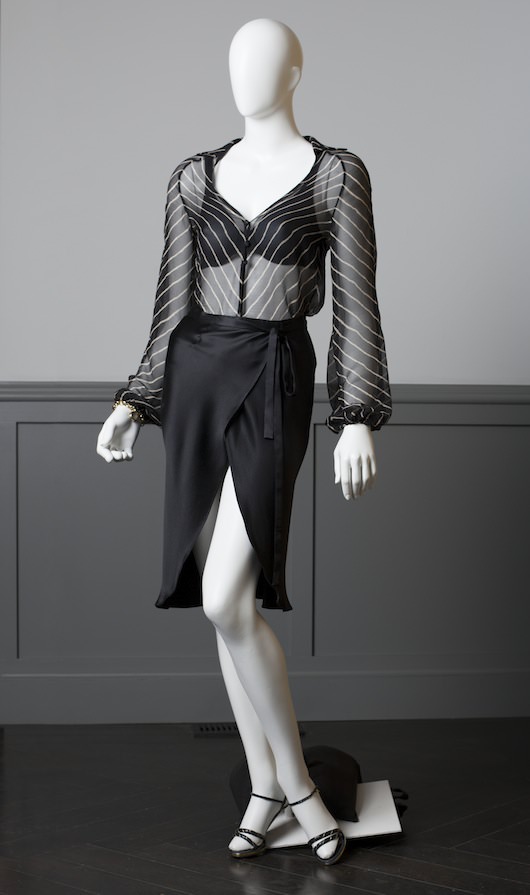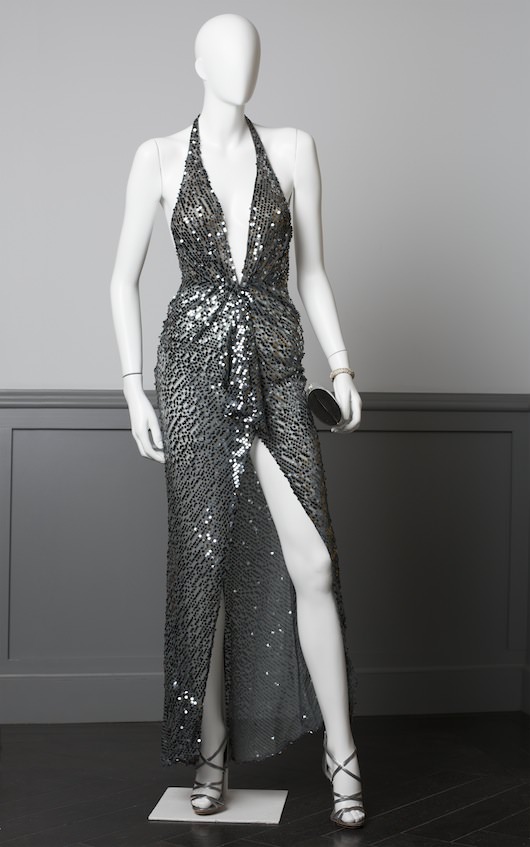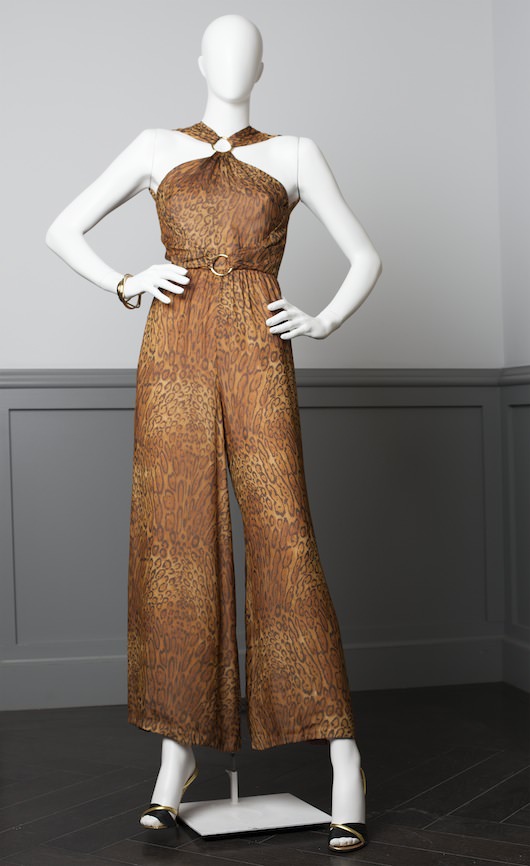 Featured image: Costume Designer Michael Wilkinson for Columbia Pictures' American Hustle with some of the films looks.(L-R):
Vintage I. Magnin Leopard print chiffon halter neck jumpsuit, with gold ring detail at neck, worn by Jennifer Lawrence at scene in Italian Restaurant with vintage Xavier Danuad Paris stilettos.
Chocolate Leather deep plunge dress (Halston archvies), Gold Classic Horsebit Necklace (Gucci), Brown suede platform slingback heels, Vintage Christian Dior sunglasses (provided by Allyn Scura Eyeworks), Python & Bamboo Gucci Ladylock Handbag (Gucci Ladylock Bag).
The sheer gunmetal sequin evening gown was worn by Amy Adams. Halterneck, backless, with high center front slit. Made for the film. Badgley Mischka disco-inspired strappy stilettos, Vintage Designer reptile silver clutch by Coblentz Originals (provided by Dressing Vintage).
Sheer platinum lamÈ disco dress, worn by Amy Adams in scene at Studio 54. Made for the film. Vintage knee length fur with shawl collar. Badgley Mischka disco-inpsired strappy stilettos
Black and White chevron shirt with black satin skirt, worn by Amy Adams for scene at the FBI. Both pieces designed and made for the film. Vintage Charles Jourdan pumps. Period Lingerie (custom-made for the film by Maidenform).