Going Viral: The Hilariously Savvy Selling of Anchorman 2
When Anchorman: The Legend of Ron Burgundy was released in July 2004, YouTube was just a glimmer in the eye of three PayPal employees and the world's now-ubiquitous social network was still known as The Facebook and open only to college students. What a difference nine-and-a-half years makes.
Despite being released almost exactly two years before the launch of Twitter (and three years before star Will Ferrell and co-writer/director Adam McKay created their wildly popular humor channel, Funny or Die), Anchorman 2: The Legend Continues finds itself in the middle of a real and social media swarm. (Not too shabby for a comedy that was out-grossed by 50 First Dates and a forgettable remake of Starsky & Hutch.)
Whether it was Emerson College (temporarily) renaming its School of Communication in honor of Ron Burgundy, Ferrell's in-character appearance alongside Daft Punk at the MTV European Music Awards, or the faux bronze bust available for pre-order on the Urban Outfitters website, Anchorman's unlikely hero has, for the past few months, become wonderfully unavoidable.
So how does a misinformed, misogynistic news anchor take over the media world months before delivering the most quote-worthy comedy of the year? The answer is a mix of creative marketing deals and a star willing to wear holes in the bottom of his loafers to get the word out. Here, a thorough but still somehow incomplete look at the selling of Anchorman 2: The Legend Continues.
Ron Burgundy sells the Dodge Durango
Early October
By now, everyone has seen the spot of Ron Burgundy talking up the 12-volt light bulb and ample store capacity of the Dodge Durango's glove box. ("This thing goes on for inches," Burgundy gushes.) If these commercials seem surprisingly witty for a car company, that's because Dodge handed over full creative control to Ferrell, McKay and the Funny or Die team. Over the course of a marathon two-day filming session, the improv-happy group wound up filming 25 of the 30 spots they had written, though Ferrell's unscripted asides actually gave Dodge a whopping 70 options to choose from. Apparently, Anchorman sells. Roughly 21 million YouTube hits later, Dodge has seen an 80-percent spike in web traffic, and year-over-year sales jumped a ridiculous 59 percent in October.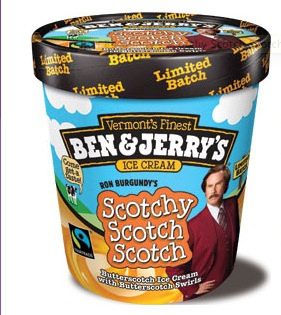 Ron Burgundy sells ice cream
October 22
Ben & Jerry's had already teamed up with its fair share of Saturday Night Live alums—Jimmy Fallon's Late Night Snack, Tina Fey's Liz Lemon, the short-lived Schweddy Balls—so it was no surprise when they scooped out a new flavor in honor of Anchorman. Ron Burgundy didn't make it to New York for the official unveiling of Scotchy, Scotch, Scotch, a butterscotch ice cream with butterscotch swirls (that honor went to his costar from the first film, Nutty the waterskiing squirrel). However, he did make a statement: "Scotchy, Scotch, Scotch is a delicious ice cream and I hope Ben and Jerry consider my other suggestions: malt liquor marshmallow, well liquor bourbon peanut butter and cheap white wine sherbet." It's not all fun and games for Ferrell, however. Some of the proceeds will go the actor's favorite charity, Cancer for College, which has already given $2 million in scholarships to cancer survivors.
Ron Burgundy does the Newseum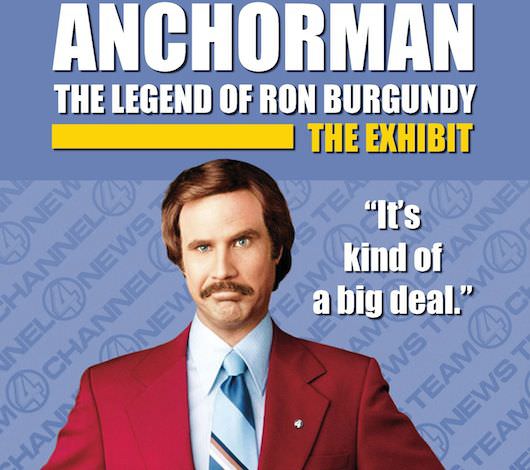 November 14—August 31, 2014
Just across the hall from the Newseum's exhibition commemorating the 50th anniversary of John F. Kennedy's assassination sits a decidedly less somber display, Anchorman: The Exhibit. Along with some 60 props from the first film (Ron's jazz flute and mustache brush, a bottle of Sex Panther cologne, Baxter the Dog's stuffed stunt double, etc.), the exhibition also educates visitors on the First Amendment and celebrates the rise of women to the anchor chair.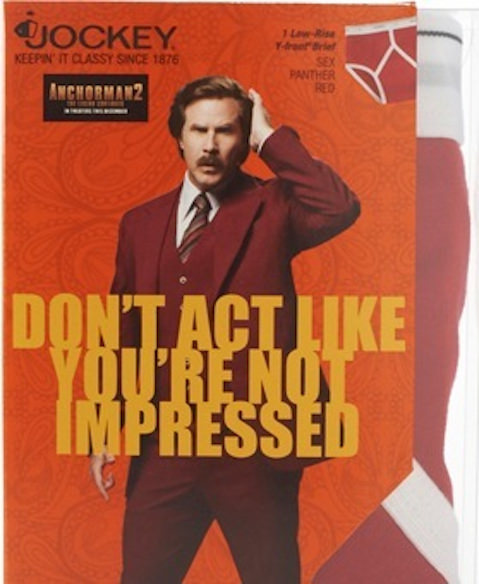 Ron Burgundy Does Underwear
November 15
When Anchorman 2 needed a character to take to the screen in old-school undies, the costume department called Jockey for help. The result is one of the most bizarre collaborations in movie marketing history. After Jockey historians when through the archives to find some old designs, they took the next logical step and offered them up for sale. This limited edition run, a low-rise Y-front brief, sells for $18/pair and comes in two colors: Sex Panther Red and Beard of Zeus Blue. Likewise, it marks the first time Jockey has sold undergarments inspired by a movie since the 1950 Bob Hope film Fancy Pants. As the Jockey packaging itself says, "Don't act like you're not impressed."
Ron Burgundy sings Mayor Rob Ford's campaign song
November 20
Back in March 2012, Conan O'Brien's talk show was the forum where Will Ferrell announced that Anchorman 2 had gotten the green light, so it only made sense that he would return to the scene of the crime to push the finished product (as well as the Ron Burgundy "autobiography" that hit shelves two days earlier). Calling beleaguered Toronto mayor Rob Ford a "dear, dear, dear friend," Ferrell-as-Burgundy launched into a cover of Loverboy's "Working for the Weekend" with Coco's house band, even rocking a 20-second jazz flute solo that left him doubled over in exhaustion. And the Anchorman crew didn't pass on the chance to take their marketing next level. While there, Ferrell got Conan to pose wearing a Ron Burgundy mustache and tweet it out to his 9.5 million followers, earning 323 re-tweets and 412 favorites.
Ron Burgundy anchors a North Dakota newscast
December 1
Soon after taking to L.A. for Conan's show, Ferrell and co. took things to a grassroots level, visiting Bismarck, North Dakota, to host KXMB's Saturday night news broadcast. While there, Burgundy did his best to disrupt his new coworkers, leaning into anchorwoman's Amber Schatz shot as she delivered a report on shoplifting and ribbing sportscaster Jon Schaeffer ("I've never seen fighting in a hockey match before. That was fascinating."). His visit didn't exactly go viral (it has garnered less than 200,000 hits on YouTube), but Ferrell still made an impression. He stayed long afterward to sign autographs for the crew, and Schatz, who spouted some of her favorite Anchorman quotes to Ferrell during commercial breaks, has gushed about the experience in more than 30 interviews. "It's so awesome to be known as the girl who got to anchor with Ron Burgundy," she says.
Ron Burgundy does curling commentary
December 2
Since he was in the neighborhood, Ferrell went from Bismarck to Winnipeg to help TSN (Canada's ESPN equivalent) cover their women's Olympic curling trials. After showing up in a limo and offering up bites of his cruller to the workers toiling backstage, Burgundy walked onto the ice (in a kilt) to address the crowd before providing color commentary with the voice of Canadian curling, Vic Rauter. When set up perfectly for a joke, Ferrell even had the wherewithal to provide a surprisingly G-rated Latin translation of Winnipeg ("beautiful hill country").
Ron Burgundy interview Peyton Manning for SportsCenter
December 6
Men in the 18-34 demographic will dictate Anchorman 2's success, so it's no surprise that the movie teamed up with the Worldwide Leader in Sports. The brainchild of ESPN The Magazine editor Chad Millman, Ferrell-as-Burgundy interviewed Broncos star Peyton Manning for a cover story that was also aired on SportsCenter. There was just one problem: on the only day Manning was available, Ferrell was on the other side of the country. The solution: Ferrell and a stand-in did a morning shoot in Los Angeles, and those photos were used as a guide for Manning's poses later that day in Denver. The two were then combined to create one seamless image.
As for the duo's interaction, it may have come off as unscripted to the 3.7 million people who have watched it on YouTube ("You look like a succulent baby lamb" is pure Anchorman), but Ferrell and Manning, plus Peyton's older brother Cooper, actually wrote the script together via email.
Ron Burgundy sells Scotch

December
Crafted and bottled in Scotland by Old St. Andrews Distillery, Great Odin's Raven Special Reserve is a very real, legitimately good blend featuring whiskies from Speyside, Highlands and Islay. (Unsurprisingly, it pairs perfectly with Scotchy Scotch Toss, the Funny or Die app that lets fans throw ice cubes into Ron's glass while being berated by 300 new one-liners.) The Scotch—and its reasonable $25 sticker price—is also very popular. On December 10, New York-based Riviera Imports reported that it had already sold roughly 6,000 cases.
Bonus Burgundy—Ron visits the Dan Patrick Show
Featured image: (Left to right) David Koechner is Champ Kind, Paul Rudd is Brian Fantana, Will Ferrell is Ron Burgundy and Steve Carell is Brick Tamland in ANCHORMAN 2: THE LEGEND CONTINUES to be released by Paramount Pictures. Courtesy Paramount Pictures.