The Rose Theatre in Washington State: A Beloved Local Movie House Embraces Digital
If you want to get cinematic about it, you could say that Rocky Friedman is like Humphrey Bogart's Rick in Casablanca. Both men hold court nightly in neighborhood joints that reflect their refined and idiosyncratic tastes. Like Rick's café, there's always action at Rocky's.
Some of it takes place on screen.
Friedman, 60, is the owner of the Rose Theatre in the tiny seaport of Port Townsend, Washington. Tucked into a charming downtown of Victorian-era buildings, the two-story, two-screen movie house is a beloved gem. Friedman has called the shots at the Rose for more than 21 years after meticulously restoring it from a long-shuttered Vaudeville house.
Everyone comes to Rocky's. In this artists' community of 8,700, Friedman pulls in the writers, dancers, musicians, and wooden boat builders with his renowned programming. He mixes in big studio releases like The Hunger Games and documentaries like Blackfish, with foreign films, indies, late night revivals, and live simulcasts of international ballet and opera companies.
"He has such a clear vision of the breadth of what he wants to present and he's brilliant in his strategy," says long-time resident Janette Force, who serves as Executive Director for the Port Townsend Film Festival (which Friedman helped start and advises on now). "I don't even have to pay attention to what Rocky's playing because if he picked it, I know I'll like it."
Off-screen, Friedman's unassuming manner belies a shrewd marketing mind and a sly sense of humor. Every Monday is Fabulous Door Prize Night at the Rose. Patrons attending big premieres often find the bushy-gray-haired proprietor dressed formally and tearing tickets. Friedman himself has conducted interviews on stage with local filmmakers as well as major stars such as actress Sally Field and director Sidney Pollack.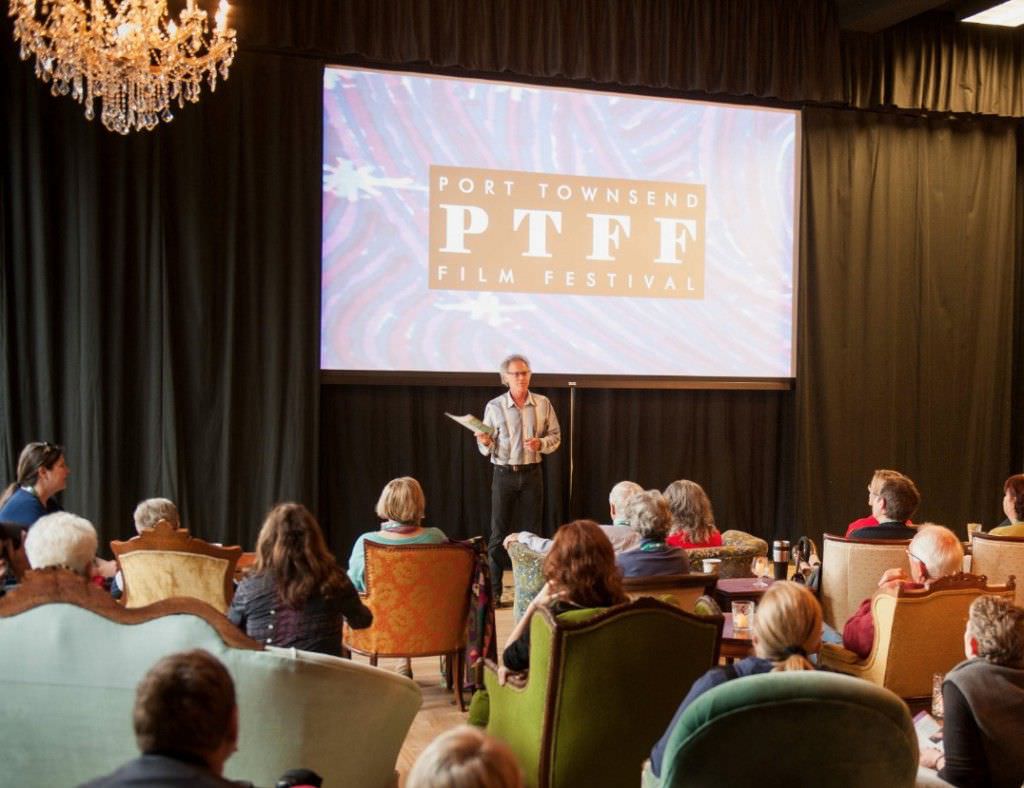 Even tourists rave. Reviewers on TripAdvisor rank the Rose as the Number one attraction in Port Townsend. Friedman recalls a stranger who stopped by to say he had just moved from nearby Sequim because he was spending so much time at the theater he might as well live in the town.
"I offered to pay his mortgage," Friedman says.
"The Rose is a community centerpiece," says board member Jim Ewing, who notes how often Friedman donates tickets to local benefits. "And that's Rocky's doing. He's careful with everything—the popcorn, the carpets, the managers. The Rose is the Rose, but the brand is really Rocky."
The story of how Friedman came to open the Rose is the stuff of screenplays. A childhood spent in movie theaters in and around Seattle led him to U.S.C.'s prestigious film school. After knocking around the movie industry, he moved to Port Townsend in the early 1980s with his wife and young daughter to pursue a screenwriting career. Two hours by car and ferry from Seattle on the Olympic Peninsula, Port Townsend appealed for its small town charm and its "highly educated, culturally-aware audience," as Friedman puts it.
An idea popped into the struggling writer's head one day.
"I sensed the town was ripe for a second theater," says Friedman, who wanted to keep his hand in the movie business. (Note: The single-screen Uptown Theater has been in existence since 1947.) "I knew there was a film society here and it was very popular and I knew that an audience would support non-mainstream fare, and that's where my heart was.
Friedman scrimped and saved toward his dream while working as a waiter in a Mexican restaurant for four years. When it went out of business, he bagged groceries. That's where Force first met him. "In the midst of stacking produce and stocking shelves he would wax poetic on classic film," she says.
While hunting for a location, Friedman raised funds through a stock offering solicited from 24 community investors (he is a shareholder himself). "The vision Rocky had of a place that was a Manhattan kind of quality in our little burg was very compelling," Ewing says. "By that time he had a lot of support in the community."
After three sites fell through, Friedman got a call about a second-hand store for sale. It was kismet: unbeknownst to Friedman the store occupied the former site of a Vaudeville house that first opened in 1907 and had operated as a legitimate cinema until 1958. With the help of a local couple who bought the building for him, plus a $50,000 state grant they secured, Friedman set to work on renovations.
Six labor-intensive months later, in July 1992, the Rose bloomed with a debut showing of Some Like it Hot.
"The community came together not only to finance it," Friedman notes on the theater's website, "but to apply the final touches of paint."
Friedman added a second screen in an adjacent building two years later. Patrons in both the original Rose (seating 158), and the Rosebud Cinema (83) enjoy a signature Friedman touch: Before every showing an employee introduces the film and explains why the boss chose it.
The Rose is clearly a smash hit artistically. But in the 21 years since opening, it has not escaped the box office buffeting many independents have experienced from competition with the home entertainment market. "You have to be endlessly creative to bring people into the theater," notes Friedman. "That's why I do all this alternative content like The Metropolitan Opera, the National Theater of London. You have to add more things to your menu."
One particularly daunting financial challenge bubbled up in 2011 as the industry prepared for the full conversion from print to digital projection. With a price tag he figured to be $200,000 for two new projectors with 3D capability, Friedman felt at a loss as the late 2012 deadline approached. He did not have the funds or the credit to service a large debt.
There was also the emotional side for the film school graduate.
"One thing I always enjoyed about my job was the tactile experience of handling film," says Friedman. "Every single frame of film I showed at the Rose ran through my fingers as I checked for imperfections or sprocket tears and built the film. I hated the idea of getting rid of 35mm."
Friedman approached his board of directors and together they developed a fundraising plan to appeal directly to the public.
"We tied it in with our 20th anniversary," Friedman says. The message was: 'this is the reality we are facing in order to remain in business. Thank you for all your wonderful support and patronage over these 20 years. Would you help us ensure that we get to 40 years?'"
With a carefully orchestrated campaign that included an ad in the weekly paper, pre-show appeals amid his silent screen ads, literature in the theater, and a one-off website for donations, Friedman kept the messaging in front of his fellow residents. Donation incentives included rewards with the Friedman touch of glamor. For $500 you could have a nameplate on a seat. $500 to $5,000 earned a star in the lobby. For $75 you got your own 3D glasses. Pricier packages earned the privilege of introducing a film or attending a private screening—and lunch with Friedman himself.
Once again the community rallied around the Rose. In just seven weeks, a little more than half the time Friedman hoped it would take, he had the funds in hand. More than 500 people donated. Each received a personal thank you note from Friedman.
"I remember the first day people came in that I really didn't know and wanted to hand me money," he says. "I called my CPA and said, 'I'm not sure if I need to see you or a therapist.' "He said to me, 'get used to it, the Rose has a great reputation.' It was entirely overwhelming."
When it came time to dismantle his 35mm projectors, Friedman felt a pang of nostalgia. That evaporated, he says, in about 90 minutes as he lugged piece after piece of heavy metal machinery down from the projection booth.
The all-digital Rose Theater debuted on June 15, 2012 with Ridley Scott's Prometheus in 3D. Board members wearing their own 3D glasses joined Friedman at the opening to ceremoniously cut through a ribbon of 35mm film stock.
In keeping with his creative menu, Friedman opened a third screen this year in a next-door restaurant in partnership with its owner. The "Starlight Room" features drinks, appetizers, and Rose popcorn with a choice of the legendary toppings Friedman's patrons have come to love: parmesan cheese, tamari, and nutritional yeast.
Today, Friedman says he is "finally getting to run the kind of theater I always wanted." He credits the convenience of digital and the greater breadth of content he can offer. "I could have done it with film," he says, "but it would taken a lot more hours and work and shipping costs. I feel very fortunate. I love my job more than ever."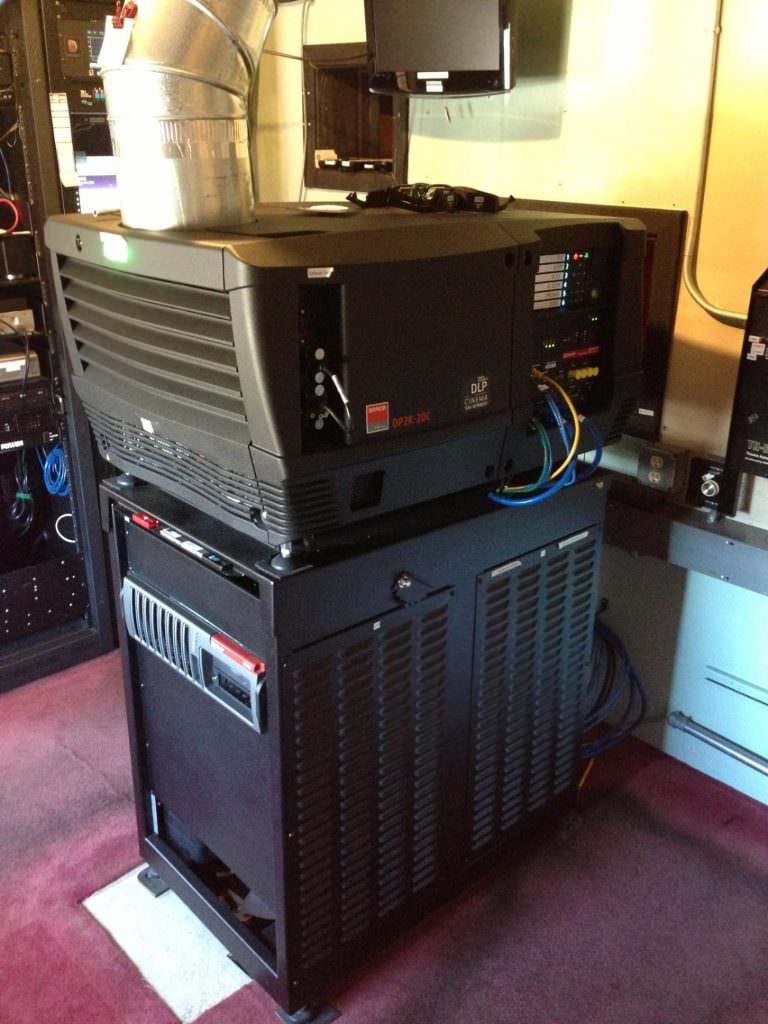 The community sentiment can be summed up in an email Friedman received that he calls typical of many. In it, resident Katherine Baril asks if he plans to show the 2013 documentary At Berkeley because friends "have expressed interest." Baril signs off with: "Thank you for making my cultural life so rich in this little community."
If you want to get cinematic, you could call that a Hollywood ending.
Featured image by Mark Saran