Christopher Nolan and the Increasing Utilization of IMAX Cameras in Film
Camera nerds, film lovers, Nolan-heads and even some regular film enthusiasts were abuzz earlier this week when word spread that Christopher Nolan was up to some wild business (once again) with an IMAX camera. Nolan is probably the format's most prodigious advocate (he's part of a tribe of filmmakers who utilize the bulky-but-beautiful technology), and he always seem to be pushing the boundaries of what can (and should?) be done with these cameras. This past Monday, a few photos released by Paul J. Franklin, the visual effects supervisor on Nolan's next film, Interstellar, showed an IMAX camera installed into a Learjet's nose.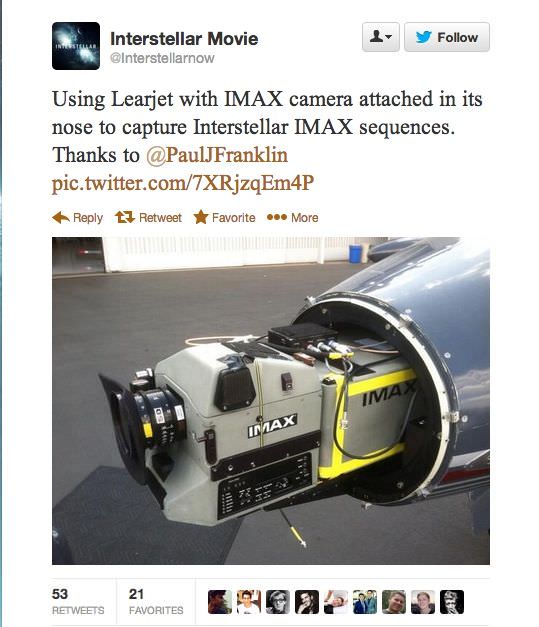 Relatively little is known about Interstellar. On the movie's site, we're told that, "in the future, governments and economies across the globe have collapsed, food is scarce, NASA is no more, and the 20th Century is to blame. A mysterious rip in spacetime opens and it's up to whatever is left of NASA to explore and offer up hope for mankind." No doubt that the IMAX camera is giving Nolan the ability to add make the visuals as mind bending as the story itself will be.
Nolan famously used IMAX cameras for The Dark Knight and The Dark Knight Rises. For The Dark Knight, Nolan was the first filmmaker to ever use an IMAX camera to partially shoot a feature film. Nolan's not alone using IMAX cameras, but he's certainly among the forefront of filmmakers who are utilizing the technology to give movie lovers a reason to go to the theater. Brad Bird used an IMAX camera to film some scenes in his spectacular Mission: Impossible—Ghost Protocol, as did Michael Bay for Transformers: Dark of the Moon.
Friday will see the release of another major milestone for IMAX cameras being used in film with the premiere of The Hunger Games: Catching Fire. Director Francis Lawrence show the entire games sequence using an IMAX camera, and it's been reported that it amounts to nearly 50 minutes of screen time. Nolan himself shot a whopping 72 minutes of The Dark Knight Rises using an IMAX camera.
IMAX cameras are not easy pieces of equipment. They're heavy. They're expensive. They're loud. They're also still quite rare—there's only a few dozen of them currently in operation. IMAX cameras are made of magnesium (they've also been made of aluminum, but those tend to be too fragile), with lenses from Carl Zeiss that are then repurposed by the IMAX team and built to their own specific optic specifications.
One of the aspects that gives the IMAX camera it's pop is the fact it uses 70 millimeter film, which is twice as wide as what an ordinary camera uses. Couple the film with the custom lenses that IMAX builds for their equipment, and the result (which also requires a few hundred small, perfectly calibrated parts in between) is the highest-resolution camera in the world. "Seventy-millimeter film yields an extraordinary negative, brilliantly sharp, with a wider, more subtle color 'gamut' and the richness many directors say only comes from film," as they say on their site. If you've seen a film in an IMAX theater, shot with an IMAX camera, the effect is truly astounding—the image fills to fit the giant screen, and the clarity, crispness, and color saturation of the picture is intense. They have ten times the resolution of your typical 35 millimeter camera, and when you're seeing an IMAX filmed scene in an IMAX theater, your eye is taking in forty percent more picture than you get in any other theater.
So what are some of these cameras like? A lighter weight IMAX camera, like their MKII LW, is roughly 46 pounds when it holds 500 feet of film in its magazine. How much does 500 feet of IMAX film get you? About one and a half minutes of shooting. The IMAX that Christopher Nolan used to film the famous Tumbler sequence in the Dark Knight, an MSM 9802, was packed with a 1,000 foot-magazine. That MSM 9802 was destroyed by a stunt vehicle—at the time it was only one of four of such cameras in the world, and was insured to the tune of $500,000.
The 3D-15 Solido is a two-lensed 3D camera that intentionally mimics the human perspective. It has two fluid shutters that spin on the inside, which allows for precise exposure of two simultaneous reels of film. This beauty (and beast) weighs around 215 pounds when it is fitted with an 1,000 foot film canister, and 329 when it's got 2,500 feet of film.