Spike Jonze's Soulful, Searching Sci-Fi Romance Her
A Spike Jonze film is always an event. He's made four features in fourteen years—starting with Being John Malkovich (1999), a film so singularly peculiar and original (a puppeteer finds a portal that leads into the actual mind of John Malkovich), that the long-time music video director found himself nominated for an Academy Award at the ripe old age of 30.
Malkovich was written by Charlie Kaufman, as was Jonze's next feature, Adaptation, a gloriously bizarre film about a writer (Charlie Kaufman) whose anguish over his failure to adapt Susan Orlean's The Orchid Thief for the screen is only exacerbated by the success of his talentless twin brother, Donald, who sells his first screenplay for six figures. After a series of wild twists and turns, Orlean (Meryl Streep) feels she has no choice but to kill the Kaufmans. Adaptation was nominated for four Academy Awards, and Chris Cooper nabbed one for best supporting actor. In a scant few years, Jonze had turned from heralded music video director into a legitimate film auteur.
Where the Wild Things Are, his next feature, was Jonze's first crack at co-writing a feature script, which he did with novelist and screenwriter Dave Eggers. The critically acclaimed Wild Things was, of course, adapted from Maurice Sendak's beloved original. It would have been an achievement to simply not tarnish the original text—Jonze made a beautiful, dreamy film that managed to capture Sendak's bittersweet story while still retaining his own artistic identity.
With Her (slated for a limited release on November 20), Jonze carries the title of writer/director. After working with two immensely gifted writers in Kaufman and Eggers, Her is proof that Jonze is capable of crafting a smart, unique script on his own. The screening on October 12 at the New York Film Festival was packed to see what Jonze had done this time. What he's done is make a remarkable film.
Set in a near-future Los Angeles that has to be one of the most beautiful, believable visions of the future in recent film history, Her focuses on Theodore Twombly (Joaquin Phoenix), a sweet, sad man who is heartbroken from the dissolution of his marriage to Catherine (Rooney Mara), and who spends his workdays writing beautiful love letters for other people. This job is one of the many hilarious, clever touches Jonze has sprinkled throughout the film. There are two different video games featured that are laugh out loud funny. Jonze's future is hilarious, with a tinge of melancholy.
Theodore's life is changed when a new product is released, an operating system (OS) with a tremendous amount of artificial intelligence, one that is capable of learning and growing, an AI filled with intuition and compassion. Theodore buys it and meets his OS, Samantha (voiced by Scarlett Johansson), who makes quick work of waking him from his torpor and reminds him of all the things there is to enjoy about the world. Newly invigorated, happier than he's been in months, Theodore and Samantha find their feelings being to evolve—from consumer/product to friendship, and from friendship, incredibly, believably, into love.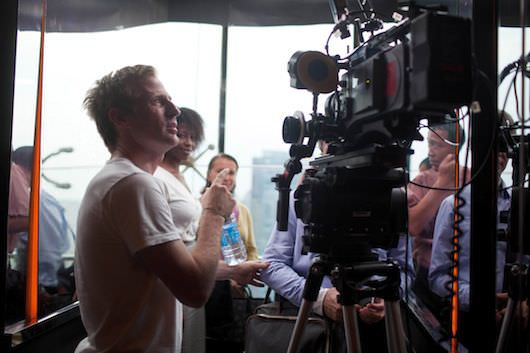 "The initial spark was an article I saw online that linked you to an instant message with an artificial intelligence," Jonze said at the press conference following the NYFF screening, seated next to much of his cast (Phoenix, Mara, Amy Adams and Olivia Wilde). "And I'd have this little exchange and I had this buzz and felt, wow, I'm talking to this thing, and this thing is listening to me. And then it quickly devolved, you could tell it was parroting things it had heard before, and it wasn't intelligent. Eventually I had the idea of a man having a relationship with an entity like that, with a fully formed consciousness, and I thought about the idea of what would happen if you really had a real relationship."
Theodore's relationship with Samantha is at first based on novelty and astonishment—although this a future filled with many marvels, he has never experienced anything quite like her. He's been avoiding social engagements and generally moping around—this is evident from a voicemail he receives at one point asking "the old, fun Theodore" to attend a party. Samantha throws a bunch of light into his life.
"That's something about Samantha, she's pure," says Olivia Wilde, who plays a woman Theodore goes on a blind date with. "Which makes her even more of an ideal, romantically. The difference between humans and artificial intelligence is baggage, so whereas the blind date carries an enormous amount of pain and baggage, and she projects all of that onto what Theordore is saying, Samantha's so open minded, she only sees the best and assumes the best."
At first, that is. Samantha is truly intelligent, which means she can learn.
"Yeah, what I talked a lot to Scarlett about is that Samantha is brand new to the world and is like a child," Jonze said. "She hasn't learned any insecurities, any self doubts…she learns [to have] those through the course of the movie, she has these experiences that give her those kind of painful situations that create self doubts."
As Theodore contends with his growing feelings for Samantha, Amy (Amy Adams), his closest friend, is having problems with her flesh and blood husband. One of the beautiful little twists in Her is that the intimacy and communication issues exist between humans, whereas the human/OS relationships are shown to be fun, open, and based on unguarded and open communication. It's the human beings that struggle with their reality, while operating systems like Samantha see the world for what it is, and want to see more.
One of Jonze's many key moves was keeping Samantha a disembodied voice. It would have been easy, and somewhat predictable, to imagine a future in which you could have a relationship with a beautiful avatar. If the technology is available to create this level of artificial intelligence, surely that world would also provide life-like avatars and virtual realities in which Theodore could see, and perhaps even touch, Samantha.
"I liked the idea of her existing more in the ether, in his heart and psyche," Jonze said.
It's a film that, on paper, sounds like it can't work—much of the time you're watching a man having a conversation with someone who's not there, and yet it's incredibly affecting. It also has a novelistic quality, leaving Samantha largely in the realm of the viewer's imagination.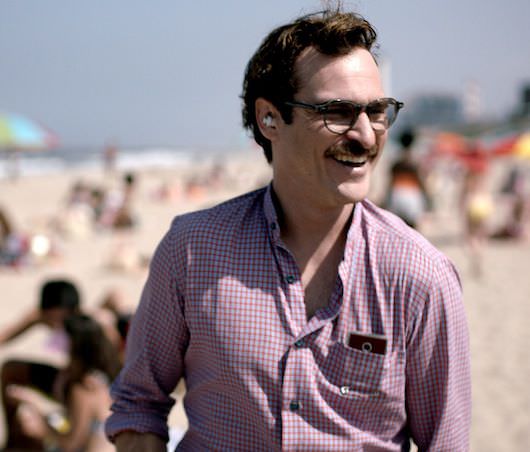 "She becomes your idea," Wilde said. "It becomes your own experience, and even if people may be familiar with Scarlett's voice, and then imagine her as an actress, I think it transforms and becomes whatever you want her to become. And I think if [Jonze] had defined her, he would have stopped people from being able to create that for themselves. That's one cool effect of it."
Along with the fantastic script, Jonze has created a believable, beautiful, lived in future Los Angeles. He utilized the expertise of renown architecture firm Diller Scofidio + Renfro in New York to help create the look and feel of the film.
"I met the architects that did Lincoln Center and the Highline, Liz [Diller] and Rick [Scofidio], and this was when I was still writing the script and trying to figure out what it was. Liz had gone to film school before she became an architect, and I remember asking her about what the future could look like, and she asked a really simple question, which was, 'Well, is it a utopian future or is a dystopian future?' I had this idea of the colors from Jamba Juice, and then she started giving ideas, but it was really that sort of basic question that she asked that made it concrete in a way. Okay, this is what I'm doing, this is a utopian future, and to feel lonely in that setting is even worse, because it's a world where you should be getting everything you need."
Jonze's future L.A. is a sun-soaked mecca of beautiful open spaces, an astonishing skyline (thanks in large part to exteriors shot in Shanghai, which were mixed with shots of L.A.), and smooth, understated interiors. Theodore's apartment looks like something out of Dwell Magazine, a gorgeous space with multi-colored windowpanes, clean lines, and an open, uncluttered feel with floor-to-ceiling windows.
As beautiful as the film is to behold, as fantastic as the performances are (Phoenix simply nails the role of Theodore), it all goes back to Jonze writing his first feature script alone. As the story of Her unfolds, his screenplay accomplishes one of the most difficult tasks a writer must perform—to make a surprising, satisfying end that also feels inevitable.
Featured image: Joaquin Phoenix as Theodore Twombly in 'Her.' Courtesy NYFF & Warner Bros. Pictures