Daredevil King Johnny Knoxville & Six Other Fearless Actors
Blunt force trauma—this is both a medical term and a description of Johnny Knoxville's Jackass-related career. He's been concussed multiple times (once via a bull), torn his urethra (attempting to backflip a motorcycle, the less you read about the particulars the better), had bone chips removed from his elbow (and probably needs further surgery on it), thrown out his back (he told he Dave Kitzkoff of The New York Times he's not even sure how), lost a molar to a flying sex toy, and recently ruptured a tendon in his ring finger filming a promo for his latest film, Jackass Presents: Bad Grandpa, but has no idea how because it was after a college student slipped ecstasy into his beer (he thinks).
Whether you're a fan of the Jackass franchise or not, you cannot argue Knoxville's (insane) bravery and his nearly inhuman threshold for pain. He's been shot, stunned, pepper sprayed, launched from a canon, launched on a rocket, and jumped into a children's ball pit with an ill tempered anaconda to name just a few, painful feats.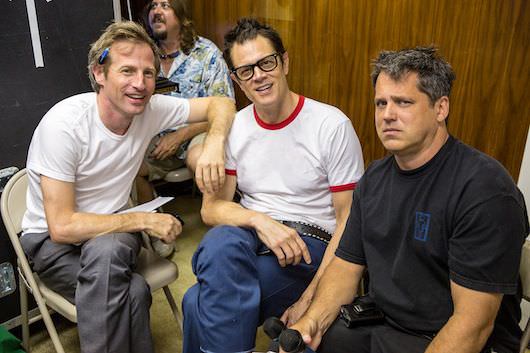 In Bad Grandpa, Knoxville plays 86-year old Irving Zisman (a returning character from previous films and the Jackass TV show), who goes on a road trip with his 8-year old grandson, Billy (Jackson Nicoll), to reunite the tyke with his deadbeat dad. Zisman's just lost his wife (played by a indistinguishably aged Catherine Keener, silent in the coffin). The film's a mix of scripted narrative and found footage (the pranks and stunts that Knoxville and crew perform elicit reactions from unsuspecting civilians), and reviewers seemed a little stunned that it has a proper beginning, middle and end. In fact, the reviews are mostly positive. "And most shocking of all," writes the Los Angeles Times Besty Sharkey, "[Bad Grandpa] has empathy."
But fear not, Knoxville fanatics and Jackass fans—Bad Grandpa still has plenty of lunacy. And Knoxville is still the reining king of working actors willing to put their bodies (and lives) at risk for their films. Yes, Knoxville started his long tenure on TV as a madcap daredevil, but he's 42-years old now, has been in plenty of films, and he's still doing this. Knoxville told Itzkoff the one instruction he gave to his therapist (a new addition to his middle-aged life), "I don't want to fix the part of me that does stunts."
Yet Knoxville's not the only actor in Hollywood to perform his own stunts. In fact, he carries on a noble tradition of risking serious bodily harm (and, in some cases, death) that began practically with the advent of film itself. Here's a glimpse at six actors who did, or do, most of their own stunts.
Buster Keaton
Perhaps the granddaddy of all fearless actors, Keaton was performing his own stunts more than 80-years ago. His most famous stunt, and one that still shocks, was his work in Steamboat Bill, Jr. (1928), that we've embedded above. At about three minutes in, Keaton stops in the middle of a street after being blown this way and that by a cyclone. He looks at the camera, getting his bearings, while behind him the 4,000 pound façade of a building drops down on top of him. Keaton survives by standing in a spot perfectly framed by an open window that was just big enough to give him two inches of room on either side. He had marked his spot by driving a nail in the ground. Keaton recalled later that he noticed crew members praying, and that the camera man turned away as the shot began.
Jason Statham
The former Olympic diver has become, arguably, his generation's greatest action star. We've gone from the pumped up physiques of Stallone and Schwarzenegger to leaner, faster stars like Statham, who almost looks like a regular guy, that is until he starts sprinting, jumping, kicking, punching and leaping his way through his films. He got his start in Guy Ritchie's Lock, Stock and Two Smoking Barrels, and has made a name for himself ever since doing his own stunts. The Transporter, the Crank series, and Death Race were some of the vehicles for Statham to show off his stunt chops. Yet it's what happened to him on the set of The Expendables 3 that's truly mind blowing. Statham was behind the wheel of a truck in Varna, Bulgaria, that he was meant to drive right to the edge of a dock. Instead, he drove right off and into the frigid Black Sea. The cast and crew were terrified—many thought he was dead. He made it out of the car, under water, and swam to safety. Former NFL player and actor Terry Crews, who was in that scene, told Jay Leno "Let me tell you something…Jason Statham is a true bad, bad dude."
Tom Cruise
Cruise's stunt exploits are legendary, and he's got the broken bones (his nose three times, his leg once) to prove it. The degree of difficulty of some of Cruise's stunts is breathtaking. Take his cliff hanging scene in Mission: Impossible 2, in which he tore a shoulder muscle jumping between rocks, and with the help of some wires and upper body strength, dangled off the edge of a sheer rock face. In Minority Report, Cruise was attached to 1.5 miles worth of cable from an 80-foot high stunt rig in order to film a chase sequence. But Cruise's crowning achievement (thus far), however, is dangling off the Burj Khalifa in Dubai, the world's tallest building, for Mission: Impossible – Ghost Protocol. Cruise was a mile and a half above the ground, launching himself off the building, running along the outside of it, and Spider-Man-ing his way up and down the glass. Sure, he was supported by a safety rope and harness, but would you do it, even for his paycheck?
Angelina Jolie
It's no secret Angelina Jolie likes to do her own stunts. While filming Salt, she leapt across highway overpasses onto trucks, hopped across high-rise ledges, engaged in fisticuffs, and spends much of the running time of film engaged in a stunt in one form or another. Yet the then 35 year old actress got hurt in one of her tamer stunts, slicing her face open tumbling into a doorway with a gun. To prepare for the role of Evelyn Salt, a CIA officer who may or may not be a Russian spy, Jolie trained in the Israeli and Slovakian self defense martial art Krav Maga, as well as Muay Thai, the brutal combat made up of several forms of Thai marital arts. Jolie has worked with stunt coordinator Simon Crane in six films, who told The Los Angeles Times, "She's absolutely fearless when it comes to high places. That's a fantastic asset to have, you can use her confidence with heights to put her in all kinds of dicey situations and know she's going to be convincing pulling it off." And that Evelyn Salt role? The character's name was originally Edwin—luckily the powers that be came to their senses and the role was given to Jolie.
Gina Carano
Okay, maybe this doesn't seem fair considering Carano is a former mixed martial artist, but it's also not technically fair that Knoxville has a notoriously high threshold for pain. Carano began by training in Muay Thai, then moved to competitive MMA, where she became a star. But it's Carano's foray into acting that lands her on our list. Her breakout role was the lead in Steven Soderbergh's Haywire, playing a vengeance obsessed black ops solider who relentlessly and brutally kicks ass throughout the entirety of the film. Carano's no stranger to hand-to-hand combat, but she's got a little problem with heights. Carano admitted to Newsday that she's afraid of heights, which made running across a plank from one building to another a bit of a problem. She did all her own stunts in Haywire, but due to insurance reasons, she wasn't allowed to roll off a building. Her costar, Ewan McGregor, hurt his hand….punching Carano in the head. In the above clip, Carano and co-star Michelle Rodriguez go toe-to-toe in Fast & Furious 6.
Featured image: Left to right: Johnny Knoxville is Irving Zisman and Jackson Nicoll is Billy in JACKASS PRESENTS: BAD GRANDPA, from Paramount Pictures and MTV Films. Photo Courtesy Paramount Pictures.