Director Steve McQueen & his Actors Open up About 12 Years a Slave
There's a reason they call it buzz. The electricity was visceral in the theaters as the lights came up. The after-shocks spread into the rooms where interviews took place. The reaction 12 Years a Slave elicited at the Toronto International Film Festival (TIFF)—stunned silence, shock, applause, was monumental. And just like that, British director Steve McQueen's harrowing drama established itself as the Oscar front-runner, even before it won the fest's top prize.
The film is based on the 1853 autobiography by Solomon Northup (played by Chiwetel Ejiofor), a free man and violinist living a genteel life with his family in upstate New York in 1841. Things turn when he meets a pair of circus performers who hire him to play for their act. But they turn out to be con men, kidnap Northup, and sell him into slavery. He's shipped into the Deep South, where he endures a nightmare of brutality and inhumanity, mostly at the hands of slave owner Epps (Michael Fassbender). Northup is an educated, compassionate man forced to hide his intelligence and his compassion and live moment to moment by his wits to survive.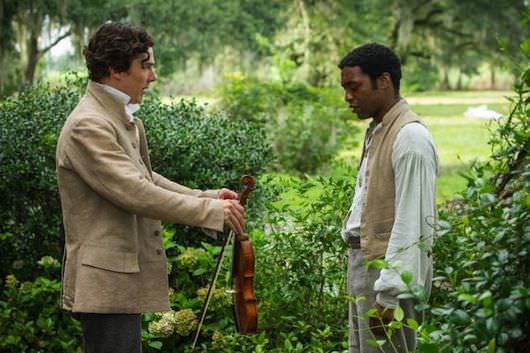 "I liked the idea of free man who gets incarcerated. By doing that, the audience participates in the journey. I hooked up with John Ridley, who wrote the script. My wife had found this book and as soon as it was in my hands, I knew — it was a revelation with each turn of the page," said McQueen, whose past films include Hunger (2008) with his go-to actor Fassbender as IRA hunger striker Bobby Sands and Shame (2011) with Fassbender again, this time portraying a sex addict struggling with his demons in New York City.
Shot in Louisiana, McQueen gives the viewer an unflinching depiction of plantation life. He says American audiences just might be ready to take such a hard look. "America has a black president. There's the unfortunate situation with Trayvon Martin, and it's also the anniversary of the March on Washington. With that perfect storm, people are ready to receive and look and reflect on the past when maybe before they were not," he says.
It is an understatement to say that McQueen asked a lot of his actors. 12 Years a Slave is so gripping that even though you want to look away, you can't take your eyes off the screen. But the director is characteristically blunt when asked how he got his stellar ensemble to trust him. "That's what actors do. That's their job. You just do it," he says. "Do the job; do a good job. End of story."
Ejiofor approached his role by reading Northup's book. "It's extraordinary; it's a gift with such real insight. It should be in every school. I was primarily taken with that, to get underneath Solomon's skin and find how he was able to survive something like this with his brain intact." Ejiofor, born in London to Nigerian parents, says that just before shooting 12 Years a Slave, he was in the Calabar region of southeast Nigeria making Half a Yellow Sun, which also played at TIFF. "Just before flying to New Orleans, I visited the slave museum, from where many slaves were taken and sent to New Orleans. So I took that same journey, and I was aware that this is a story about a diaspora as well as an individual. Then I traveled to plantations to get a sense of the overall history, and read different slave narratives, which was a compelling experience. And working with such an exceptional group of people makes the job so much easier."
One of the breakout performances in the film belongs to Lupita Nyong'o, who plays a young slave, Patsey, and who is repeatedly raped by Epps, and then beaten by him, in fits of rage and guilt.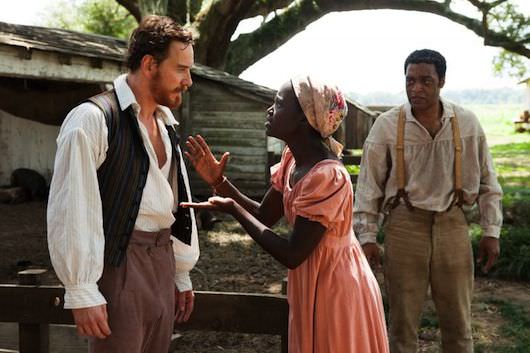 Nyong'o, a Kenyan actress and graduate of the Yale School of Drama who McQueen cast after seeing hundreds of auditions, says the actors bonded off-screen to be able to trust each other. "Michael and I made nice before we did our scenes and I trusted him as a scene partner in order to be able to go there," she says." The first thing I did to prepare was visit the National Great Blacks in Wax museum in Baltimore to get a 3D experience. I read other slave narratives such as 'Incidents in the Life of a Slave Girl.' But mainly it was how Solomon described Patsey as having 'an air of loftiness.' I understood she could be genial and pleasant and still want to die. That complexity is something as an actor you can only dream of."
It has not gone unnoticed that arguably the greatest depiction of the American sin of slavey comes from British filmmakers with roots all over the world. McQueen's roots are in the Caribbean; Ejiofor, Nyong'o and Adepero Oduye, who plays the slave Eliza, are all of African descent. "There is no part of the road that isn't touched. We are all children of the diaspora," says Alfre Woodard who plays "Mistress Shaw" and who describes herself as hailing from Southern sharecroppers.
Woodard says her character, a slave who "marries" her master and thus becomes a plantation mistress, "shows the complexity of slavery."
"It was an economy for 300 years. She lived in a separate universe, right in the middle of everything… Steve molded me into an established world that has to stand on its own in this vast landscape with specific characters."
McQueen shrugs off accolades and talk of awards, saying he only wants Northup's book to return to the bestseller list, where it was after Northup first wrote it. "I was surprised that no one knew this book. It's a genius book," McQueen says. "Scholars knew about it but it's not a classic, like 'The Diary of Anne Frank.' I want to get this book into every school in America; that was always my aim."