Building the Perfect Engine: The Filmmakers Behind Universal's Rush
Ron Howard's Rush hits theaters September 20, and early reviews are hailing it as one of the greatest racing movies of all time. Centered on the intense, often brutal rivalry between Niki Lauda (Daniel Brühl) and James Hunt (Chris Hemsworth) during the 1976 Formula 1 season, Rush itself was built with the scrutiny and care of a great race car team. Once Peter Morgan's script made the rounds, an incredible team of filmmakers was assembled to create one of the year's most exciting films, with a central rivalry that would be almost too perfectly cinematic if it wasn't based on real men and actual events.
Here's a breakdown of just a few of the filmmakers involved in one of the fall's most exciting, perfectly calibrated movies.
Director: Ron Howard
Howard needs no introduction—he's been making quality films for years. The two-time Academy Award® winner (A Beautiful Mind, Frost/Nixon) has a knack for finding the personal and emotional in larger-than-life figures and stories, which was required for a film that focused on Formula 1 legends. He did as much in Apollo 13, taking a true story that could have been a film centered on pure spectacle (astronauts facing certain death in space!), and turned into a wrenching, titillating story about the human capacity for ingenuity and resolve. Rush could have been just another race car movie—instead, reviewers are calling it not just a feat of virtuoso filmmaking, but a film with two of the most compelling performances of the year. Like any great director, Howard put together an incredible team to honor screenwriter Peter Morgan's fantastic script.
Screenwriter: Peter Morgan
Morgan is a master of the modern-history script. He wrote the screenplays for three of the finest modern-history scripts in the last decade—The Last King of Scotland, about Uganda's brutal dictator Idi Amin, The Queen, about Queen Elizabeth II's life after Princess Diana's death, and Frost/Nixon (watch Morgan and Howard discuss the film here), following the behind-the-scenes machinations surrounding David Frost's 1977 interview with former U.S. President Richard Nixon. Morgan thought the Lauda/Hunt rivalry transcended sports, so he approached Lauda about writing a script focusing on one of the most intense years in the history of the sport—the 1976 Formula 1 racing season. Morgan worked with Lauda as he drafted his script (which he wrote on spec). Morgan's screenplay received plaudits from just about everybody who read it, picking pu backers and producers along the way, eventually compelling Howard to direct. The rivalry between Lauda and Hunt has everything a screenwriter could want—drama, danger, sex, and emotion, but that doesn't mean it's easy to turn into a winning script. The degree of difficulty is even harder when you're dealing with things that actually happened, involving people who are still alive, and a sport with an exacting fan base that won't take a second of artificiality or schlock. Morgan might be making it look easy, but it's not.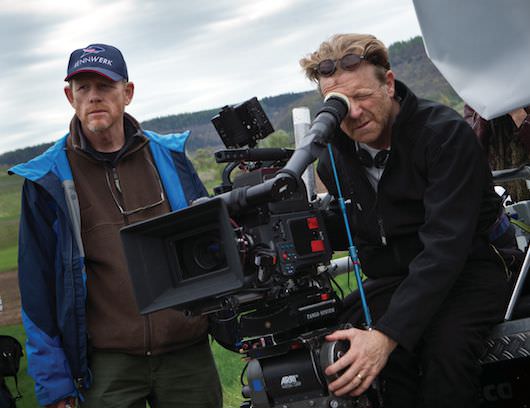 Cinematographer: Anthony Dod Mantle
As we wrote earlier this week, Mantle is one of the most tirelessly inventive cinematographers working today. His chops have given boundary pushing directors like Lars Von Trier (Dogville, Antichrist) and Danny Boyle (Slumdog Millionaire, 127 Hours, Trance) the ability to see their cinematic visions become reality. Rush producer Eric Fellner recalled one specific moment that is emblematic of Mantle's ability to give a director everything he can possibly need, "For one scene, I believe he used more than 30 cameras, shooting all the different elements, pieces of the car, the drivers." Trying to capture the essence of a sport that asks its competitors to literally defy death, Mantle pushed himself into uncharted territory, even for him. "I've never had so many lenses out in my life," Mantle said in the production notes, "They were all over the place: on the cars, under the cars, up the tailpipes, on the roof, under the roof. It was mad, and I was pushing my crew to their limits, but that pretty well describes the sport, doesn't it?"

Production Designer: Mark Digby
Every job on a film set is, more or less, stressful and difficult. The job of the production designer seems slightly more stressful and more difficult than most. Imagine having to deal with Digby's mandate—reimagine racetracks from Europe and Japan, integrate all race cars and support vehicles into historically accurate environments, and create the look and feel of more than a dozen different racetracks from different parts of the world. "We had to create twelve to fifteen difference races each year from 1974 through 1976," Digby said in the production notes, "In addition to the racecars, there were lorries and caravans, ambulances and other support vehicles. There was a paddock area at each of the tracks where the mechanics work and bunting and signage to indicate we're in a different country at a different Grand Prix…since we didn't travel all around the world to do our filming." Digby's no stranger to difficult design requirements—he helped create the frenzied, vibrant world of Slumdog Millionaire and, in 2012, the very well received British remake of Dredd.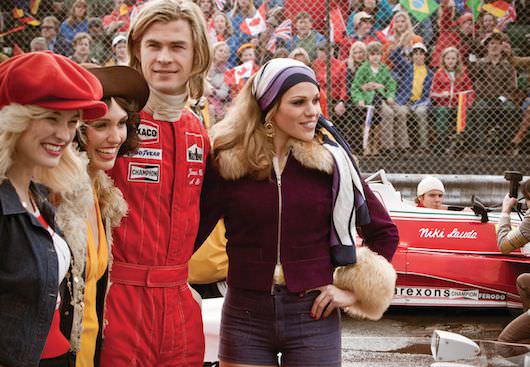 Costume Designer: Julian Day
The mid-to-late 70s were a wild time in many respects, not least of which was the era's fashion. Day came up with a brilliant idea—Hunt and Lauda are rivals, and very different personalities, so their clothes should speak to that. In order to capture their specific personalities in their style, he went to two of the most prestigious fashion houses in the world; Gucci and Salvatore Ferragamo, outfitting Hemsworth's Hunt in Gucci and Brühl's Lauda in Ferragamo. Day designed some of the clothes himself with help from Ferragamo's archival collections in Florence, and then went to Rome and did the same with Gucci. "In some ways, Gucci is more flamboyant, which suits James' character, whereas Ferragamo is slightly more conservative, in a beautiful way. That suited Niki," Day said in the production notes. Another massive challenge was not only to accurately capture an era that was soaked in color, but to do so without falling into cliché. The race scenes pop with color, while off the track, Day chose more muted colors to reflect life seen through a haze of cigarette smoke. As for the race suits, once again verisimilitude was crucial. The original Formula 1 suits were heavy (for protection purposes), with three layers of Nomex (a flame-resistant material) as well as fireproof underwear. Day chose a company called OMP Racing to help him design the film's race suits.
This is just a small fraction of the filmmakers who helped make Rush go. As always, it's good to remember that when you see a great film, you're watching the work of hundreds of people in every single frame. It's almost always a minor miracle when all of this coalesces into a great film.
Featured image: (L to R) CHRIS HEMSWORTH as the charismatic Englishman James Hunt and DANIEL BRÜHL as disciplined Austrian perfectionist Niki Lauda in "Rush", two-time Academy Award® winner Ron Howard's spectacular big-screen re-creation of the merciless 1970s Grand Prix rivalry between Hunt and Lauda. Courtesy Universal Pictures.