The Rise of Shailene Woodley:The Spectacular Now Star Shines Bright
There are two actresses you want in your movies right now: Jennifer Lawrence, and Shailene Woodley.
While the former heads off once again to the Hunger Games, (Catching Fire premiers November 22) and rejoins her Silver Linings Playbook co-star Bradley Cooper in Serena (premieres October 31), the latter is poised to potentially follow in her footsteps.
Woodley stars in three upcoming films—each based on a young adult (YA) novel—and each offering her a very different character to inhabit. She'll be fighting for her life in a dystopian Chicago, playing a cancer patient in the movie adaptation of one of the best books of 2012, and melting hearts in a coming-of-age film already getting rave reviews.
Woodley has been acting in small television roles since 1999, but it wasn't until 2011 that she had her breakout role as Alexandra King, the frustrated daughter of George Clooney's Matt King in the Oscar-nominated film The Descendants. Woodley herself was nominated for a slew of awards, including Best Supporting Actress at the Golden Globes.
Her timing was perfect–several YA novels were in the process of being adapted and needed an actress who, like Lawrence, could carry a film.
It's a Y.A. World
Young adult novels have become one of the most bankable sources of Hollywood success in recent years. When JK Rowling's mega-popular Harry Potter books were adapted for the screen, it seemed no YA book-turned-movie would ever be quite as big or successful. Then Twilight came along, and the world had two massively popular YA franchises in their multiplex—Harry, Hermione, and Ron were sharing the stage (and teenage hearts) with Bella and Edward (and eventually Jacob). And still there was more YA wonder to come—enter J.Law and The Hunger Games.
Woodley's upcoming YA slate has a little bit of the Hunger Games' bite (Divergent, which we'll discuss in a bit) but is mostly made from more sensitive stuff—consider them YA films for the soul.
The Spectacular Now
The Spectacular Now premiers in select theaters August 2 and nationwide August 23. It doesn't feature any blockbuster-esque moments we've grown accustom to in summer movies, but what it does currently have is a 91% fresh rating on Rotten Tomatoes. It's a coming-of-age tale told in a refreshing and truthful way. Woodley plays Aimee Finicky, lead opposite to the protagonist of the film, Sutter Keeley (Miles Teller).
Like Perks of Being a Wallflower, the teenagers deal with love and love lost, and navigating the transition into adulthood, but unlike Perks, The Spectacular Now's voice is a sarcastic, stream-of-conscious narrative from whiskey-loving Sutter. Aimee is the beautifully ambivalent girl-next-door; she goes through high school not giving into the peer pressures of being cool or universally liked. This sufficiently baffles Sutter—he lives in a world where everyone tries their hardest to be the people they're not—that he finds himself inexorably drawn towards her.
It's interesting to note that the book, by Tim Tharp, that this movie is based on was released in 2008 and is only now getting buzz. A paperback copy was recently released from Barnes and Noble with the movie poster as the cover, but prior to that was primarily available as an e-book. The fan base is growing, but it almost seems as if the movie is leading the book in that regard.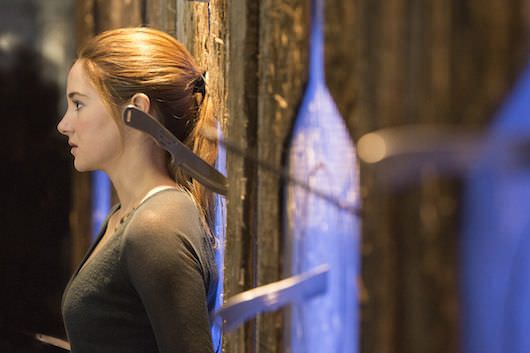 The next movie Woodley will be seen in requires us to switch gears, or more specifically, jump off a moving train into the story of Divergent. After all, Woodley is going to be doing massive stunts in her role of Beatrice 'Tris' Prior, like the above-mentioned train-jumping and zip-lining off the John Hancock building in Chicago. Divergent (coming out March 21, 2014), is the first in a trilogy, and tells the tale of Tris, who must pick one of the five factions her society has set up and severe ties with everyone else.
Tris, along with her brother Caleb (Ansel Elgort – remember that name), decide to leave their family behind in the Abnegation faction (known for selflessness). Tris joins Dauntless (fearlessness and bravery) while her brother joins Erudite (knowledge and astuteness).
Tris and her fellow 'initiates' must navigate the grueling Dauntless-specific three-stage test in order to become full members. Tests include jumping on and off moving trains, throwing punches (and knives), taking brutal hits and overcoming their worst fears. Tensions between the Dauntless and Erudite escalate and Tris finds herself training for a war waged on her brother's faction. Sharing a dystopian future and the notion of having to potentially go to war with the ones you love, Divergent and The Hunger Games are two YA novels-turned films that thrust their female protagonists into trouble from page, and minute, one.
You've probably heard about this novel. Although a 'young adult' book, author John Green saw his labor of love ranked the best fiction book of 2012 by Time.
Woodley will play Hazel Grace Lancaster, a 16-year-old girl with cancer. While her cancer's existence cannot be ignored (Hazel lugs an oxygen tank wherever she goes) this story is about so much more than her illness. At her support group, she meets Augustus Waters (Elgort again, going from Woodley's brother in Divergent to her romantic interest here), whose cancer is in remission – for now. The two become close and fall in love.
The rollercoaster narrative of this story is so meticulously crafted, which makes sense considering Green spent the better part of a decade making sure every aspect of his story was just right. If adapted with the same care and commitment, we could see The Fault in Our Stars at the Academy Awards in 2015.
What's next for the YA Book-to-Movie adaptation cycle?
The Mortal Instruments; author: Cassandra Clare
The six-book series was first published in 2007 and now the first installment, The Mortal Instruments: City of Bones, comes out August 21. An action-packed adventure, Clary Fray (Lily Collins) must uncover the secrets to her past when her mother, Jocelyn Fray (Lena Headey) is taken by a demon.
Miss Peregrine's Home for Peculiar Children; author: Ransom Riggs
Published in June 2011, 20th Century Fox snatched up the rights weeks later, and has recently announced Jane Goldman is to pen the script and none other than Tim Burton to direct.
The 5th Wave; author: Rick Yancey
It seems as if the book was published in conjunction with the movie rights being picked up. Released in May, Sony has already made a six-figure deal to make this book into an on-screen franchise. This is the first of a trilogy.