HBO's Casting By Shines a Light on Casting Legend Marion Dougherty
The Academy of Motion Picture Arts and Sciences recently announced the creation of a new casting director's branch, finally elevating the women and men who provide films with that somewhat vital ingredient—the cast—to full membership. This comes after years of lobbying on the part of filmmakers and actors themselves to give casting directors their due.
The Academy's decision means that casting directors will get three seats on the board of governors, along with the 16 other branches which include just about every facet of the filmmaking process. Directors, costume designers, makeup artists, writers, visual effects and even public relations were all accounted for on the board (no offense intended to the PR people). The fact that casting directors have been almost exclusively relegated to the film appreciation hinterlands is something of a anomaly—although granted the board seats, they're still the only people listed in the opening credits of a film that do not have an Oscar category.
Coming out on the heels of the Academy's sane (if belated) decision is HBO's fantastic documentary Casting By, directed by Tom Donahue, which premiered last night and will be running again (dates and times at the end of this article) and is also available on HBO Go. If you love filmmaking, watch this documentary.
Casting By reveals how creative the role of casting director actually is. It also makes a strong case for casting directors being some of the most outspoken, and fearless, members of a film crew. They are often the first to challenge a director—although they are a director's ally, the best of them often have their own vision on how a film they're working on might look with the right cast (in many cases not exactly what the director or studio had in mind). Among their talents is the fact that they're some of the closest script readers in the business. While casting directors haven't been heralded like their peers, their impact on a film is arguably greater than most. Their decisions have helped turned good films into classics, and unknown actors into stars.
Casting By goes a long way towards revealing an essential truth about filmmaking—there is no such thing as a "film by" a director—a successful film (or television show) requires more people than most of us realize (and certain directors are loathe to admit). Part of the reason our website exists is to shed a light on all the creative, hard working people who are integral to making a film or television show. From the screenwriters to the grips, costume designers to stunt professionals, editors to location scouts—a film or show does, indeed, require a village.
Without bold, brilliant casting directors The Graduate would never have starred Dustin Hoffman (the role called for a tall, handsome young man–you can thank Lynn Stalmaster for that), Christopher Reeve would have never worn the cape in Superman (Stalmaster again), Glenn Close may not have gone on to blow people's minds (and scare them half to death) in Fatal Attraction, and Danny Glover wouldn't have been cast in Lethal Weapon (Marion Dougherty, casting titan).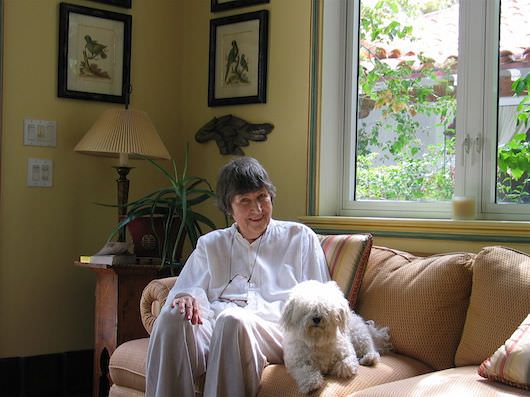 Casting By is something of a love letter to that titan—the late, great Marion Dougherty–a risk taker who could credibly claim (although she never would) a good chunk of the credit for pulling an entire industry into a new, challenging, and ultimately creatively freeing direction where you didn't need to look like a pin-up or a male model to carry a picture. Starting out in New York, working out of a brownstone referred to as 'The Brothel,' Doughtery (with the help of her her all-female staff) became a major player in the film industry after earning her chops in New York casting for television.
Doughtery arrived in Los Angeles with a rolodex filled with actors she had seen in Off Broadway plays, regional theaters and summer stock, as her New York Times obit explained. Bucking the "cattle call" system where dozens of similar-looking actors were brought in to audition, Dougherty's method was to curate a small selection of actors with different attributes, giving the director a chance to see how the role might look in a variety of dimensions.
She was responsible for giving James Dean, Paul Newman and Warren Beatty their first speaking roles. In one fantastic anecdote, she once walked onto the set of Arthur Hiller's Route 66 and promised she'd have the right actor for him by 3 o'clock that day. "Lo and behold," Hiller told The New York Times, "a young actor named Robert Duvall would come walking up over the hill."
It was Dougherty who suggested to Norman Lear, in 1969, the two actors who should play Archie and Edith in his soon-to-be legendary All in the Family. Carroll O'Conner and Jean Stapleton were cast as Archie and Edith based in no small part on Lear's trust in her. Ms. Dougherty, he told the Times, "was a glory, the best; the most talented, perceptive judge of acting." She helped jumpstart the careers of Al Pacino, Bette Midler, Diane Lane, Christopher Walken, Brooke Shields and Robin Williams (in his first dramatic role), to name a few.
In 1972, Dougherty became one of the first casting directors to get a stand-alone credit at the beginning of a film instead of at the end, during the long, often hard-to-read list of credits. It was for Slaughterhouse Five in 1972.
As we explored when we interviewed casting director Pat Moran, an icon in her own right who cast HBO's brutal, beautiful The Wire (among a huge list of other credits), there are intangible elements only seasoned, daring casting directors seem to sense when looking to fill crucial roles in a film or show. They're often as relentless in their vision as the directors themselves. (Dougherty dogged the director John Schlesinger until he finally relented and cast Jon Voight to play the wanna-be hustler in Midnight Cowboy.)
One consistent criticism casting directors receive is that, ultimately, the director casts the film because the director has final say. This observation is somewhat mitigated by the fact that the director has final say over every decision required in a film (with exceptions made for studio involvement). The director must select the cast as she or he must sign off on the script, wardrobe, effects, music, set design, etc. The only real difference between the importance of a casting director's input and that of the above crew members is the wardrobe, screenwriters, composers and the like all have Oscar categories for their work.
Casting directors like Doughtery, Stalmaster and Moran are as crucial and creative as anyone else in the crew. They're artists who operate on a level of intuition and instinct and script reading. They don't care if Dustin Hoffman is too short to be a lead or Meryl Streep is too unknown (yes, there was a time)—they only see what the film could be if the right actor is cast. Legends like Dougherty were able to look past terrible auditions and table reads—a great casting director has a kind of third eye where they can see an actor's potential for a role where nobody else can, even after they've just bombed.
Dougherty passed away in 2011, and left behind a legacy of championing obscure talents who may have been shut out of the industry all together if it wasn't for her passionate lobbying. Doughtery spent 50-years in the business (she was head of casting at Paramount Pictures, then spent more than two decades at Warner Bros.) and has an obscenely remarkable list of credits. That list includes iconic films like Midnight Cowboy, Reds, The Killing Fields, Gorillas in the Mist and Full Metal Jacket. She's also responsible for putting together the actors who made comedies like Spies Like Us and Wildcats such indelible hits, and action films like Lethal Weapon and the original Batman more than just exercises in explosions or style.
"Casting is a game of gut instinct. You feel their talent and potential in the pit of your stomach. It's about guts and luck," Dougherty told the Miami Herald in 1991. Who are we to argue with this point, save for one simple observation—Dougherty seemed to have made her own luck, and cast herself in the role of a legend.
You can catch Casting By again on August 7 at 8 p.m., August 26th at 12:00 p.m and 11:30 p.m., and August 31st at 12:55 p.m. (all times EST). Casting By is also available on HBO Go.
[royalslider id="14"]