Austenland Latest in our Centuries-Long Love Affair With Jane
Sony Picture Classic's Austenland (coming out tomorrow), based on the novel by Shannon Hale (who also co-wrote the script with director Jerusha Hess), is the latest film to be inspired by the legendary 19th century English novelist. Austenland is about a woman named (naturally) Jane (Keri Russell) who is so obsessed with Austen (and "Pride and Prejudice" in particular, and Mr. Darcy very particularly) that she decides to spend her life savings on a trip to an English resort that caters to Austen-crazed women, the eponymous Austenland.
The conceit is hardly far fetched. We are obsessed with Jane Austen. In fact, what's surprising is that there isn't a real Austenland. When Sony Pictures Classics began running travel ads for the fictional Austenland in New York and Los Angeles, imploring people to book their tickets, it was more than just clever marketing, it was also sort of cruel. There are lots of people who would love to go to Austenland.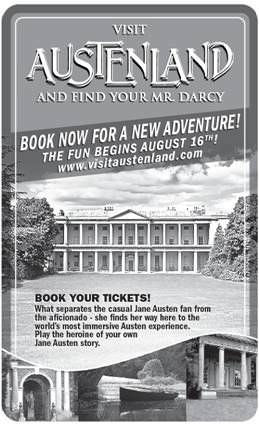 Jane Austen's centuries-long appeal has nothing to do with her massive output—she wrote six novels (two were published posthumously) in her lifetime. Yet all six have been adapted (in the case of "Pride and Prejudice," again and again and again) for the big screen and the small. Straight adaptations and loose 'inspired by' versions have been made into films, TV series, one-off episodes, plays, and books.
Austen herself has been the subject of numerous artistic narratives. Anne Hathaway played her in 2007's Becoming Jane, Olivia Williams played her in the TV movie Miss Austen Regrets, and JANE, the musical debuted in 2006 in regional theaters in England. Austen's even an been amateur sleuth in Stephanie Barron's series of historical mystery novels.
This is to say nothing of the glut of Austen ephemera, like candy jars, wedding gowns, wedding invitations, really all things wedding, aprons, crochet designs, and whatever other knickknack you can imagine. Looking for a Mr. Darcy Proposal grey scoop neck t-shirt? No problem.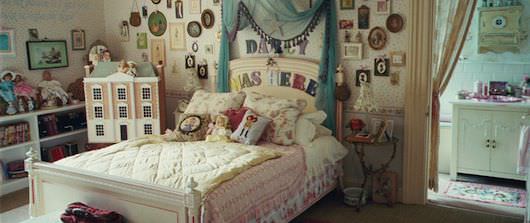 Austen's outsized hold on our collective imagination might have something to do with the fact that she was funny. Her romantic fiction, set among England's landed gentry, simmers with wit, irony and social commentary. Although she's got just the six completed novels to her name (among shorter works), she's been adapted in some shape or form, on the big screen or small screen, practically every year since "Pride and Prejudice" was made into a 1938 TV movie. Curigwen Lewis played Elizabeth Bennet in that version, which aired on British television, followed two years later by MGM's 1940 version starring Greer Garson as Elizabeth and Laurence Olivier as Mr. Darcy. That script was co-written by Jane Murfin and none other than Aldous Huxley.
Of Austen's six novels, her first two remain the most popular to adapt. "Sense and Sensibility" and "Pride and Prejudice" have been lushly remade in their original period detail by major filmmakers and actors. "Sense and Sensibility" has had four period-appropriate adaptations (the first in 1971 as a miniseries), while there have been ten straight adaptations of "Pride and Prejudice" (including the above mentioned 1938 and 1940 versions), including adaptations in both Italian and Dutch.
Ang Lee's Sense and Sensibility (1995), which starred Kate Winslet as Marianne Dashwood and Emma Thompson as Elinor Dashwood, is arguably the most lavish adaptation of the book yet. Thompson also wrote the script, and won both a Golden Globe and an Oscar for the adaptation. Joe Wright's Pride and Prejudice (2005), starring Keira Knightly as Elizabeth Bennet and Matthew Macfadyen as Mr. Darcy, was equally gorgeous, but it must do battle with the BBC's 1995 miniseries version which paired Jennifer Ehle with Colin Firth, perhaps the most Darcy of all the Mr. Darcy's.
"Sense and Sensibility" has also been loosely adapted in the Kollywood (Tamil) film Kandukondain Kandukondian (2000) set in the present day, and again in From Prada to Nada (2011), another modern adaptation set among Mexican Americans in Los Angeles. "Pride and Prejudice" has inspired a slew of loosely based adaptations, including 2001's Bridget Jones Diary and the 2011-2012 webseries The Lizzie Bennet Diaries.
Austen's first two novels have been so thoroughly digested into our collective culture that they've been cannibalized (in the later case, literally) into the genre of literary mash-up—I'm talking about "Sense and Sensibility and Sea Monsters," and "Pride and Prejudice and Zombies." It was announced this past May that the latter will indeed become a movie, starring Lily Collins as Elizabeth Bennet, who in this version of Austen's classic now has a few more pressing issues to contend with than Mr. Collin's unwanted advances and Mr. Darcy's initial frostiness.
Austen's next four novels were "Mansfield Park," "Emma," "Northanger Abbey," and "Persuasion" (the last two published posthumously). "Mansfield Park" was made into a 1999 British film, although the plot and characterizations were changed. Independent filmmaker Whit Stillman used "Mansfield Park" as inspiration for his highly regarded 1990 film Metropolitan. Austen herself is mentioned several times throughout the film, and at one point the protagonist, Audrey Rouget, defends both "Mansfield Park" and its protagonist, Fanny Price, against harsh critiques of both. "Mansfield Park" also been made into a television miniseries in 1983 and a British TV movie in 2007.
"Emma" has been made into two films, in 1948 and 1996, the latter starring Gwyneth Paltrow as the eponymous heroine. Yet the most famous adaptation of "Emma" is a modern and loosely based adaptation that came out in 1995. That would be Amy Heckerling's Clueless, which starred Alicia Silverstone in a modern-day riff on Austen's novel about youthful hubris and mismatched romance set in a Beverly Hills high school. The film was a hit and is a touchstone of 90s cinema. When PBS's Masterpiece Classics aired their "Emma" miniseries, the Wall Street Journal asked "Can any "Emma" adaptation top Clueless?" As with almost everything Austen, "Emma" was adapted for British TV several times, the most recent of which was in 2009.
"Northanger Abbey" has been made into two TV films, while "Persuasion" has been adapted four times for the small screen, the last time, in 2007, the Anne Elliot character was played by beloved British actress Sally Hawkins, who recently starred opposite Cate Blanchett in Woody Allen's Blue Jasmine. One wonders why Woody hasn't taken a crack at Austen yet, and imagines the fun he'd have with a modern day Mr. Darcy (Louis C.K., perhaps?)
Austen's work is such fertile soil for film and television folks— the aforementioned creators of the YouTube series Lizzie Bennet have even mined her unfinished novel "Sanditon" for a new web series.
Austen isn't our most adapted writer, of course, not by a stretch. According to IMDB, Shakespeare's been included in the 'writer credits' of films and TV shows an absurd 831 times, which is 511 more times than his closest competitor, Anton Chekhov. Yet Austen's relatively small number of stories keep finding their way into popular culture. It's not irrelevant that one of the producers of Austenland is "Twilight" author Stephenie Meyer—an avowed Austen-admirer, she has said that characters and events in "Twilight," the first book of her teenage vampire saga, are loosely based on "Pride and Prejudice." Not only did Ang Lee adapt an Austen novel himself, he also describes one of his most beloved films, Crouching Tiger, Hidden Dragon, as Bruce Lee meets Jane Austen.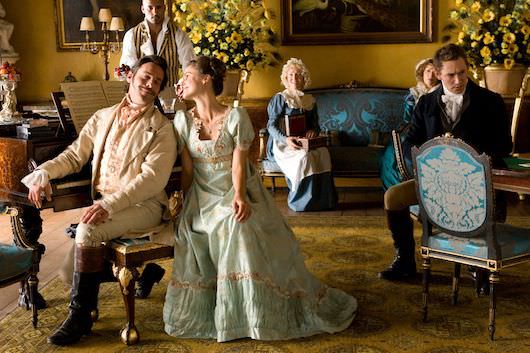 Austen died 196-years ago, on July 18, 1817, at the age of 41. Even her death has been adapted, and readapted, again and again, in the form of several retrospective diagnoses, from Addison's disease to Hodgkin's lymphoma. Austen's death-grip (pardon the pun) on our imagination is such that nobody seems willing to let her rest in peace.
In 2009 a British medical researcher named Katherine White, of the Addison's Disease Self Help Group, wrote an article for the British Medical Journal's Medical Humanities magazine disputing the first retrospective diagnosis (made by Dr. Vincent Cope in 1964) of Addison's disease, as well as the second retrospective diagnosis that Austen was felled by Hodgkin's lymphoma, and posited that Austen actually died of tuberculosis caught from cattle. Unsatisfied with this diagnosis, in 2011 the British crime novelist Lindsay Ashford declared that Austen probably died of arsenic poisoning.
Whatever the cause of her death, Austen will never truly be gone. PBS is planning on airing the Jane Austen-inspired miniseries Death Comes to Pemberley, which is based on the P.D. James' Austen-inspired novel of the same name. And "Pride & Prejudice," that most malleable of all Austen novels, is getting the Downton Abbey treatment (our current British gentry-obsession) with the upcoming release of a book entitled "Longbourn." This book, by British novelist Jo Baker, is based on "Pride" but told from the point of the view of the servants, as Downton Abbey offers via Mr. Bates et al.
"Longbourn" has not been published yet—its movie rights, however, have already been acquired.
Featured image: (Front to back) Kerri Russell, Brett McKenzie & JJ Feild in 'Austenland'. Courtesy Sony Pictures Classics