Walt Disney Studios Reimagines The Lone Ranger & Breathes Life Into Westerns
"So who was that masked man, anyway?" A question invariably asked at the end of every episode of The Lone Ranger television series. Armie Hammer, Johnny Depp, producer Jerry Bruckheimer and director Gore Verbinski hope to provide a definitive answer to that question with the brand-new film The Lone Ranger, their reinvention of both the Western genre and the titular hero, in theaters today.
John Reid, a.k.a. the Lone Ranger, was born in Detroit of all places, when writer Fran Striker created the character for a radio show at the behest of WXYZ station owner George Trendle. The show was a hit and later inspired the now-classic television series starring Clayton Moore and Jay Silverheels, which ran from 1949 to 1957. "I think it was the fact that I grew up in Detroit and that's where it originated," Bruckheimer, who'd long been fascinated with the legendary masked man, says. "I grew up listening to the old radio shows on tape and watching the TV show. In fact, I first watched the show in black and white."
Bruckheimer commissioned a script from Pirates of the Caribbean scribes Ted Elliott and Terry Rossio; it was one that would reinvent both the character and the moribund Western genre for modern sensibilities. "This is the origin story of the Lone Ranger," Bruckheimer continues. "It's how the Lone Ranger became the Lone Ranger."
The producer's next stop was another Pirates alumnus, director Gore Verbinski. "Gore came on board when we already had a script," Bruckheimer explains, "and he worked with Ted and Terry on the original screenplay. Then we hired Justin Haythe because Ted and Terry went on to something else. The current version of The Lone Ranger is a result of that collaboration."
Novelist and screenwriter Justin Haythe was perhaps best known for the 2008 domestic drama Revolutionary Road when Bruckheimer approached him to put his own spin on the masked man's beginnings. "The Lone Ranger's origin story is iconic but it's also pretty thin," Haythe says. "We had to come at it in a new way, because for a modern audience's awareness, there's something innocent about it; something in terms of the relationship between the white cowboy and the Indian was very [dated], in the sense that it was all about the Lone Ranger."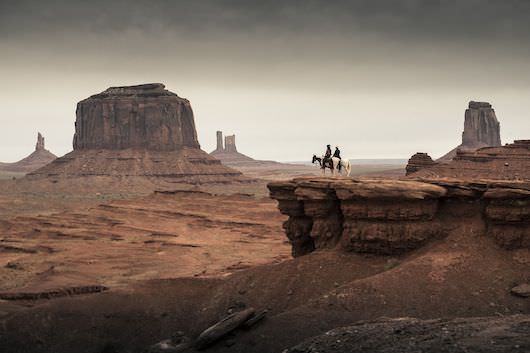 And so Tonto got an upgrade from stoic sidekick to full-fledged partner in Haythe's drafts. "Our version of the Lone Ranger wanted to honor all those things about the icons—the silver bullet, the mask, the white horse—but do it in a way that they couldn't have done it 20, 30 years ago," Haythe continues. "Our thinking about the story began with a simple question: Why does a good guy have to wear a mask? And the answer is because the world comes down on him for doing the right thing. But the biggest reinvention we had to think about was the relationship between Tonto and the Lone Ranger because in the original, if you remember, there's a lot of 'Go get the horses, Tonto, while I hide behind this rock.'"
Who better to play the reimagined character than chameleon Johnny Depp? "We told him we had The Lone Ranger when we were doing one of the Pirates movies, and said we thought that it would be fun if he played Tonto," Bruckheimer recalls. "And then while he was making Alice in Wonderland, he went off and had his makeup artist do his interpretation of Tonto."
Now that Bruckheimer and Verbinski had secured one of the biggest movie stars on the planet for what had historically been a "sidekick" role, they began a search for their John Reid, a daunting task for a movie called The Lone Ranger. They would need someone who could act from behind a leather mask without getting blown off the screen by Depp. Luckily one up-and-coming actor's breakthrough role doubled his odds of making a good first impression.
"I saw Armie Hammer in The Social Network [playing the double-crossed Winklevoss twins] and thought he was a very interesting actor," Bruckheimer explains. "So he came in and worked with Gore a bit, and we both thought he was the perfect young actor to play the young Lone Ranger."
"Basically, I was handed one of the better scripts I've ever read in my life," Hammer says. "All the dialogue was so poignant, so perfect—it was just a really good, tight script. So we talked about the characters and how we envisioned them evolving. How we saw John Reid going from a student of law who had an idea to come back home and bring progress to a place where you still settled your disputes with pistols in the city square at noon."
Elevating Tonto from erstwhile sidekick to full partner ultimately transformed the film into an entirely different kind of Lone Ranger story, far removed from its radio and television origins. "I would say it's a buddy movie at its core," Verbinski says, "with the chemistry between these two guys. I think of it as an action-adventure with a lot of irony, humor and enough odd singularity to make it distinct."
The Lone Ranger also marks something of a return to good-old-fashioned Hollywood filmmaking, with Western boomtowns built from the ground up and full-scale locomotives built on miles of railroad track on location throughout the western states. "We picked New Mexico because of its beautiful landscapes, but we're also in Arizona, Colorado and Utah," Bruckheimer says, "so we have beautiful places like Monument Valley. When you see the building of the transcontinental railroad, you want to see these beautiful backdrops, and nobody's better than Verbinski at filming these exquisite scenes that capture the adventure of the West, back in the days when it was the virgin West."
Featured image: L to R: Johnny Depp as Tonto and Armie Hammer as The Lone Ranger. Photo by Peter Mountain, courtesy ©Disney Enterprises, Inc.