Oscar Winners Nat Faxon & Jim Rash on Reading, Writing, & The Way Way Back
After winning an Oscar for their screenplay for The Descendants, the screenwriting duo of Nat Faxon and Jim Rash appeared to have burst onto the scene as a couple of unknowns. In reality the writing and directing team have been on Hollywood filmmakers' short list since 2007, when their script for The Way Way Back was being read and praised by insiders. The Credits sat down with the old friends and collaborators in advance of their already well reviewed coming-of-age comedy to find out about their process, their history, and what's on tap next.
The Credits: Can you talk about how you two break down a script that you're working on? What is your process?
Rash: It evolves. We break the stories down and do the treatments together, and then we get started based only on my wonderful neuroses. That's to say there are times when Nat needs to send me to a coffee shop while he tends to his family so this single guy can sit and talk to himself. After that we get back together.
You both went to prep school. Was that experience helpful in writing a coming of age film?
Faxon: It was more about our memories of summertime and the people that influenced us when we spent our summers in Nantucket. I remember when I was first included in doing cool stuff with the older kids and being part of the gang. It was more about recollections.
Rash: I wasn't popular like Nat probably was. I pulled more from pain—specifically in the first scene, which we used verbatim from an incident when my stepfather called me a three on a scale from one to ten. We just have a fondness for rites of passage, the moment when something shifted for us. We bond with that protagonist.
What was the lifecycle of this script? It's been kicking around getting good buzz for a while.
Faxon: This script was sitting around for a while. It was written back in 2005 before The Descendants. And it had gotten on The Black List. It did open a lot of doors for us, and we got some great meetings, one of which was with Alexander Payne's production company that has the rights to The Descendants. Even still, making a movie in Hollywood is always a challenge no matter what level you're at, and this was no exception. We had to find financing and casting to put all the pieces together. It was a struggle all the way through.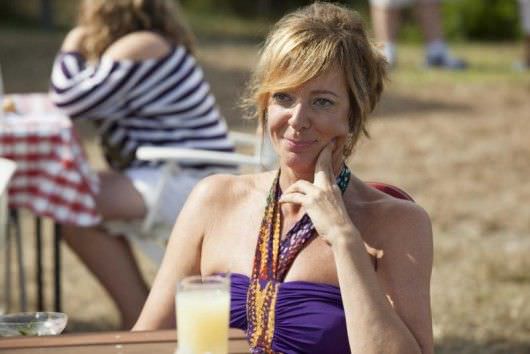 Who was the first talent you got on board?
Rash: Allison Janney. We knew her through different circles and had written the part pretty much with her in mind. So we started with her and it really was a building pattern from there. The last piece was Steve Carrell.
How did your journey into becoming filmmakers begin?
Rash: We met at The Groundlings Theatre in late 1998 when we became part of The Sunday Company, which is the farm team that feeds the main company. Eventually we both got to The Groundlings and we were there for about 11 or 12 years. That's where we became friends and started writing television together. We're both actors and we're still acting.
Faxon: For me I had a lot of characters in my family that I used to imitate and make fun of at the dinner table and get some good laughs. Later I did school plays. I knew early on that I wanted to get into the entertainment industry. After college I moved to LA and got involved in The Groundlings and in acting and sketch comedy, and did commercials. Slowly I got TV jobs. I didn't know anybody out there. It's hard. Nobody tells you how to play the game.
Rash: I was consuming some dysfunction and pain and then utilizing it later. It started clicking then. I took screenwriting classes and worked for the student TV channel. I did some theatre and then went to LA.
As writers, what are your favorite books? Do you gravitate to any particular author?
Faxon: I am rereading "A Prayer for Owen Meany" and "The Curious Incident of the Dog in the Night-time." Also Jonathan Tropper's "This is Where I Leave You."
Rash: "A Separate Peace" and, of course, "The Catcher in the Rye." At Lawrenceville I liked Southern literature, although I really struggled through Faulkner's "Absalom, Absalom."
Faxon: I loved Russian literature early on. I found the stories and the writing to be fascinating. Coming from the East Coast I like Nathaniel Philbrick stories and survival tales. Right now I'm reading [Jennifer Egan's] "A Visit From the Goon Squad," which is a collection of stories in which the characters are interwoven. For comic writers I like David Sedaris and Bill Bryson and the twisted characters of Carl Hiaasen.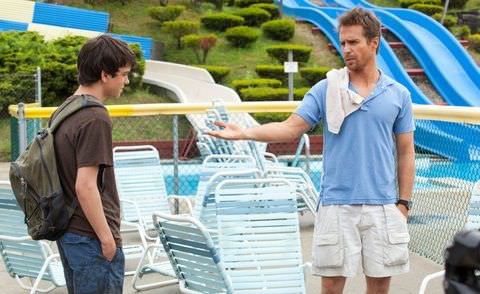 How was the filming process on The Way Way Back?
Rash: We pretty much got hit with a lot of rain when we started. The house stuff was shot outside of Marshfield, MA in Green Harbor, and the water park was in East Wareham, MA. The town was very supportive and very helpful during the whole shoot. One night, during a very climactic scene we were shooting in someone's backyard, most of the town came out to watch from their mini cocktail parties. There was this sort of theatre-in-the-round thing going on and the actors really enjoyed it.
Faxon: Certainly we had challenges at the water park since we shot in the evening. There were a lot of hot days and all we wanted to do was go down the slide. One night the folks at Water Whizz, a family owned place, opened the park for us and it was so much fun.
What's next?
Rash: We're writing another movie with Fox Searchlight, a sort of dysfunctional tap-into-some-pain type story, and then we're writing an action comedy for Kristin Wiig, who is a friend of ours from The Groundlings. It's a little grittier and little darker.
Featured image: Filmmakers Jim Rash and Nat Faxon with Liam James on the set of The Way, Way Back