Comic-Con 2013: Meet Alan Villanueva, Costume Illustrator of Ender's Game
Alan Villanueva is a costume illustrator who appeared on the Costume Designers Guild panel to talk about the changing world of costume in an era of HD and 3D. His first feature film was Oz the Great and Powerful, where he worked on Michelle Williams' dress for the early black-and-white scenes, knowing that what she was wearing would have to translate into the color costumes she would wear in Oz. He loved the "marriage of fantasy and period" in creating the costumes James Franco would wear as the traveling magician who becomes the Wizard.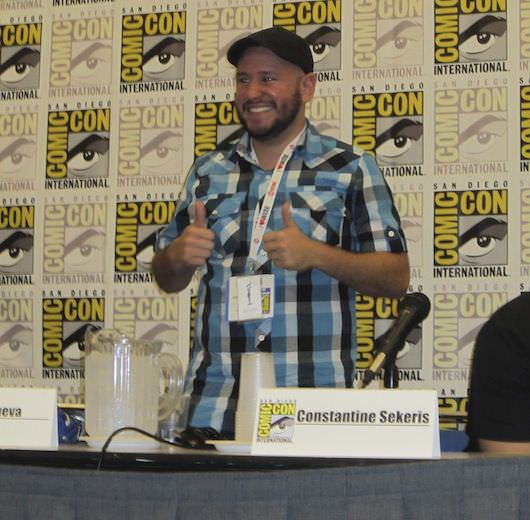 Villanueva is a man who loves his work. On his website he writes, "if you were to look at the walls fortifying my home-based battle station, you'll find an eclectic assortment of Venetian ceremonial attire, robots, monsters, cartoons from the 80's, as well as work from artists and friends in the industry whom I admire that cultivate my creative fire." His creative fire has led to assignments with Disney, Paramount Pictures, Universal, Fox, Warner Bros., and Lionsgate. Along with Oz, he's worked on the recent Michael Bay film Pain & Gain and television shows such as Defiance and House MD.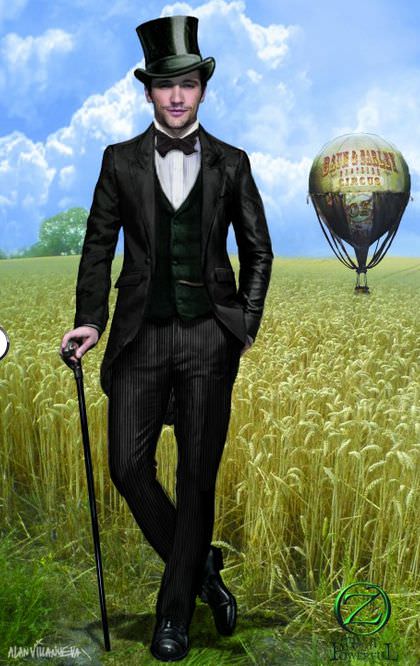 Just check out Villaneuva's sketchbook, which looks like something Guillermo del Toro himself would approve of.
Costume illustrators like Villanueva have to do more than just dream and draw–they have to coordinate with the people who design hair, who create and apply the make-up, and the folks who create the sets to make sure that the story is told as effectively as possible. There are many camera tests to make sure that their designs would work with the background.
To make a career in this filed, as Villanueva has done, you have to enjoy the whole process. He especially enjoys doing the research for design projects, and relies on the work of classic illustrators like N.C. Wyeth, Norman Rockwell, and J.C. Leyendecker for inspiration for every assignment. He even keeps the books in his car so they will be close at hand. "I love to immerse myself in a project," he said, which includes diving into the music and movies of an specific era to help him understand the designs and fabrics, and, the way the clothes were worn at the time.
Perhaps you could guess from his description of his house as his "home-based battle station", but when asked if he could design a movie from any era, he said it would be either the Roaring 20's, or, some dystopic future story like Blade Runner or Mad Max.
His most recent project is the forthcoming Ender's Game, starring Harrison Ford and Hugo's Asa Butterfield. His assignments included the uniform for the Army guard unit. He also worked on Expendables 3 and Escape Plan with Arnold Schwarzenegger and Sylvester Stallone.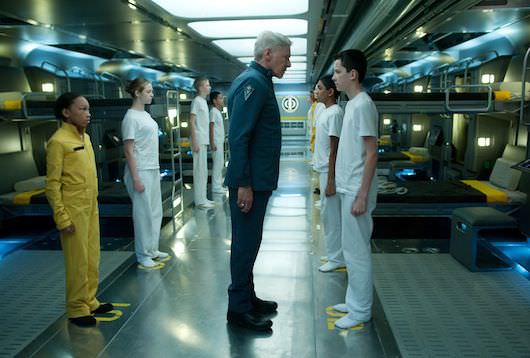 Villanueva works with technology all the time to model the designs, and especially with the focus on 3D he is now increasingly called on to provide three-dimensional modeling. But he emphasizes that the most important skill is still drawing, and he constantly sketches with pencil and paper, even drawing people he sees in the mall.
It was not surprising that he was impressed with the many Comic-Con attendees who dress in costume, considering he has built a career on the appreciation, study and application of craft. "You can tell that some of them worked all year. I am stunned by the materials and construction that go into them. Walking in to get my Comic-Con badge, the first thing I saw was a character I worked on from the television series Defiance," he said. "It was a thrill, and proof that I'm in the right profession. I can't imagine doing anything else."
Featured Image: Harrison Ford (center) and Asa Butterfield in 'Ender's Game': Photo: Richard Foreman Jr., SMPSP © 2012 Summit Entertainment