Class in Session: Meet the Makers of Monsters University
Like most good college stories, it started at a party. John Lasseter's surprise 50th birthday party nearly seven years ago, in fact. Ever the opportunist, John pulled party guest and award-winning entertainer Billy Crystal aside to talk shop. "He said, 'We have an idea I want to tell you about,'" Billy whispers, playfully imitating the Walt Disney and Pixar Animation Studios chief creative officer. "'What if Mike and Sulley are in college, and we make a prequel?' I immediately said, 'Let's just start doing it.'"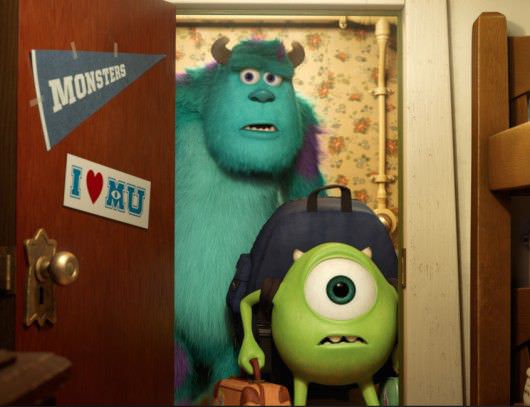 John, of course, was referring to monster duo, top Scare Team and best friends Mike Wazowski (voice of Billy Crystal) and James P. Sullivan "Sulley" (voice of John Goodman) from Pixar Animation Studios' fourth feature film, Monsters, Inc. Helmed by Pete Docter in 2001, the animated classic opened the (closet) door to Monstropolis, a bustling metropolis inhabited entirely by monsters. Together, Mike and Sulley revolutionized this monster world after inadvertently discovering that human laughter is the most effective way to power their city.
But long before legendary power company Monsters, Inc. proudly proclaimed "It's Laughter We're After," they were known by the catchy (and perhaps threatening) credo "We Scare Because We Care." It is here, at the start of Monsters, Inc., that we first meet the affable animated twosome, whose lives and professional scaring careers seem effortlessly entwined. When Sulley needs a fresh canister—where collected screams are stored—Mike is two monster steps ahead of him. And when Mike needs a romantic dinner date reservation for his serpent-haired girlfriend's birthday, Sulley has his little lime-green back.
But this wasn't always the case. In Disney•Pixar's Monsters University, in theaters June 21, audiences have the opportunity to learn how Mike and Sulley first came to be friends, as well as how they eventually find themselves scaring up a storm at Monsters, Inc. That's right… Monsters University is a prequel (Pixar's first).
"Sequels can be hard enough because you're using characters that were designed to tell a particular story, and now you're using them to tell a different story," director Dan Scanlon says. Monsters University is his feature film directorial debut at the animation studio. "A prequel can be even more difficult, because you're dealing with a story that people think they know how it's going to turn out, so it's hard to find the drama. There's a lot to uncover."
"We had so many different versions of the film in the beginning," producer Kori Rae explains.
Kori, who started at Pixar more than two decades ago, worked as associate producer on Monsters, Inc. "We kept going back and forth as to whether this should be Mike's story or Sulley's story. John Lasseter really wanted this to be Mike's movie, which we think is really cool. We learn a lot about him that we don't really know inMonsters, Inc."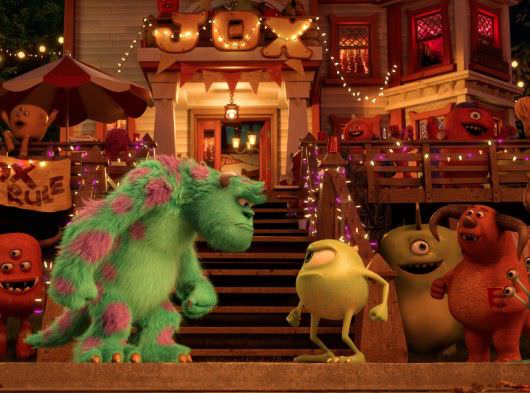 The story team eventually focused on Mike's lifelong dream of becoming a professional Scarer. And since fans undoubtedly recall that the one-eyed guy isn't ever a Scarer in the 2001 film, Monsters University promises a dose of heartbreak along the way. "This movie is about what happens when you actually don't achieve your dream, or what you think is your dream," Kori continues. "I think that's a really cool thing to explore and write a story about. That's what life is about. We see plenty of movies that tell you if you work hard enough, you can do anything you want. This is different."
Early on in the film, Mike, a hopeful college student, has his eye set on Monsters University's School of Scaring, home to the top Scarers throughout monster history. It doesn't take long, however, before he and his hot-shot classmate Sulley find their dreams dashed when they're kicked out of the Scaring Program.
"I kind of relate to Mike in this film because he's passionate and driven," Dan says. "When he arrives at college, he's up against tougher obstacles than he originally thought. I went to an art school. When I was in high school, I thought I was the best artist there. Then I got to art school and it was sobering. Every artist there was the best artist in his or her high school. I really related to that part of the story."
It goes without saying that Monsters University would be nothing without the return of the talented vocal cast from the first film. "It was such a joy to work with John and Billy—particularly together, which we tried to do as much as we could," Dan says of the voices of Sulley and Mike, respectively. "Those guys are friends, and they make each other laugh. When you get them recording together, it just brings up the energy. They both have been really excited about revisiting these characters, but also both embraced the idea of changing them a little bit."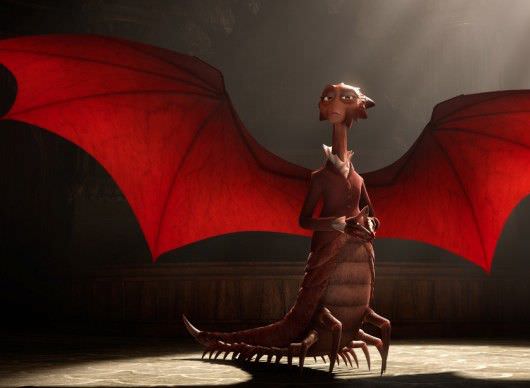 New to the Monsters family is Academy Award®-winning actress Helen Mirren, who voices tough-as-nails Dean Hardscrabble, head of Monsters University's School of Scaring. Though the character was originally male in the film's early stages, the team decided to make her female, proving that there are top female Scarers—something audiences didn't see much of in Monsters, Inc.
"Helen is phenomenal," Kori says. "She fits so perfectly and is so amazing in the role. She prepared and came in wanting to try different voices and ways of approaching the character." Dean Hardscrabble is Kori's favorite character in the new film. "I think it's one of the best-looking characters we've designed here at Pixar," she adds.
As the team reflects on the multi-year creation process, they have nothing but positive things to say about the final product, the challenging experience and one another.
"It's been really great to go back 10 years in time and be part of this world again," Kori says. "It's also been really cool being part of creating this new environment for MU. Dan is an incredibly generous director. He gives the team room to contribute its own expertise to the film. He knows what the story needs, but he relies heavily on the team to tell him what's right for a particular aspect of the film. He pulls it out of them rather than telling them what to do."
"Even though this is a really fun and wild college movie, I think people will be surprised to see that it's a really sweet film about a tough time in your life," Dan adds. "We were striving to have the heart of the first film. I hope fans will be excited to hear that. Even if you didn't go to college, that age—that time in your life—is so much about self-discovery."