Black Belt, Mother, Zombie Survivalist: Mireille Enos of World War Z
It's a big year for actress Mireille Enos. The Texas native returns for a third season of detective work in AMC's The Killing, and fights zombies with Brad Pitt in director Marc Forster's big-budget, apocalyptic thriller World War Z, out today.
While she's mired in dire circumstances for make believe, in real life her career experiences have been pretty pleasant. She started early, training at The High School for the Performing & Visual Arts in Houston. After three years at Brigham Young University, she moved to New York City and landed a role on Broadway in Who's Afraid of Virginia Woolf?
Her performance earned her a 2005 Tony nomination and spurred her to go west to pursue TV and film. She didn't have to wait long before Hollywood came calling—first starring as twin sisters in HBO's Big Love and then taking the lead as Sarah Linden in The Killing. The part has earned her Emmy, Golden Globe and Critics' Choice Award nominations, as well as notice from the creative community at large. Before World War Z she appeared in Gangster Squad, and early next year joins Arnold Schwarzenegger, Sam Worthington and Terrance Howard in the DEA task force action drama Ten.
On a Wednesday morning in Vancouver, during a break from shooting The Killing and with her two-year-old daughter playing in the background, Enos chatted with The Credits about auditioning, acting opposite Pitt, and what most surprises people about her.
The Credits: You've said that for your roles in The Killing and World War Z, you had a gut feeling they were yours.
Well, you do so many auditions where you hope for the best and they don't lead anywhere. But then every once in a while a script arrives and I feel tingly about it [laughs]. There's something about the part and where I am in my life that just feels like it's meant for me to do, like it's my next door to walk through.
Did you have to audition for World War Z, and is auditioning nerve-wracking for you?
I'm pretty relaxed about auditioning. If there's a possibility of my doing a film and the first step is auditioning, that's my opportunity to meet the director to see what his/her style is and if it's going to be a happy experience working with that person. So I feel like I'm interviewing them as much as they're interviewing me.
With World War Z, I was in my first season of The Killing, in Vancouver, with a four-month old baby and working long days, and the script came. I didn't have the time to go to LA to meet with Marc Forster, so he said to put myself on tape. So after a 14-hour day, at 1:00 in the morning, my husband put me on tape with a flip video with him reading the other lines. We were up editing it until 4 am and then e-mailed it. It was crazy! Then word came that Marc was very interested, so during a break in shooting I flew back and forth to LA in one day and had an excellent meeting with him. Later, after wrapping the season, I dashed down to LA to meet with Brad and Marc and they offered it to me.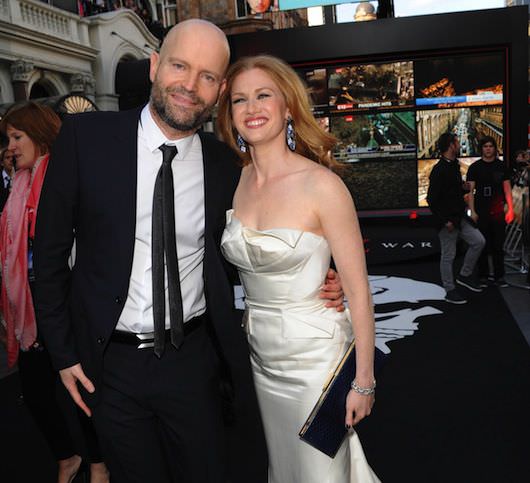 What drew you to the story?
I love a big action movie. There's also a family storyline and a lot about survival and the ways we take care of each other in crisis situations. And my character is really intelligent, strong and independent. She's a wife and a mother and I loved the idea of playing a mother now that I'm a mom.
Had you read the book by Max Brooks?
I hadn't until after I read the part. The film has had to adapt itself, but the book is exceptional.
The experience must have been extremely physical. I read that you're a black belt in tae kwon do. Did this help?
Yes, I am [laughs]. It was physical. They built this six-story staircase and we spent a week running up these stairs carrying the children. But it was big, big fun.
Did you work with a green screen or CGI?
Of course, there are CGI sequences, but mostly we worked with movement artists who were the zombies. So we were actually chased, which made it much more exciting to do. I think doing green screen work would be incredibly difficult.
Where was the shoot?
My part was 10 weeks in London and Glasgow, and then there were four weeks on either side of that that I wasn't a part of, so it was a very long shoot. Then we had reshoots.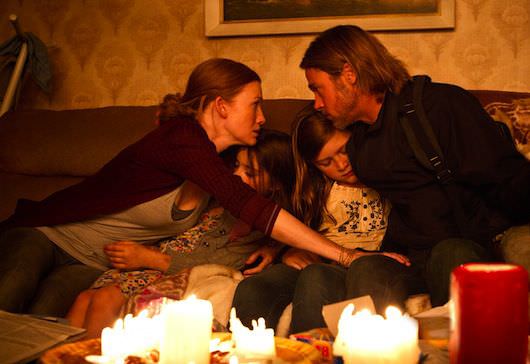 How was working with Brad Pitt and Marc Forster?
Brad is such a standup guy—hardworking, lovely, generous, just about the nicest person you could want to spend time with. And Marc is an exceptional director and very intelligent, but a gentle, gentle man, so it was an interesting contrast to have this action story with a gentle leader.
Do you think this will be your breakout film role?
Who knows? I try as much as possible to not think about that kind of hype. It doesn't ultimately matter as long as I'm getting to work on projects I feel strongly about.
The truth is I'm getting to work constantly, so I'm the luckiest girl in the world.
What would surprise people about you?
[Laughs] That I tend to play these really dour girls when I'm really a very happy person. People meet me for the first time—and especially if they know me from The Killing—and say 'Who are you?'
Featured image: Left to right: Mireille Enos is Karin Lane and Sterling Jerins is Constance Lane in WORLD WAR Z. Photo Courtesy Paramount Pictures.