The Greatest Gatsby: Before Leo,There was Redford
When Paramount purchased the film rights to F. Scott Fitzgerald's novel for $350,000 (more than fifty times what the author earned for the book in his lifetime), studio head Robert Evans had no way of knowing just how different the 1974 film would look from his original vision. For a story that's all about dwelling on the past, on the eve of Baz Luhrmann's latest 'Great Gatsby' interpretation, it seems fitting to look back on the making of the Robert Redford-Mia Farrow film, and the different films it could have been.
A Daisy by any other name
When Paramount purchased the film rights to F. Scott Fitzgerald's classic novel, studio head Robert Evans had then-wife Ali MacGraw in mind for a leading role. That is until she left him for Steve McQueen, meaning he needed to find a different Daisy, fast. Evans went through a list of potential actors to inhabit Jay Gatsby's obsession, considering everyone from Candice Bergen, Faye Dunaway, Cybil Shepherd, Tuesday Weld, and Natalie Wood. After Shepherd, Weld, and Wood refused to do a screen test, producers fell hard for Mia Farrow.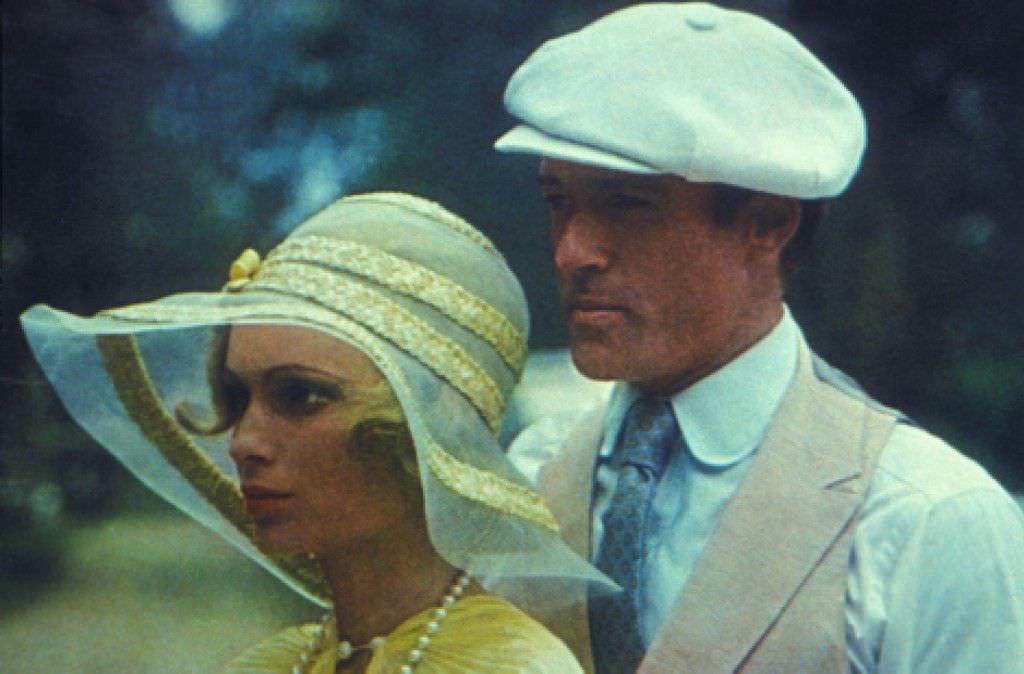 Who Will be Jay Gatsby?
Early reviews for Luhrmann's Gatsby indicate he nailed the first (of many) make-or-break decisions for adapting Fitzgerald's classic–casting the right leading man. DiCaprio's turn as Jay Gatsby has been receiving positive reviews. Todd McCarthy of Variety says, "Throughout, he [Luhrmann] photographs DiCaprio the way a movie star used to be shot — glamorously and admiringly, taking full advantage of the charismatic attributes with which only the anointed few are blessed." DiCaprio's Gatsby, appropriately, doesn't make his grand entrance until 30 minutes into the movie, and when he does, it's set to George Gershwin's "Rhapsody in Blue," backlit by fireworks, during a party that is Luhrmann at his over-the-top best.
Back in 1974, director Jack Clayton originally wanted to cast a Gatsby whose looks were less classically handsome, and suggested Robert De Niro. Evans eventually approached Warren Beatty, but Beatty had eyes on directing the film and wanted to put Evans himself in the title role. Eventually the role became Robert Redford's, a man who had already established himself capable of holding the screen, even when sharing it with one of Hollywood's hottest commodities in Paul Newman. Redford was dynamite in Butch Cassidy and the Sundance Kid, so Evans had his leading man. Albeit, as the below photo attests, one who was classically handsome.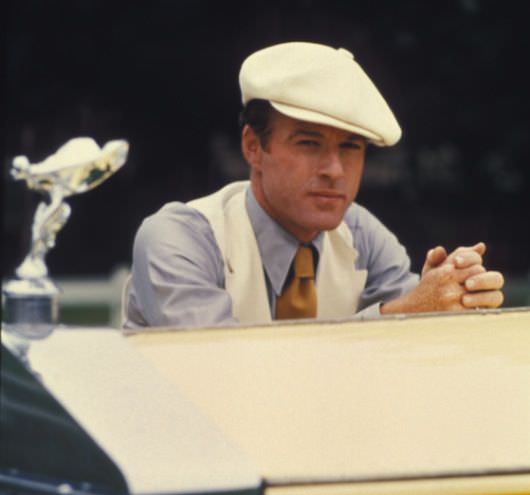 Finding a scribe willing to brave taking on Fitzgerald's classic.
Luhrmann has had a long and successful collaboration with his screenwriter, Craig Pearce, who scripted the director's Romeo + Juliet and Moulin Rogue! In 1974, however, Jack Clayton went through a veritable who's who of writing talent to find his screenwriter. The first writer to take up the challenge was none other than Truman Capote. When his first script came in, the studio promptly rejected it, reportedly over his choice to make the Nick Carraway and Jordan Baker characters gay. A then un-credited Robert Towne was offered $175,000 for the job (a huge sum for a screenwriter back then), but turned it down out of fear of becoming known as "that unknown Hollywood screenwriter who f**ked up a literary classic." Instead, Towne wrote a little film called Chinatown (which the Writers Guild of America, West, selected as the third best script ever written), which won him the Oscar the same year Gatsby came out.
Ultimately it was none other than Francis Ford Coppola who took the re-write gig, rushing through it in three weeks in a Paris hotel room so that he could get back to New York to see the release of The Godfather. He would never write the script for a film he didn't direct again.
Location, Location, Location
Though the book's East and West Egg settings were famously modeled on Long Island towns, production directors fell in love with a Newport, Rhode Island location, which they rented out for six months to the tune of $50,000. While filming in the less-than-convenient location, a pregnant Mia Farrow rented an entire private island nearby, while producer Hank Moonjean, director Jack Clayton, and Redford rented guest houses at a neighboring estate owned by Jacqueline Kennedy Onassis' mother. The relatively unknown Sam Waterston (of Law & Order fame, among a ton of film credits), who played Nick Carraway, was forced to crash at the home of a generous society matron after his hotel room was robbed.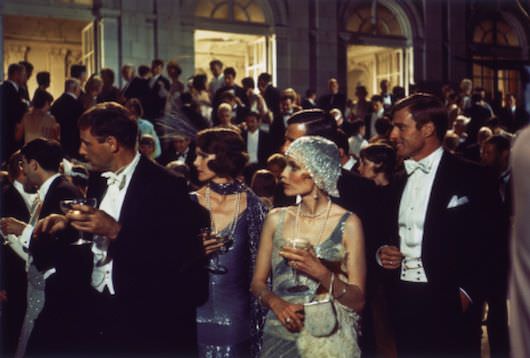 If only the shoe fits…
Only the costume department has been spared critics' barbs for the each of the story's three feature film interpretations (not including the 1926 silent film or the 2000 TV movie). In his New Yorker review of the 1949 version featuring Shelly Winters in the role of Myrtle, John McCarten opened with: "The wardrobe department [Edith Head] deserves to be commended for having dressed the actors in costumes appropriate to the period of the piece. Apart from being authentically got up in the depressing styles of the addled twenties, however, the players bear little resemblance to the characters created by F. Scott Fitzgerald to populate his novel…" Costume designer Theoni V. Aldrege won the Oscar for her work on the 1974 film, and Luhrmann's wife, Catherine Martin, who won Oscars for her production and costume designs for Moulin Rouge!, is already a shoo-in for all the big prizes next award season.
DiCaprio & Redford, Mulligan and Farrow
The young Redford and DiCaprio, below, bear a striking resemblance to one another.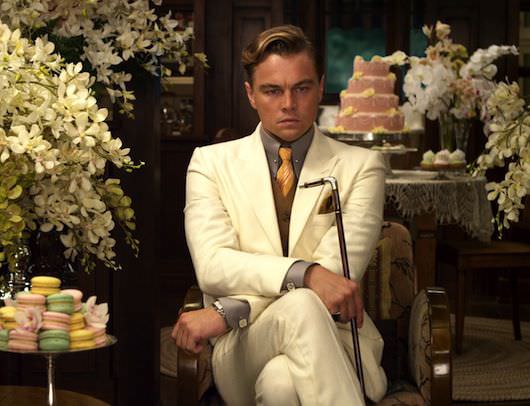 And this photo, of DiCaprio's Gatsby and Carey Mulligan's Daisy, are not terribly far apart from the above photo of Redford and Farrow. If Mulligan were wearing a hat and pearls, the effect would be complete.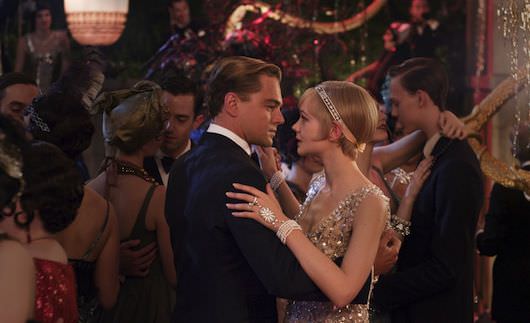 By The Numbers
1974's Gatsby
Budget: $6.5 million
Box office: $26.5 million
Run time: 146 minutes
Principal locations: Newport, Rhode Island and London, England
Starring: Robert Redford, 37, and Mia Farrow, 29
2013's Gatsby
Estimated budget: $125 million
Run time: 120 minutes
Principal locations: Sydney, Australia
Starring: Leonardo DiCaprio, 38, and Carey Mulligan, 27
Featured Image: Robert Redford and Leonard DiCaprio as Jay Gatsby. Courtesy Warner Bros. Home Entertainment and Warner Bros. Pictures