Steven Soderbergh Through the Looking Glass: Behind the Candelabra
One of most fascinating developments out of this year's Cannes Film Festival has been the inclusion of Steven Soderbergh's cinematic swan song, the Liberace biopic Behind the Candelabra, in this year's main competition as per the insistence of festival director Thierry Fremaux. Candelabra, starring Michael Douglas as Liberace and Matt Damon as his live-in lover Scott Thorson, and based on the Thoson-penned tell-all of the same name, was originally intended as a theatrically distributed feature. After many attempts, however, the film failed to find studio backing in the United States, and will instead debut this Sunday May 26th on HBO.
Soderbergh has been nothing if not vocal about his feelings about the state of American cinema in the last year, and after Candelabra's screening at Cannes—the pay-cable channel's first ever inclusion in Cannes competition—the director who first gave birth to the indie explosion and went on to make movies for everyone (the studios, the mini-majors, the minis, himself, and occasionally, no one at all) claims to be taking his bow from the art. In a much-publicized interview with New York Magazine in January of this year, Soderbergh claimed that the reason he is retiring is that "a combination of wanting a change personally and of feeling like I've hit a wall in my development that I don't know how to break through. The tyranny of narrative is beginning to frustrate me, or at least narrative as we're currently defining it." Those may seem like final words, but long-time followers of the director know that he has been retiring almost as long as he's been directing.
Since the rise of "Indiewood" in the early 1990's, few directors have been as prolific and diverse in their output than Soderbergh—26 films in 24 years, across nearly every conceivable genre, budget, and distribution scheme. His feature debut, sex, lies and videotape, signaled the start of the Sundance nineties. The film was the first independent feature to be acquired for more than $1 million dollars—ultimately snagged by Miramax in an 11-way auction—and went on to win the Audience Award at Sundance and the 1989 Palme d'Or, which a stunned Soderbergh famously left under his seat after the ceremony at the Palais. His cinematic debut went on to take in $25 million at the domestic box office, igniting the indie craze, but soon after, and to be repeated cyclically through the director's career, the high came with a more demoralizing string of commercial flops.
After the breakout sex, lies, and videotape, Soderbergh set out on a series of disparate, personal yet cool-mannered films that fell far short of the zeitgeist resonance of his debut. As early as April of 1996, speaking with the French journal Positif, Soderbergh claimed, "The times do not favor a filmmaker like me. The proof of this is in the films that are popular. I don't know where the spectators for my films are. Maybe they are home reading or watching films on video." This was two years before Universal Pictures gave him the chance to direct the George Clooney crime caper Out of Sight, the film that revived his career; within three years, he would go on to direct the megahits Erin Brockovich, Ocean's Eleven, and Traffic, for which he won the 2000 Academy Award for Best Director. Aside from the massively successful Ocean's franchise, which the director passionately pitched to the studio to continue, the 2000's saw him slip back into occasionally inspired esoterica, experimenting further with genres and non-traditional distribution (indeed, he was one of the first established directors to experiment with day-and-date VOD hybrid release), but not finding that all-important mix of commercial and critical success until he hit his stride again in 2011, starting with Contagion and carrying on with Magic Mike, Side Effects and now, Behind the Candelabra.
Discussions of Soderbergh's directorial career often employ wishy-washy labels—"chameleon", "craftsman"—that speak to a sense of instability of direction or a predilection for style over substance. And although he's had many detractors in his quarter-century career, one of his most dogged and persistent has been the director himself. In an indie arena colored by the likes of Quentin Tarantino and Paul Thomas Anderson, Soderbergh's very public lapses of self-confidence, indeed open-air self-sabotage, have always been somewhat of a palette cleanser. As one of contemporary cinema's most prolific creators, when he stands on his soapbox to berate the marketing overhead that keeps pictures like Behind the Candelabra from seeing theatrical release, the industry listens. But his exasperated lamentation of the death of the studio-produced, mid-budget, story-driven adult picture always lands with a jilted air of delusion, if not performance, precisely because the director himself has been able to accomplish just such movies under just such circumstances so many times in the past. Not to mention, sitting next to him in the main competition this year is Alexander Payne's Nebraska, a mid-budget, story driven adult dramedy from Paramount (shot in black-and-white, no less).
Which brings us back to Behind the Candelabra. In a palpable symmetry to his 1989 success with sex, lies and videotape (which won not just the Palme d'Or, but also a Best Actor prize for James Spader), Candelabra is one of the most fervently celebrated films at this year's Cannes. Soderbergh has been praised for his deft and measured portrayal of Liberace's legendary extravagance. But most of all, the performances by Douglas and Damon have some critics calling for a double Best Actor prize; with the actors shut out of Oscar consideration due to the film's HBO distribution stateside, and with only Oscar Isaac's performance in the Coen Brothers's Inside Llewyn Davis garnering similar acclaim so far, the Candelabra duo's double turn could indeed benefit from a sort of Argo effect and take home the acting prize. HBO could come out looking quite prescient.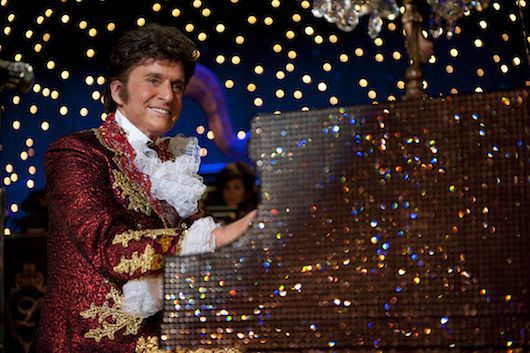 As for what's next for the director, perhaps the better question is, what isn't? There have been reports of a litany of projects with tongue further in cheek than even his farewell to cinema: Magic Mike: The Musical, a Twitter novella, importing and distributing Singani (a Bolivian brandy), selling said brandy (among a wide swath of other Soderberghian bric-a-brac) through his personal e-boutique extension765.com, re-cutting his early feature Kafka, honing his painting craft, and a foray into episodic television. In the January New York Magazine feature, when asked about the hardest part of being a leader, Soderbergh answered "Being good and clear. Because if you're being clear, you may not be good because you're too obviously trying to be clear. If you can find interesting ways to be clear, you're really onto something." The only thing clear here, besides the director's charming obfuscation, is that we have hardly seen the last from Steven Soderbergh.
If you're home this Sunday night, and you have HBO, you're in for quite a delight– Behind the Candelabra is shaping up to be the cinematic event no one thought it could be. And it makes for one hell of a send-off, but for now, let's just hope it's not.
Featured image: Michael Douglas and Matt Damon in HBO's 'Behind the Candelabra.' Courtesy of HBO