From Soldier to Filmmaker: Q&A With The Iceman Director Ariel Vromen
How does an 'extreme' special unit Israeli Air Force soldier, law student and world-traveling DJ become a successful director working with some of the country's biggest stars? Here's the circuitous route Ariel Vromen took on his path from performing military maneuvers in Israel and reading dense law texts in England to getting behind the camera. Vromen faced an endless string of challenges to get his latest project, The Iceman, onto the big screen. Inspired by real events, the film follows Richard Kuklinski (Michael Shannon), a notorious contract killer who, when not doing his grim work for the mob, was a devoted family man. When he was finally arrested in 1986, Kuklinki's wife and daughters were stunned by the revelation of what he did for a living.
Vromen played the film in a slew of prestigious film festivals all over the world, tirelessly campaigning to lock down distribution for this passion project. He pulled it off. The film hits theaters on May 3.
We spoke with Vromen about The Iceman, his plight from law school to movie set, and his love for filmmaking.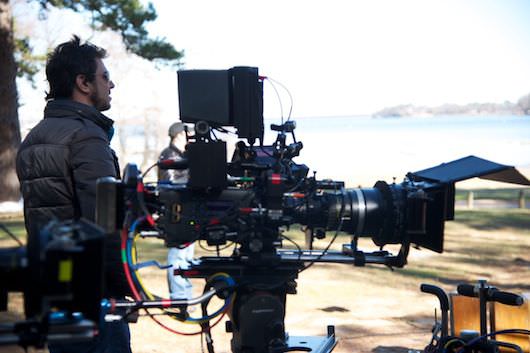 How did you go from law school in England to filmmaking in LA?
I was a child of thirteen when I got my first camera at my Bar Mitzvah. I used to do a lot of short films. I was very attracted to film. But then when I went into the army, an extreme special unit in the Israeli Air Force, it shut down the creativity within me. Going to law school afterwards felt more serious for me. In law school, I started to be exposed to music. I started to work on electronic music and became a DJ, traveling around the world. I partnered with a lot of people and worked on soundtracks. That's what brought creativity back into my life. After law school, when it was time to practice law, I said, "There's no way!' I had to try to do something I always wanted to do in my life. I was almost thirty then, I really started pretty late. That was the journey, from being creative to not being creative to returning to that world. When I came back to film, my interest was not in directing or writing…I was passionate about sound design. I did a short film in 2002 (Jewel of the Sahara), but it wasn't until the mid-2000s that I became more attracted to directing.
How did you get your foot in the door in such a short time?
You know, it's about perseverance and hard work and luck. As you get older you adjust yourself faster and, if you're smart enough, you learn from your mistakes. You understand what you did wrong and what you need to do better, and if you're focused enough, then you just go for it. There are no set rules or one specific journey. At the end of the day, you have to decide what kind of filmmaker you want to be. That happened to me after trying to direct a couple of features. To make your own film, it's almost a miracle. The hardest part for many people in show business is to control your ego, especially if the film's good.
Was law school helpful to you once you entered the film world?
Yes. It puts you into that mode of determination, of researching and understanding the material. It takes a lot of discipline to get up in the morning and work every day until 6 a.m. If you have a deadline, you can't give up and you can't be lazy. I wouldn't say it's fair, but if you really focus and believe in what you want to get out of it, and you're putting all your energy into it, then anyone can achieve it. Sometimes it's just a matter of being in the right place at the right time.
How did you develop relationships with fellow filmmakers, as well as distributors like Millennium Entertainment?
It's funny, because I am much more connected to people that work with me like my editor, Danny Rafic. As for the DP department, I'm still on the search for the same person that will come on again and again for the style that I'm looking for. It would be nice to know that I have one DP that is there for life.
As for distribution, The Iceman was produced and financed by Millenium. It's complicated. You've finished the film and done your screenings at festivals and you think it's the end. Absolutely not! It's just the beginning. Being on top of the distributor, doing release planning and strategic marketing, is probably as important as planning your shots and testing your film. Even though not everybody is happy to get your emails in the morning, you've got to ask a lot of questions. It's the only way. You've got to be passionate about it. The job is not over when you pick a distributor.
We've been touring with Iceman since last September. It was in so many festivals, in Venice, Telluride, Toronto, San Francisco, Los Angeles, Texas, Florida, New York, New Orleans, Haifa. Despite the fact that it is such a controversial, dark film, with a dark subject matter, people really connected to it. They want to see the character redeem himself. It was a big challenge to make people relate. In the end I'm very pleased with the movie.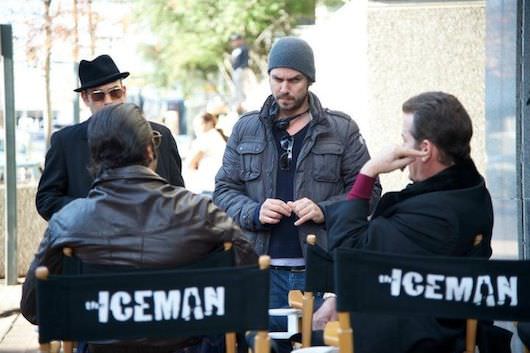 Can you talk about the challenges you had on The Iceman?
Hmmm…casting, financing, insisting on Michael Shannon to be the lead, nobody wants to give me money, competitive projects, dealing with threatening letters from a legal department on a weekly basis, trying to make Shreveport look like New York and New Jersey. Go figure that out. Shooting it in thirty days and having so much to cover in terms of three time periods. Sixty-eight locations, the post-production time restraints to get it into festivals, marketing, making sure it's the best timing, and just keeping the momentum going. I think there were a lot of challenges! Ask me if there was anything that went smoothly.
Okay. Did anything go smoothly?
I would say the only thing that went really, really great was the work with my actors and the time I loved the most was editing in post-production. Ultimately it was all about creating, not about fighting.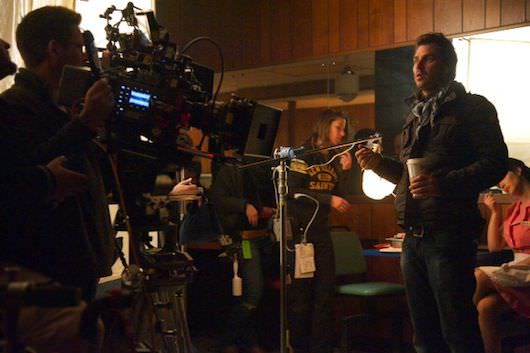 As an independent filmmaker who works project to project without much of a financial safety net, what are your thoughts on protecting the content you create?
Piracy is absolutely a disease. Unfortunately there is a period of time, as it gets closer to the movie's release, when the DVDs have been shipped, and you can only do so much for the content protection. However, the whole new way of distribution via the DCPs [Digital Cinema Package] really makes it helpful. But the moment that someone wants to put your work out there to the public, even knowing that essential element that you gave your life for something, it's like somebody who has a virus they're carrying and they want to spread it around. They just don't care. You cannot control it.
What can we do?
I think it's a matter of education. Like if someone goes to the supermarket and they want a yogurt and a bottle of wine and they take it and decide to just walk out. You can't just say it's wrong. You have to educate people and enforce it. Already the industry is suffering so much. Even though the numbers seem high, they can be deceiving. Someday we won't be able to make these films.
There are so many countries where piracy has become commonplace, because people don't get those movies, like in Turkey, Russia, China, Thailand and also Israel, where I'm from. They will even put them [pirated copies] on TV. When I was in Russia in 2007, I saw my film Danika playing on National Russian Television and it was a piracy copy. I hope people will understand that at the end of the day, we are just stealing from ourselves.
Featured Image: Director Ariel Vromen works with actor Michael Shannon on the set of 'The Iceman.' Courtesy Millenium Entertainment