The Sky's the Limit: Cinematography's Technological Revolution
Just as smart phones and tablets are changing the way we experience daily life, other technologies are dramatically shifting the cinematic landscape. Directors today can harness these tools in order to express their artistic vision on the screen as never before. We spoke with two of the most significant players in this field in order to find out what's possible now, and what we can expect to see in the future.
3D moves beyond 'next big thing'
In 2009, James Cameron's Avatar did for 3D filming what Toy Story did for computer animation. Although Cameron came up with the idea for the film in 1994, he had delayed making the movie in order to allow technology to catch up with his cinematic vision. To that end, around 2000 he co-founded what would become the Cameron Pace Group, a company dedicated to 3D technologies, along with Emmy Award-winning director of photography, Vince Pace.
When Pace and Cameron began, friends in the industry were less than supportive of the duo's endeavors. "During the first seven years of this journey, not too many people were interested in allocating any kind of resources to 3D," Pace says. "We had seen tests that promised greatness, but the interest level was 'Oh yeah, that's come and gone, good luck with that.'"
Avatar, however, changed everything. The film was shot entirely with Cameron and Pace's proprietary Fusion 3D system, which uses two cameras, two lenses and two microphones for every shot. Cameron and Pace's determination paid off; Avatar eventually became the highest grossing film in history. Viewer polls indicated that the 3D experience ranked as the film's main draw.
For Pace, that movie marked a turning point for the company. "Back then, I said to myself, 'Boy, I was dreaming about this!'" he remembers.
"But in many ways, we've gone beyond the hype of Avatar, when 3D was the next big thing," he continues. "It's now at the stage where 3D is a big thing."
Avatar set off an explosion of interest in 3D. Some companies rushed into the market, however, providing little more than two cameras held together with duct tape. A poorly executed 3D film can provide a negative experience for a viewer, tarnishing ideas about the technique. "That caused a little bit of a backlash for us," Pace says.
To that end, the group created the "CPG certified" program, which guarantee studios, filmmakers and audiences that a particular 3D production features the highest quality 3D technologies.
But the Cameron Pace Group likely has little to fear from the competition. They have played a key role in 27 feature films and counting, and have supported productions that have generated more than $7.5 billion in the box office. 3D, Pace says, now competes with 2D models in the industry.
Pace is most excited about films that push the limits and functionalities of 3D story telling, such as Hugo and Life of Pi, both multi-award winners and CPG certified. Hugo's Martin Scorsese sought to enrich the cinematic experience of his set's train station with 3D, from bringing out the curls of Ben Kingsley's mustache to highlighting the flecks of dust floating through the air. Life of Pi's Ang Lee, on the other hand, was much more concerned with utilizing 3D for capturing intimate close-ups, as if the audience were actually gazing into his young hero's face. "When you look at directors like Marty and Ang, they both decided to explore the filmmaking opportunities of the medium," Pace says. "For us, 3D serves the production—the production doesn't serve the 3D."
With sales in 3D-equipped televisions on the rise and more and more theaters installing 3D projectors, Pace looks forward to continued developments in 3D, especially when some of the auto-stereoscopic, or glasses-free, capabilities increase as well. "3D is going to be a part of our future," Pace says. "People who look at it as a fad don't recognize where the technology is today and how powerful it is for accomplishing the 'experience' part of entertainment."
The Sky's No Longer the Limit
A Beautiful Mind, The Hangover and The Green Hornet all share one commonality: each used unmanned aerial vehicles in their filming. When a director wants a specialized low range aerial shot—Leonardo DiCaprio leaping from a waterfall in The Beach, Daniel Craig sprinting across Istanbul roofs in Skyfall—many call Flying-Cam, a company that has specialized in filming with airborne cameras for nearly two decades and has worked with all of the major studios.
"Since 1988, the spirit of the company has stayed the same," says Haik Gazarian, director of operations for Flying-Cam. "Now the technology has changed in a way that we can make it more precise so it can expand the imagination of our industry's creatives."
Recently, the group introduced the Flying-Cam 3, their latest model. The new model—about 6 feet long and built like a helicopter—allows operators to precisely program its camera's head movements, which can be pivoted 360 degrees with a 180-degree tilt. This way, directors can achieve shots for 3D films or exactly reproduce a scene over and over in order to polish the visual effects. It uses a combination of GPS and satellites to program and replicate its specific flight coordinates.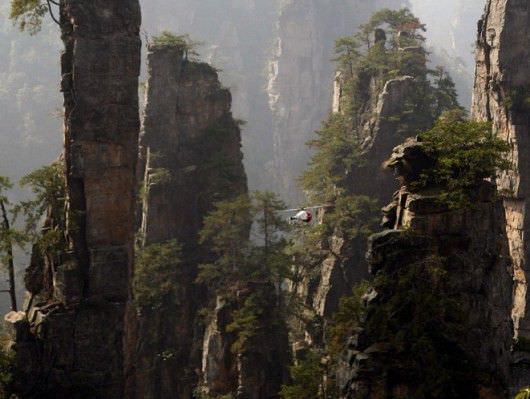 The flying cams often film action movie sequences, but they also may capture intimate aerial views of cities or landscapes, or even close-up of actors. The crew of five operators has filmed in around 275 locations throughout the world, Gazarian estimates.
For the past two years, however, due to unspecified security concerns the Federal Aviation Administration has not allowed Flying-Cam's aerial cameras to film on U.S. soil, even if it's only to capture a sequence a few feet off the ground. Currently, there is no existing regulatory board Flying-Cam can apply to in order to gain permission to film in the U.S. "At this point, we're just waiting on the FAA," Gazarian says. While this process drags on, some directors have chosen to move their shoot to different countries, while others opt for less safe helicopters for filming. In all their years of service, Flying-Cam has maintained a clean safety record.
While Flying-Cam waits for the red tape to clear, the group continues to film in locations around the world and work with a variety of industries and directors. Eventually, Flying-Cam and the Cameron Pace Group may even overlap. "The 3D world is something we'll be getting into in the future," Gazarian says. "We can really give directors who want the extra edge a unique point of view in their productions."