CinemaCon Day Two: 4D, Man of Steel World Premiere & More
While many attendees are still reeling at Brad Pitt's unannounced appearance at the Caesars Palace in Las Vegas on Monday night, Tuesday's CinemaCon lineup proved no less exciting. The day kicked off with a dynamic state of the industry address from MPAA CEO and Chairman Chris Dodd, followed by an address by John Fithian, President of NATO. The trade show floor opened up to much acclaim – thanks to generous samples of fresh buttered popcorn, Nathan's hot dogs, ICEE smoothies, and stunning demos from the latest in industry innovations. Finally, conference goers got to catch the highly-anticipated world premiere of the Warner Bros' film Man of Steel, directed by Zack Snyder. Here's a deeper dive on a few of the highlights from an exciting, film-fueled day two at CinemaCon in Vegas:
So What's The State of the Film Industry? Good, Very Good.
Before Senator Chris Dodd took the stage, NATO honored Amy Miles, CEO of Regal Entertainment Group, with their annual 2013 NATO Marquee Award. Miles graciously accepted the award and introduced Senator Dodd, who delivered an uplifting and optimistic State of the Industry Address to a jam-packed Caesar's Palace Colosseum.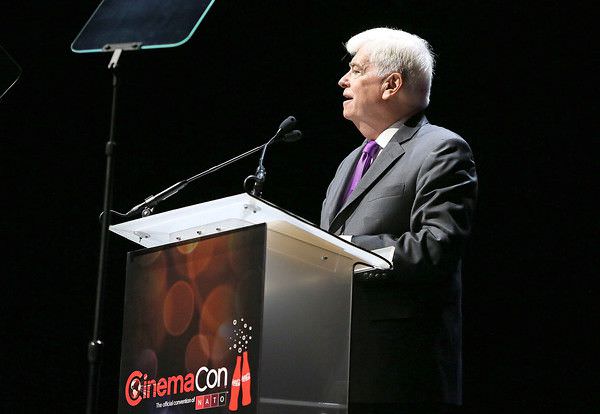 In the 24 months since he's been with the MPAA, Senator Dodd has heard a lot of stories from various people in the industry, and it's only helped strengthen his resolve to champion the film industry's cause in creating some of the greatest and most memorable entertainment on earth. In his address, Senator Dodd saluted studios and theaters for a banner year; both in revenue and in creating lasting works of cinema. "2012 was a great year at the movies!" he exclaimed, "And I believe the summer blockbusters being previewed this week will contribute to a highly successful 2013."
While the first half of Senator Dodd's speech highlighted the successes of 2012 for the film industry, the latter half looked exuberantly forward. In addition to unveiling a new easier-to-read film rating system, he also called upon theater owners, distributors, production companies, and essentially all employees of the film industry to come forward and share their stories about making and supporting motion pictures. "I want the world to know about the great work this industry does," he said. "And I am here today to ask you to do the same." (We even got a little shout out, to boot.)
Next up, NATO President John Fithian took the stage to congratulate theater owners for a truly successful year at the box office; commend the industry on an all-new, transparent ratings system; and to call upon the studios to provide consumers with more viewing options at theaters this year.
While 2012 was a banner year for more mature movies, NATO has found that there's considerable demand amongst audiences for more family-oriented films throughout the calendar year. In fact, 2012 was an incredibly successful year for movies premiering in months formerly considered 'off' or unsuccessful, like February, March, and September – which of course, is a great boon for everyone in the film business.
Lastly, Fithian called upon theater owners to take note of the incredible and oft overlooked driving force female demographics have at the box office. Whether it was The Hunger Games or Twilight, films with strong female leads brought in big numbers this year. Fithian urged theater owners everywhere not to ignore the importance of female-led movies and moviegoers. In addition, he advised everyone to check out the Thursday panel on women in movies, featuring one of our favorite icons, the writer/director Paul Feig (fret not: we'll be covering that panel in depth, of course.)
Get Your Popcorn, Soda, Hot Dogs, Churros, Dippin' Dots, and 4D Movie Theater Experience – CinemaCon's Trade Room Floor is Officially Open:
To say there was glee in the eyes of those who first entered CinemaCon's trade room floors on Tuesday would not be hyperbole. That's because not only could conference goers get to smell and sample some of the best in theater concessions, they also got the opportunity to see how much innovation is happening within the industry, and to learn more about exhibitors – both new and time-tested alike. **Be forewarned: it's best to go on an empty stomach (we're looking at you, Nathan's hotdogs booth!).
The food is but an appetizer for the innovation on display across the trade show room floors. Whether it was an epic 4D performance, which allowed conference goers to demo the ultimate movie experience by way of action-synchronized moving theater seats, triggered wind, and 3D sequences; or the wide array of cutting edge digital projectors, theater sound systems, and ultra-comfy theater seats, CinemaCon's extensive trade show room floors are worth well-perusing this week.
The Studios Spoil Us: The Cast of Fast & Furious 6 and the world premiere of The Man of Steel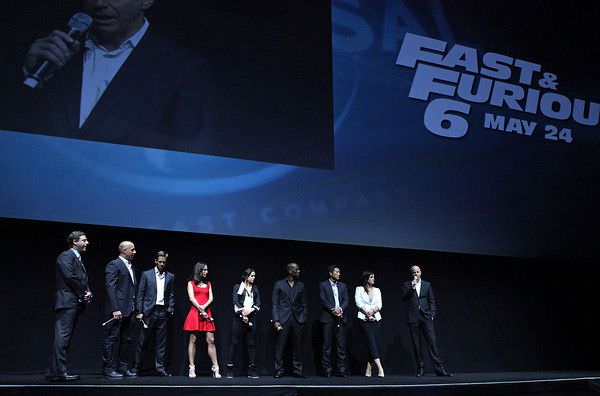 Studio presentations on Tuesday were top-notch thanks to an engaging presentation from the cast of Universal's Fast and Furious 6 and an onslaught of A-list directors in the Warner Bros. upcoming release presentation. Not only did Guillermo del Toro (Pacific Rim), Todd Phillips (The Hangover 3)  and Zack Snyder (The Man of Steel) champion the trailer for their upcoming films in person, but Snyder unveiled the world premiere of The Man in Steel trailer, which you can enjoy in all its glory here (and yes, in case you're wondering, it's everything you could possibly hope for):
Suffice it to say, we're excited for Day 3 at CinemaCon.