CinemaCon Day Four: The Rise of Women, Catching Fire & More
On the final day of CinemaCon, conference goers reveled in wonderful studio presentations from Fox and Lionsgate, in addition to soaking up one of the most thought-provoking panels of the week – the Geena Davis-helmed presentation on the pressing need for studios and distributors to heighten the profile of women at the movies. From sizzling studio showcases to an impassioned call for more diversity at the box office, today was the perfect bookend to a film-fueled week. Here's a look at the last day of what has been a whirlwind week of cinema, knowledge, and great studio reels: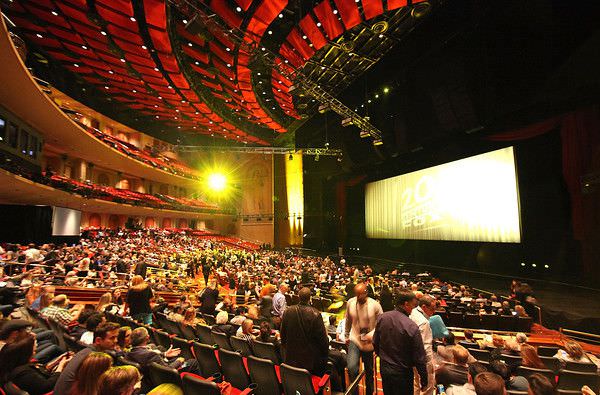 More women in movies? Yes, please!
Thursday's luncheon presentation at CinemaCon marked one of the most important – and highly anticipated – panels of the week. Sponsored by The Hollywood Reporter, the same publication that has recently featured a super successful roundtable of A-list actresses and a spread on the power of females at the box office; the riveting Driving Financial Success: Women + Movies = Bigger Box Office panel will likely have conference goers hotly debating the admittedly limited presence of women in mainstream movies. But thanks to Geena Davis' crusade to compel studios to make women more prevalent in their movies – in addition to a record-breaking year for females in the industry – women are rising up through the ranks of a traditionally male-dominated Hollywood.
While attendees dined on salmon salad in the Caesar Palace's Octavius Ballroom, Hollywood Reporter editor Janice Min moderated a powerhouse of a panel featuring actress Geena Davis, producer and director Paul Feig, producer Nina Jacobson, Regal Entertainment Group CEO Amy Miles, and President of Fox Animation Studios, Vanessa Morisson.
The panel discussed, at length, various problems pertaining to the lackluster presence of females in Hollywood. The first issue? Scary statistics. Geena Davis listed a number of distressing takeaways about women in the film industry. In case you're wondering: the occurrence of women in film is actually a bit less diverse than it was in 1920, when 57% of the movies starred women. Yikes. (Don't worry, it gets better.)
Davis, who is responsible for some of the most powerful portrayals of women on the silverscreen, has been passionately championing women in film – whether it's supporting research into gender equality on the big screen to personally asking studios to put more females into the world of their movies, from casting them in starring roles, as non-love interest characters, or simply putting more females into crowd scenes.
In addition, both moderator Janice Min and Hunger Games producer Nina Jacobson called upon the media to stop the relentless public bashing of female stars. Jacobsen cited a recent list of 20 of the most annoying celebrities – with super talents Anne Hathaway and Gwenyth Paltrow at the top of the list, while the controversial Chris Brown was named last. "We might be under-represented in a lot of lists, but on that one we're over-represented," Jacobsen said, and urged the media to stop the "bloodsport" of ridiculing female actresses.
Producer and director Paul Feig pointed out that there's enormous pressure in Hollywood to cast male stars – a trend that is oftentimes chalked up to economics. Male stars average more international revenue than their female counterparts, and there's a clear need for more female power roles. "This idea of a 'chick flick' is a problem," he said. "If someone's funny, it's because they're funny." Feig, who produced and directed Bridesmaids and the upcoming The Heat theorized that women need to break into common genres in a new gender-realistic way, in order to 'eventify' the female presence in films usually reserved for male stars.
Speaking of Bridesmaids, Feig cited Melissa McCarthy's success as evidence of a powerful new emergence of women in film. "She has the potential to become an international star," he said, "both men and women relate to her equally."
"[Melissa McCarthy] is real life. She's a lot more representative of women," Regal Entertainment's Amy Miles pointed out later in the discussion. McCarthy's refreshing and wholly original screen presence is likely the culprit for her incredible success. "There's a real hunger out there for originality," Vanessa Morrison, President of Fox Animation Studios, revealed. She urged studios and distributors to be mindful of the need for more choices when it comes to women consumers, who make up half the movie going audience and are responsible for making the majority of choices about what movies their families watch.
When Hunger Games producer Nina Jacobsen first started in the film industry, there was a common – and yes, gravely archaic – adage that women will relate to male leads in movies, but men can't relate to female stars. All panelists agreed that that myth is simply not true. The speakers unanimously praised studios and distributors for stoking the female profile in movies this past year with women-helmed projects like The Hunger Games, Snow White and the Huntsman, and Twilight.
At the end of the panel, Jacobsen turned to Geena Davis, who has played roles traditionally reserved for men, like the President of the United States and a famous baseball player. "I think Geena's work has had an enormous effect. Part of the time it's just getting people to notice…it is changing," Jacobsen said, "and it will continue to change." And we're all very – very – thankful for that.
Studio Spotlight: Fox and Lionsgate Pull Out All The Stops With Respective Studio Reels.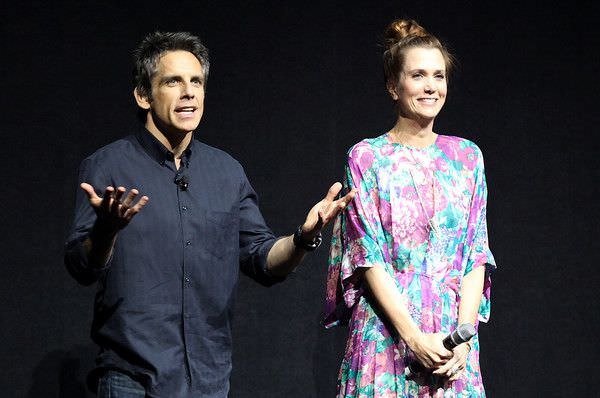 Thursday's studio reels left everyone, well, reeling. Fox has an impressive roster of films this year – from The Secret Life of Walter Mitty to of course, Paul Feig's The Heat, featuring Sandra Bullock and the always-hilarious Melissa McCarthy. Audiences were more than enthralled by the in-person appearances by Sandra Bullock and Melissa McCarthy (The Heat), along with Kristen Wiig and Ben Stiller (The Secret Life of Walter Mitty).
Lionsgate gave a primarily comedic performance, thanks to Kevin Hunt who has a comedy feature, Let Me Explain, debuting in July. Other Lionsgate highlights? Morgan Freeman hit the stage to promote his upcoming flick Now You See Me, while Elizabeth Banks and Liam Hemsworth showed up to promote the highly anticipated sequel, The Hunger Games: Catching Fire. And last but by no means least, Harrison Ford took center stage to show off his new film, Ender's Game. Don't worry, we have the Hunger Games 2 trailer for your viewing pleasure here:
The night concluded with the epic star-studded "Big Screen Achievement Awards" which honored icons like Joseph Gordon-Levitt, Morgan Freeman, Elizabeth Banks, Vince Vaughn, Owen Wilson, Harrison Ford, and Melissa McCarthy. Plus, the Fandago Fan Choice Award of 2012 was unveiled, and it was (drum roll please….): The Hunger Games!
All in all, it's been a great week here at CinemaCon. Dynamic panels, Hollywood stars, and industry heavyweights have helped make this is a truly unforgettable week to celebrate the magic of movies. Are we already anticipating CinemaCon 2014? You bet.
Feature image credit: Sandra Bullock and Melissa McCarthy. Photo by Ryan Miller/Capture Imagining, courtesy of CinemaCon