The Art of Armory: Chatting With Game of Thrones Costume Designer Michele Clapton
Emmy and BAFTA award winning costume designer Michele Clapton has perhaps one of the most demanding, and most fun, jobs in TV—she clothes the wild, epic world of HBO's Game of Thrones. Clapton, who works in Belfast, Ireland, heads up a team of weavers, embroiderers and armorers as she creates the costumes, most of them from scratch (they have their own loom in which they weave the fabric) for a show unrivaled in its scope, number of characters, and glorious pomp. There is not a single thread, buckle, boot or bracelet that was not the product of a deep level of thought and effort by Clapton and her many artisans.
Clapton has had to become a student at the university of GOT, poring over George R. R. Martin's books, as well as the scripts delivered by the show's writers, like an anthropologist might—asking herself what these characters would actually wear in their various locations, from the seafaring Greyjoys and their ruthlessly cold, watery home on the Iron Islands, to the powerful, rich Lannisters and the finery they prefer to don in the relative sunny climes of King's Landing.
The costume and prop design of GOT is so fundamental to the show's success, and so clearly a labor of love by the artisans who work with Clapton, that some of the costumes, props, armor and weapons are touring in an exhibition. Fans of the show can catch Clapton and her team's incredible vision in New York (from March 28-April 3), San Paulo, Brazil (April 25-30), Amsterdam (May 18-27) and, fittingly, in Belfast (June 8-17). This traveling exhibit is the first of its kind by HBO, and speaks to the incredible passion of the artists who work so hard to translate the beloved books into the stunning, cinematic spectacle of the series.
We spoke to Clapton about translating George R. R. Martin's detailed world from page to screen, the lifecycle of a single costume, and which article of clothing the actors most complain about.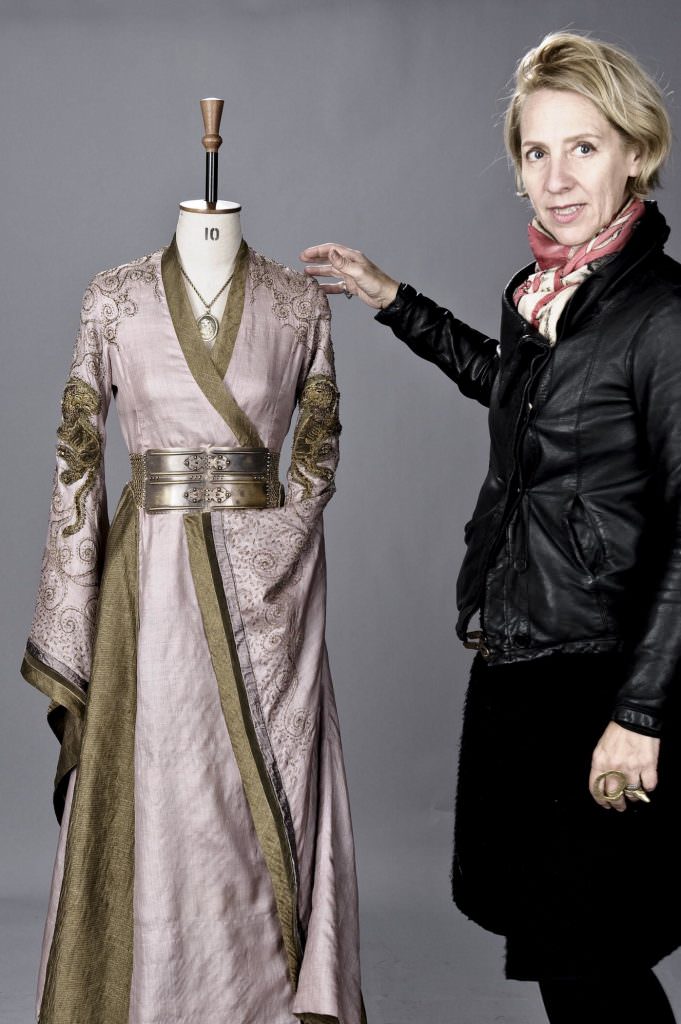 Can you tell us a bit about your background, when you knew you wanted to be a costume designer and how you got involved in this industry?
In a way I drifted into costume via fashion, although having said that, if I had known I would have headed straight for costume design and gave fashion a miss! I had always been into clothes and, as an original blitz kid, I was very theatrical, so it was just a great way to express yourself. I studied costume construction and textiles for two years and then fashion for three years. I then had my own label for a few years before styling numerous music videos during the late 80s and 90s before moving into commercials and, finally, TV and film.
You have designed a lot of period dramas (Casanova, Sense & Sensibility, The Devil's Whore), which Game of Thrones certainly fits, in its own wild way—how did you become so skillful in this particular niche?
It was just something that I was always interested in, you can just get so much more involved and can create a lot more from scratch. In all the above mentioned projects I had such artistic freedom. Each director, and the writers on GOT, let me really explore and take the looks in exciting directions. I always like to move away from the normal way of doing things.
You create everything, or almost everything, from scratch in your shop in Belfast. What is your creative process like?
I will start each season by looking at all the new places and people we will meet and at the journeys that our main actors will travel, and to see who dies! I will then start to look at the climates of the new places, what are the trades, and what's available–and from this I'll start to research and develop the look in a broad sense. I will then start to design more specifically to character. These drawings will then be discussed with the cutters and armorers, and toiles are made for the first fitting. The pattern is then adjusted and the fabric, which may have been dyed and printed, is cut and handed to the maker. We will then often have another two fittings, if it is a complex costume, and at any stage we may involve the the aging process, the embroiderer, and the armorer.
You told the Los Angeles Times that sometimes the written description of a costume in George R. R. Martin's books don't necessarily translate well to screen—can you tell us of certain character costume whose written description is quite different from what we see on screen?
I guess that the most obvious is that in the book the Kings guard armor is white, and I thought that this would just be too much, and too hard to film. We of course kept elements of white such as the cloak. And we used white enamel in the process.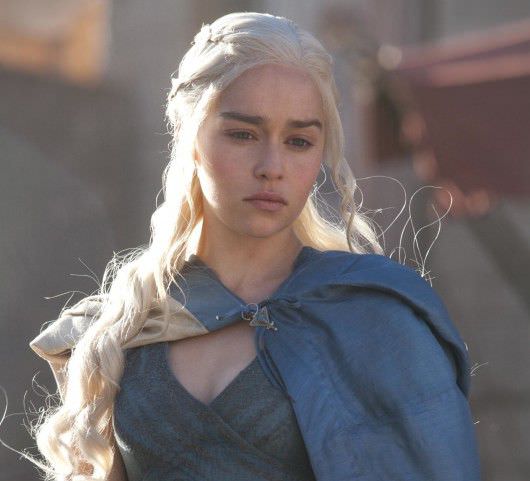 One of the many wonderful things about your work on Game of Thrones is not just how fantastically costumed these characters are, but how practical the costumes seem to fit where the character lives. Do you pretty much know the temperature and topographical details of every location in the Games of Thrones universe at this point?
Yes! I think it's so important for the characters to fit their environment, to make them of it, it makes this fantasy believable and complete. Sometimes we work against this, for example Ned Stark didn't want to be in Kings Landing, he was a true man of the north and even in the heat stuck with his northern look almost as a protest, a statement.
The costumes in Thrones look heavy. Looking at a photo of Brienne (Gwendoline Christie) in her full armor, that costume looks to be 20lbs, how heavy are they?
Sometimes very heavy. Some actors like this as it really gives them a sense of character, it changes their movement and way of standing. Not everyone is a fan but most are!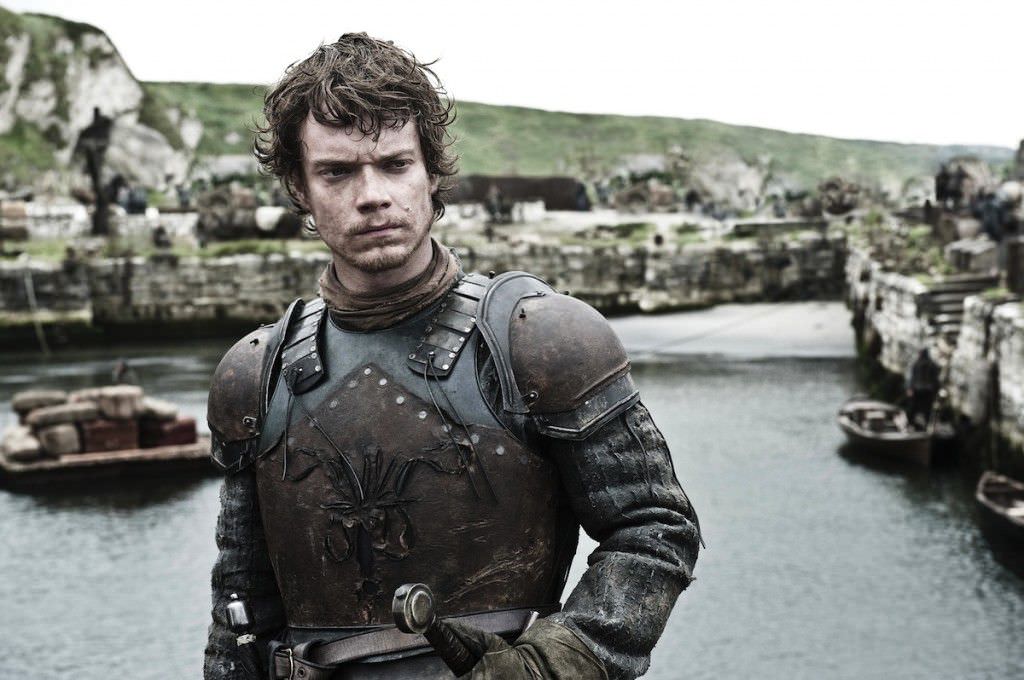 Are the armor and swords and axes and all of that stuff real?
A lot of the time yes. More and more often as the series goes on.
Your resume includes costuming some of the biggest international movie stars in the world, including Penelope Cruz, Ralph Fiennes, Kristen Scott Thomas (all in one film!)—has anyone stood out for as especially fun to costume? Is there a particular costume you are most proud of, or is most memorable?
I loved dressing Kristen Scott Thomas. We had a lot of fun with her character and she wears clothes so well.
Can you tell us a few things that every aspiring costume designer must know how to do? Tips for the up-and-comers who want to be the next Michele Clapton?
Every costume designer's journey is different. I guess work hard, don't give up, and sadly, luck is involved as in most professions. I would also say know your weaknesses and make sure these are your assistants strengths.
What can we expect from the look and feel of the upcoming season of Game of Thrones?
Every year we try to raise the bar, and already there is such a difference I think between seasons one and three. Sometimes at the end of a series I want to stop, but I can't bear the idea of someone else changing things, and all my crew want to carry on, they are all hooked because we have such a creative time, this is rare really.
What article of clothing do the actors most complain about?
Armor and corsets!!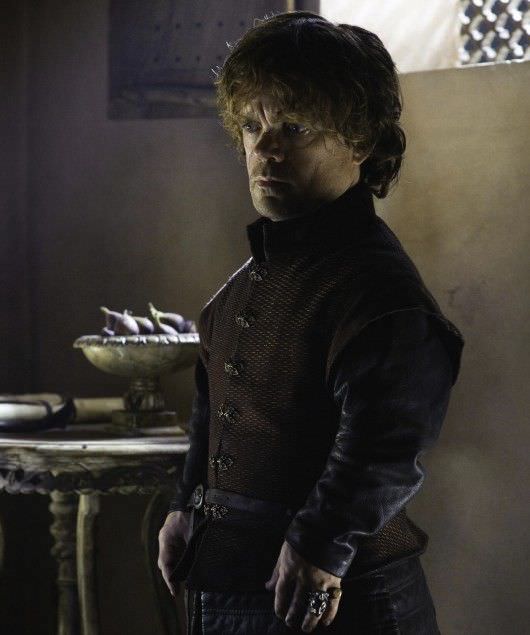 Featured image: Richard Madden as Robb Stark– photo Helen Sloan, courtesy HBO