Persistence, Pluck and Luck: Filmmaker Linda Goldstein Knowlton Gets it Done
Four adopted girls scattered throughout America share one commonality: they were all adopted from China because the country's "One Child Policy" put their parents in an impossible situation. Twelve men and women become the first-ever senior citizen hip-hop dance team in the country, performing at center court for the (then) New Jersey Nets. South Africa, among other nations, begins a co-production with the American children's program Sesame Street to bring the beloved show to them, creating the first ever HIV-positive Muppet in the process. What do all of these stories have in common? They are all documentaries directed (or co-directed) by Linda Knowlton, who has made a career doing the unexpected.
Her next project, Code Black, is a documentary about the emergency room at LA County Hospital. Clearly she must be a film school graduate with a focus on documentary filmmaking, right? Not quite. Knowlton got her college degree in neuroscience, and says of her career; "It couldn't be more random." A career which has included, on top of the docs, becoming the president of production of a legendary filmmaker's company, producing four feature films, and championing a new film distribution method.
But more on all that in a bit, first, let's find out about Knowlton's foray into the world of filmmaking, which happened essentially by accident.
Loving (and Temporarily Leaving) Stories
When she was growing up, she was "one of those kids with the flashlight under the blanket, reading books. I loved reading stories." She was going to be an English major at Brown, but her brother, a neuroscientist, nudged her to take at least one class in his field. That nudge resulted in her ending up majoring in neuroscience.
Cut to Knowlton in 1988, recently graduated from Brown with that aforementioned neuroscience degree, but deciding against medical school; "I was really bad at math," she says. She moved down to Washington D.C., where everyone she knew was volunteering for political campaigns, but she couldn't afford that. She found out that the American Film Institute was looking for a secretary, and she figured why not, so she interviewed for the job. She ended up being the assistant for Jean Firstenberg, the CEO and director of AFI.
"While I was there, I learned about film and immersed myself in it, and I realized, oh, this is story telling, this is what I love." Knowlton spent a few years working her way up the AFI ranks; she eventually was helping them produce their screening series, which raised funds for film preservation. Having been thoroughly bitten by the film bug, she moved out to Los Angeles.
Like a Rolling Boulder
"I got a job being a development girl, the first company was a special effects company called Introvision," Knowlton says. "You know the big scene with the giant rolling boulder in Raiders of the Lost Ark?" I gently remind her that I work at a film website. "At the time, that was very high tech, and they also did the train tracks scene in Stand by Me, and they decided they wanted to make their own movies, and I was first their development person. So I did that for a while, but I wanted to learn how studios were working. I realized I was at a point where I needed to be learning a lot more about actually making films."
And thus begins a trend with Knowlton's career; wanting to learn something and therefore putting herself in the middle of the action in order to do so. She did this in a very unusual way, however—she pitched a story idea she had been mulling since college.
"I had a book of short stories since college called Don't Bet on the Prince, and the first three stories I thought would be a great TV series. They were feminist fairytales that had a lot of attitude, and one of the stories was about a very tall princess." Knowlton partnered with a production company, The Forge, that happened to be owned by a very tall actress; Geena Davis (she's 6'0", for the record.) "They loved it, we set it up, and poof, I was an independent producer."
Although they did get three scripts in that Knowlton thought were great, the series never moved forward, but her career sure did, thanks in large part to her ability to see opportunity where others might see daunting obstacles. "I realized at the time, which was the height of spec script sales, that I'm 89th in line to get a script, but, going back to my love of reading, I called up agents and asked what their favorite book is that they've never set up, and I'll read the book."
The Impossible Book Chick
For years (and we do mean years) Knowlton worked on her own turning difficult books into feature film deals. She made a name for herself as dogged, smart, and easy to work with ("I became known as the Impossible Book Chick"). She read constantly, and worked her tail off pushing the books she loved in front of studio execs, tirelessly chipping away, year after year, trying to get a handful of books she adored onto the big screen.
After a ton of effort, she started to get results. She got three very difficult pieces of fiction through development deals, and caught the attention of a Hollywood legend in the process. Knowlton found herself in the enviable position of becoming the president of production for Kasdan Pictures, owned by the venerable Lawrence Kasdan (who wrote The Empire Strikes Back and Return of the Jedi, and wrote and directed The Big Chill, The Accidental Tourist, to name a few).
While Knowlton headed up production for Kasdan, her years of tireless effort starting paying off…all at once. From 1999 to 2002, she produced four feature films. Her first was Antonio Bandera's first film as a director, Crazy in Alabama, based on the novel of the same name by Mark Childress. This book (which Knowlton had logged over seven years of time trying to get made) was about an abused wife heading to California to be a movie star and leaving a heap of trouble for her nephew back in Alabama. Also in 1999, she produced the comedy Mumford, directed by Kasdan himself, about a psychologist named Mumford moving to a small town of the same name.
She continued to earn her "Impossible Book Chick" moniker with her next two films; getting Annie Proulx's dark, haunting novel The Shipping News made into a feature film starring Kevin Spacey, Julianne Moore and Dame Judi Dench. "I took galleys around and submitted them to places, which took a year to set up, to all the different studios, and everyone passed. Then six-months later there were new executives at some studios, so I went back. It was Stacey Snider at Sony who said, 'yes, let's do this.'" And she also optioned a Maori writer's novel and turned it into the award-winning 2002 film Whale Rider. She had put eight and thirteen years into getting both of these made, respectively.
Knowlton was in postproduction on The Shipping News as preproduction for Whale Rider began. "When I came on Whale Rider, the star [Keisha Castle-Hughes] had not been born yet." After over a decade of working tirelessly to make these books into films, it was all happening at once.
"This was a 'be careful what you wish for' situation. Admittedly, a high class problem," Knowlton says. Whale Rider won awards at film festivals all over the world, and its star, Keisha Castle-Hughes, who had not been born when it began, was nominated for an Academy Award for best actress.
It was after Whale Rider that Knowlton found herself compelled, yet again, to challenge herself.
A New Direction: Directing
"I always was interested in documentaries, and I got this idea about Sesame Street. I learned that Sesame Street does these international co-productions, and other countries buy them and dub them into their own languages." Knowlton was intrigued, and by now we know that this means she'd stop at nothing to see this vision through. With her co-director Linda Hawkins Costigan, she set out to make it a reality.
"Sesame Street works with about twenty countries, helping them create their culturally specific program. The curriculum comes from people in their own country, so the Egyptian community does their own thing, for example. In South Africa, they chose to create an HIV positive Muppet, which was the first pre-school curriculum for HIV in the world. I thought wow, that's how you change the world, starting with the three to five year olds."
And so The World According to Sesame Street was born. With Linda Hawkisn Costigan, Knowlton co-produced and co-directed the film. While it was in postproduction, Knowlton and her husband began the adoption process for their daughter, which sparked her interest in doing a documentary involving the adoption world.
"The World According to Sesame Street premiered at Sundance in 2006 in competition [it was nominated for a Grand Jury Prize in the documentary category], and a month later, we were on a plane to China to adopt our daughter."
Knowlton has recently been screening her adoption film, Somewhere Between, using Tugg, a service that offers audiences a chance to bring the movies audiences want to see to local theaters, giving documentaries like Knowlton's a uniquely calibrated distribution platform and, in many cases, a second life. "We've had twenty-six Tugg screenings already and twelve more confirmed," Knowlton says, "I can't get over how brilliant an idea it is, the idea that when you have a motivated audience, for them to have a communal experience, that's' the ideal for a filmmaker."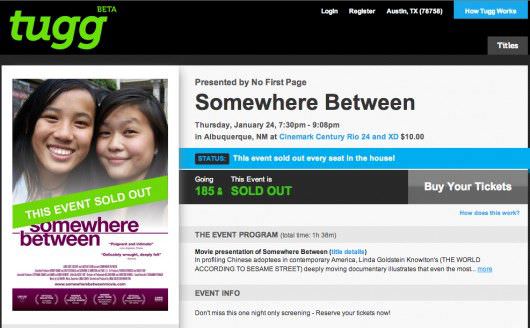 Along with showing Somewhere Beetween, she's also finishing Code Black with a first-time director whose also a 4th year medical resident at LA County Hospital. When I asked her if that was it (that had to be it, right?) she said no. "I'm working on a couple of other things…a film about gun control, and a long gestating project about the declaration of independence. I'm interested in asking if we've lived up to the tenets of the document and, if not, how far do we have to go."
Hopefully not as far as Knowlton has gone: that seems a little too daunting.
Featured Image: Linda Knowlton, center, on the set of her documentary Somewhere Between. Courtesy Linda Knowlton.