A Look at how our Oscars Social App Fared Predicting the Oscars (Spoiler Alert: Very Well!)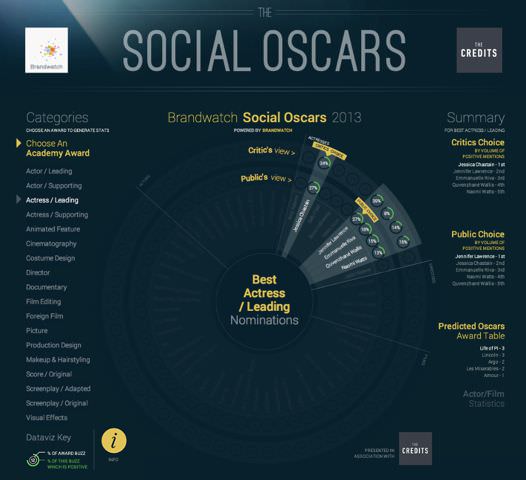 Tom O'Neil, of GoldDerby.com, got 91% of his predictions correct, according to this round-up by Slate on the most accurate (and inaccurate) Oscar prognosticators. We're not offended we weren't on their list (sniff), but we did want to settle our own accounts and see just how we fared with our social media and critic tracking app, powered by some very big brains (namely our quant, Edward Cook) over at Brandwatch.
Just a recap on how our app works–our Social Oscars DataViz (data visualization) surveyed social media sites like Twitter, Facebook and Pinterest for public mentions relating to the Oscar nominees. It also pored through the predictions of actual critics, offering their picks on news websites and popular film-focused blogs. It then used natural language processing and other measures to strip the data of spam and duplicates, and then analyzed it. Our app wasn't looking at mere mentions, either, but predictions–like, "I think there will be a tie in the sound editing category between Zero Dark Thirty and Skyfall." (Nobody predicted this, at least, not to our knowledge.)
One of the questions Cook was asking as he helped create the DataViz, a question that was answered by the results, was whether crowdsourced predictions from the public and critics would turn out to be accurate.
Our results? Of the 18 categories we tracked, the public predictions the DataViz collected we were right for 15 of the categories, putting us at 83% accurate (which would rank as the second most accurate Oscars predictor behind Tom O'Neil at Gold Derby on Slate's list). Our app was correct 72% of the time when both the public and the critics agreed.
Here's the breakdown of Oscar winners (excluding a few categories that didn't generate a sizable enough online fingerprint, such as the aforementioned tie in sound editing), in the order they were received during the telecast, with our correct predictions underlined:
Supporting Actor: Christoph Waltz
DataViz: Christoph Waltz (public) Robert DeNiro (critic)
Animated Feature Film: Brave
DataViz: Brave (both public and critic)
Cinematography: Claudio Miranda for Life of Pi
Data Vis: Claudio Miranda for Life of Pi (both public and critic)
Visual Effects: Life of Pi
DataViz: Life of Pi (both public and critic)
Costume Design: Anna Karenina
DataViz: Anna Karenina (both public and critic)
Makeup and Hairstyling: Les Miserables
DataViz: Les Miserables (both public and critic)
Documentary Feature: Searching for Sugar Man
DataViz: Searching for Sugar Man (both public and critic)
Foreign Language Film: Amour
DataViz: Amour (both public and critic)
Supporting Actress: Anne Hathaway
DataViz: Anne Hathaway (both public and critic)
Film Editing: Argo
DataViz: Argo (both public and critic)
Production Design: Lincoln
DataViz: Life of Pi (both public and critic)
Original Score: Life of Pi
DataViz: Skyfall (both public and critic)
Adapted Screenplay: Chris Terrio for Argo
DataViz: Chris Terrio for Argo (both public and critic)
Original Screenplay: Quentin Tarantion for Django Unchained
DataViz: Quentin Tarantion for Django Unchained (both public and critic)
Directing: Ang Lee
DataViz: Stephen Spielberg (public), David O. Russel (critic)
Actress: Jennifer Lawrence
DataViz: Jennifer Lawrence (public), Jessica Chastain (critic)
Actor: Daniel Day-Lewis
DataViz: Daniel Day-Lewis (public and critic)
Best Picture: Argo
DataViz: Argo (public and critic)