Second Screens, Morgan Spurlock, and the Future of Film and TV: Variety's Entertainment Summit At CES
The Credits recently journeyed to the 2013 International Consumer Electronics Show, where we caught Variety's Entertainment Summit amid the bustling Las Vegas Convention Center. Sponsored by one of the industry's most venerable publications, the two-day summit celebrates innovation in the content industries.
Tucked away from the effervescent, gadget-adorned exhibition halls, we watched dynamic panels and discussions on the future of film, television, and technology.
The program included a roundtable with top studio executives, a keynote with writer-director-producer Morgan Spurlock, and expert insight from content powerhouses like NPR, X-Box, and Funny or Die, as well as key tech aficionados from companies like Reddit, Facebook, and Amazon.
Panel discussions sparked enthusiasm and lively debate, while current industry issues were eagerly taken to task. From new technologies, to second-screen marketing, fan communities, and viral digital content, we have seen the future of film and television—and it is, in a word, thrilling. Here's a rundown of the program: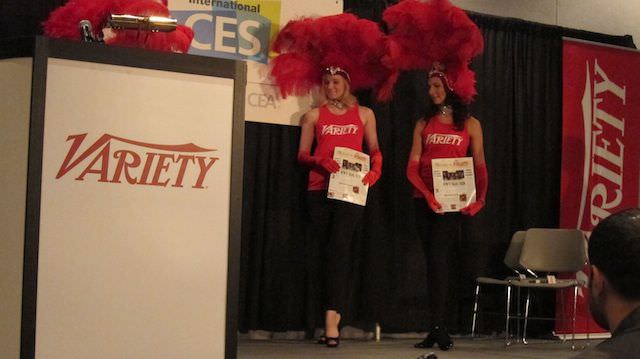 Day 1: Film
Film and Technology
The series kicked off on Wednesday with the Studio Chief Technology Officer SuperSession panel, a roundtable discussion with executives from Walt Disney, Sony, Warner Bros, DreamWorks, and 20th Century Fox. The panelists weighed in on the proliferation of technology in the film industry, focusing primarily on industry milestones like faster frames per second and the razor-sharp new television resolution 4K. Marked by stunning visuals and the most discernable clarity to ever grace a home screen, panelists conceded that it was only a matter of time before the revolutionary (albeit pricey) 4K becomes as common as HD.
Higher resolution is always a plus, but it has a price—increased amounts of data— and studios have already begun researching remedies. For the film industry, seeking out optimal transferal platforms—and figuring out how to cut down data size—will be integral as our screens get more dispersive and mobile. Panelist Lincoln Wallen, CTO at DreamWorks Animation, quipped, "With all the different screens content is being consumed on now, you've got a far more complex environment."
The roundtable unearthed the various ways studios are keeping ahead of the curve, whether by investing in ground-breaking new filming techniques (The Hobbit's 48 FPS was cited as proof of a major evolution in film) or by investing in research that seeks to ensure the movies we love can be easily viewed by all audiences, regardless of the device.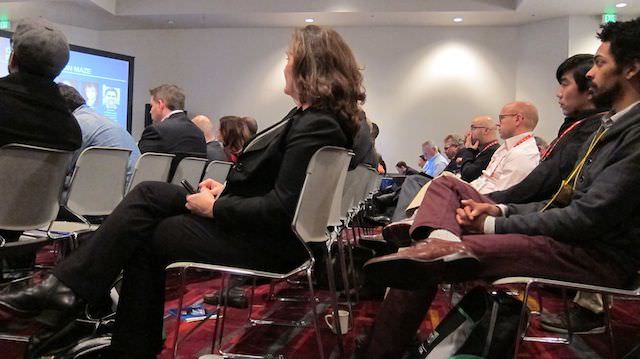 The New Take-Charge Consumer
Anthony Bay, Vice President of worldwide video at Amazon.com, delivered the first day's keynote. Bay spoke about Amazon's insistence that the consumer experience be as easy and enjoyable as possible. In providing services like suggested recommendations, easy check out, and shareable wishlists, Amazon invests in technology that presents consumers with seamless buying or renting experiences. Bay noted that Amazon's approach is one that has attracted major Hollywood studios, who have teamed up with the online superstore to seek out optimal distribution for films.
The portrait of a take-charge consumer was at the core of the Creative Technology Trendsetters panel, which spotlighted viewer-powered distribution projects like Tugg.com, Gathr, and Indie Flix. These projects allow viewers to play an active role in distribution—for instance, to rally for a specific film to be screened nearby. Among the panel participants was actor Matthew Lillard who voiced his support for crowd-sourced distribution projects as a way to gain exposure for new films and to help support local theaters.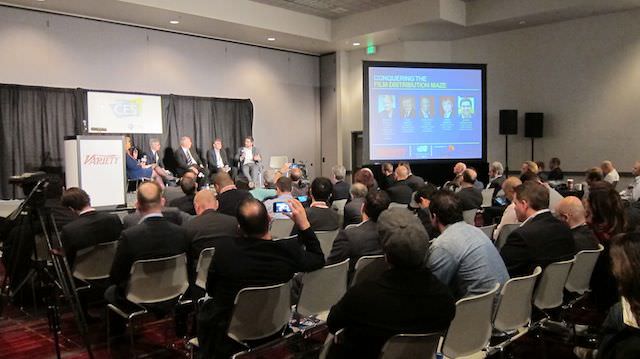 The first day of the Variety series closed with the panel Conquering the Film Distribution Maze, which featured experts from content hubs like Sony, Warner Bros, and Redbox. Panelists spoke to the benefits of social media in fostering effective, targeted distribution, and expressed enthusiasm for experiments in lower pricing, speeding up sell through windows, and distribution models aimed at consumer convenience.
Day 2: Television
Morgan Spurlock Takes On Television
The second and last day of Variety's Entertainment Matters Summit focused on the future of television. The program commenced with an engaging keynote from writer-director-producer Morgan Spurlock, who shared his incredible plight from working at Sony, to drowning in debt with the start of his own production company ("I was paying off credit cards with credit cards!" he exclaimed), to becoming the celebrity doc filmmaker behind Supersize Me and Mansome.
Spurlock is now foraying into the world of television, with his new 'narrative non-fiction' TV series for CNN called The Inside Man. With a documentary beat, the show sets out to examine national issues—like medical marijuana and guns in America–through intimate portraits of affected communities across the US. When asked to discern the difference between reality television and narrative non-fiction, Spurlock pointed to originality. "The second you do it twice, it's not original," he said.
Still, Spurlock's all but done with doc filmmaking. He's currently directing a 3D concert movie for the boy band sensation One Direction. "I want to examine why these guys, why now?" he said. After turning down similar projects in the past, including concert docs for Justin Beiber and Katy Perry, he's thrilled by the prospect. "3D is a movie event," he said, and it's a technology he's wanted to work with for while.
When it comes to the future of television, Spurlock pointed to a major tenet of his new show—the importance of curation. "Curators will be the next trusted distributors," he surmised.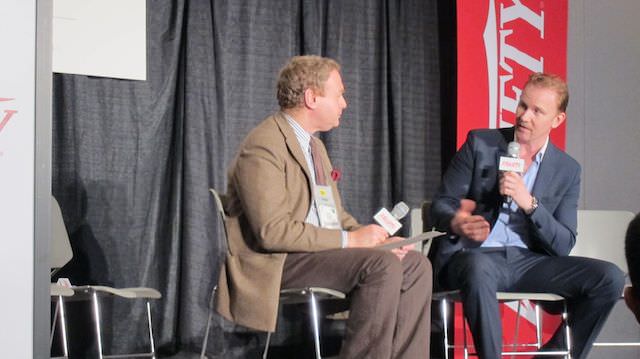 Digging Into Digital Content
The day's next panel, The Digital Content Big Leagues, tackled content in the digital age. Multi-screens, web series, YouTube channels, viral videos, and PSY were all discussed at length by panelists hailing from some of the biggest digital content powerhouses around, including Shine America, NFL, NPR, and NBCUniversal. The pundits shed insight into their experiences managing, producing, and marketing digital content.
When it comes to producing quality content, NPR's Chief Content Officer Kinsey Wilson attested that both story and feedback are key. NPR's penchant for unique storytelling is what allows the network to attract loyal listeners and cover the news of the day economically. Since the network relies on public funding, feedback is the most integral part of NPR's content creation. "We have to be very attuned and attentive," he said.
'Viral' Is An Outcome of Great Content
On the subject of making digital content viral, Keyvan Peyami, Head of Digital Strategy at ICM Partners asserted that virality is an outcome of good content, not a starting point. With the sheer abundance of content out there, virality isn't as easy to achieve without professional help–he theorized that traditional publicity channels are still paramount in making digital content viral. "It's harder now to become a superstar on your own," he said, "but it's easier than ever to start."
One of the panelists wondered aloud if PSY, and the viral success of his seemingly self-publicized Gangnam Style video, might be an exception to Peyami's point. Later, an audience member explained that North Korea promoted Gangnam Style in an effort to salute their national pop-cultural efforts, an aside that drove many of the panelists' points home.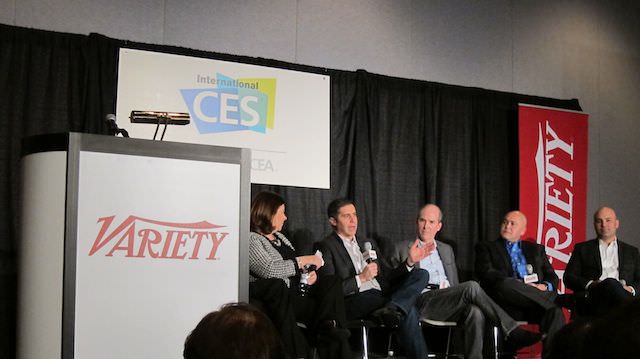 The Future of Television: Second Screens
Experts weighed in on the importance of second screens during the summit's penultimate panel, the Future of Television. Industry leaders from projects like X-Box, Univision, Time Warner, and Magic Ruby discussed the ways in which the second screen experience can help meet consumer desires, raise program ratings, and foster an avid fan culture.
A panelist from Magic Ruby who worked on FX's Sons of Anarchy iPad app, remarked that the platform was a serious boon for the network. The app facilitated record-breaking sales of merchandise related to the show, from a Sons of Anarchy hoodie to a replica of a ring worn by a central character priced at $300.
Second screen apps are also hoping to enhance live experiences. Panelist Ross Honey, GM Entertainment and Advertising for Xbox Live, revealed that they were working on creating a second screen app to supplement televised NBA games—enabling users to access trivia about players and teams in real time.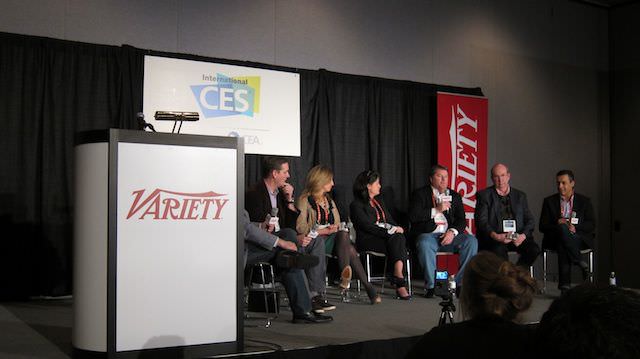 Tapping Into Fan Culture: Complimentary Content & Attention to Details
What do The Walking Dead, Reddit, Facebook, and Funny or Die have in common? Communities of enthusiastic fans—and lots of them. Variety's Entertainment Summit concluded with the all-star panel, Masters of Storytelling, where figures from ultra-popular shows, forums, and social networks spoke about the power of fan culture to drive ratings and foster loyalty.
The Walking Dead executive producer Gale Anne Hurd, explained that the show increased audiences by providing meta-content during off-seasons. The Talking Dead, a live after-show that discusses each episode, and The Walking Dead iPad game, are two examples of complimentary content that allow die-hard fans to deepen their engagement with the show.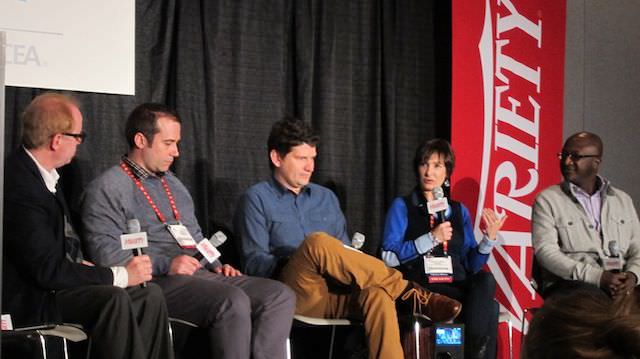 Reddit general manager, Erik Martin advised content producers to tap into fan cultures, because they have enormous power. He recalled a Monk fan who purchased a multi-season DVD box-set and noticed that protagonist Tony Shalhoub's face appeard at the bottom of each DVD—except for the very last season, where his face appeared at the top. The fan launched a campaign, noting that the inattention to detail would drive Monk's OCD-addled protagonist crazy. The thread received one million views in twelve hours, prompting the company to re-release the DVD with the change.
To engage loyal and devoted fans, panelists agreed that social media is the preferred medium of choice. Panelist Kay Madati, Head of Media & Entertainment at Facebook, pointed to Dallas as an example of how complimentary content can enhance marketing; the television show spent six months promoting on the social network—via detailed backstory on the show's main characters—before it aired. The result? Dallas premiered to big ratings, likely because viewers were already invested in the show.
Above all, panelists were unanimous that when it comes to entertainment content, fan culture is a powerful force. "Once somebody is a fan of the show," Madati said, "they are a fan of the show."