Greening Up The Film Industry: Dutch Filmmakers Clean Up On Set
Environmentally, the Netherlands has a lot going for it. The country excels at climate change mitigation and an extensive recycling system keeps all but 10 percent of Holland's waste out of landfills. Yet until recently, the Dutch movie industry seemed oblivious to the green movement. Now, a group of innovative Dutch filmmakers have set out to shift their country's productions to a deeper shade of green.
"There's been a whole wave of environmental entrepreneurs in Holland over the last four or five years who really developed their business model by thinking in sustainable, green terms," said Chai Locher, a project leader at Strawberry Earth. "But the film industry didn't connect to that world," he said.
Like other sectors in the green movement, green filmmaking focuses on slashing waste, electricity use and greenhouse gas emissions. Locher knew that green filmmaking had already taken off in places like the U.S., New Zealand and the United Kingdom. Major Hollywood studios, for example—including Disney, Warner Bros., NBC Universal, Fox and Sony Pictures Entertainment—helped to kickstart the trend by backing a Green Production Guide and carbon footprint calculator for productions, while actors like Rachel McAdams and Leonardo DiCaprio promote environmental stewardship on their film sets and to the public.
Green filmmaking can be implemented in any number of ways. For example, instead of plowing through an endless stream of plastic cups and water bottles (one recently produced movie spent $17,000 on water bottles alone), simply organizing a few large water tanks and personalized reusable cups can tremendously reduce waste. Other cuts are equally effective for lowering a production's footprint. For starters, sets can substitute fossil fuel for solar or wind energy to power generators; replace gas-guzzling SUVs or private jets with electric cars or trains; opt for LED lights; compost organic waste; and seek catering from a local company. "As you get deeper and deeper into green filmmaking, all of a sudden—boom—your footprint is halved and you save money, too," said Katie Carpenter, co-chair of the Producers Guild of America Green Committee.
These innovations are becoming commonplace in Hollywood. So why couldn't the Netherlands, Locher wondered, implement these same strategies?
A competition, he thought, would be an effective way to spread the word amongst producers, directors and actors. In mid-2011, Locher, along with director and producer Wiendelt Hooijer and actress Thekla Reuten, announced the first call for entrees in the Green Filmmaking Competition to the 250 companies working in the Dutch film industry. "When we first started talking about it we got this skeptic reaction like, 'Look, don't bother us, we do it the way we've done it for the last 30 years and it works fine,'" Locher recalled. "We said, 'Ok, but what can be done, what can you do?' We challenged them to come up with solutions that translated to the Dutch situation."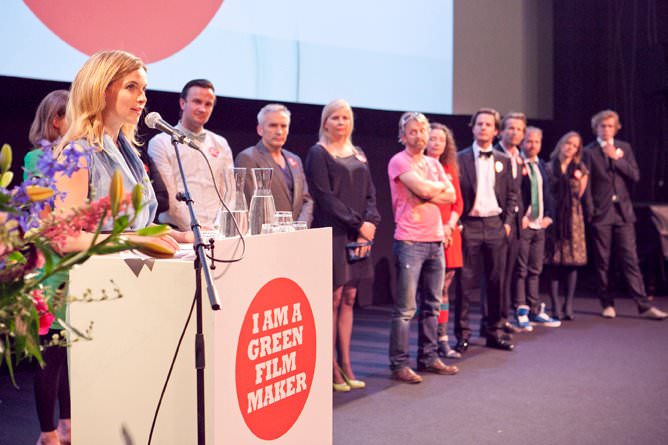 Locher and his co-organizers set up a first round of workshops, which covered everything from energy consumption-cutting strategies to tips for accessing local catering to shoe recycling. Locher was pleased; 40 producers showed up for the talks. After the introduction, he and his colleagues chose six finalists to enter the competition and gave them 10,000 euros each to produce a short film. The only rules: the films had to use the most sustainable methods possible, and they could not exceed 10 minutes.
Trent, a Dutch producer at NFI Productions in Amsterdam, was one of the participants. (Trent's short film created for the competition, "Being Alive," follows a middle-age high school biology teacher as he deals with the fact that his father no longer has the will to live following the death of his mother. "It deals with a very Dutch topic—euthanasia," he explained.) Though he's a vegetarian and thinks about the environment in his personal life, he admitted that he'd never considered green filmmaking before entering the contest.
Two months before shooting began, Trent sat down with the crew and explained the concept of green filmmaking. He challenged each of them to think of how they could implement green strategies in their own departments. Since the cast was small, bikes stood in for most of the transport, with bio-gas cars serving as a backup for longer trips. A small, local catering company provided the food, and Trent donated the leftovers to a homeless shelter and a farm. The 30-person cast and crew brought their own plates, cups and cutlery from home. "At the end of the day, we had filled a quarter of a garbage bag with waste," Trent said. "Normally, we have, like, six."
"Being Alive" won for best picture at the Green Filmmaking Competition, earning Trent a grand prize of 20,000 euros and the title of "green filmmaker of the year." Another film from the competition, "Balance," was selected as the Dutch entry for the Oscars in the category "Best Live Action Short Film" for 2013.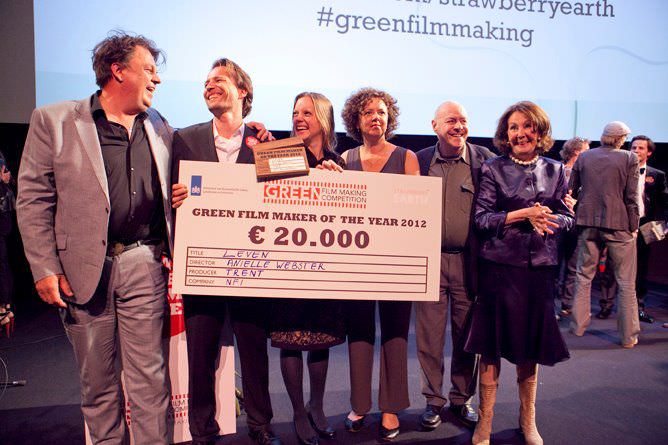 Shortly after "Being Alive" and the other entries premiered, Locher and his colleagues began receiving inquiries from other countries, including Mexico, Brazil and France, all interested in implementing their own version of the competition.
The competition achieved its purpose, igniting a new interest in green filmmaking in the Netherlands and beyond. The Shorts, a prestigious program in Holland that pairs up-and-coming filmmakers with Dutch production companies, approached the team and proposed a partnership for 2013, and a much larger budget—75,000 euros per film. "Now that we're working closely with the Shorts program, we know that the industry is supporting this," Locher said.
Of course, it's likely impossible to win over every producer, director and cast member to the green cause. Locher predicts that maybe 7 or 8 of the contestants for 2013 will be very enthusiastic, while 2 or 3 will come out of the process still insisting that the green approach is not for them. For others like Trent, however, the green persuasion will be long lasting. Trent is already applying some of the techniques he learned in the competition to a feature film he's currently working on.
"I think the most crucial point from the competition is this was the first time we've actually put a group of producers in a room and said 'Look, how can we do this more sustainably?'" Locher said. "That's what I'm most proud of, at least in this competition, that we got that far."
**Feature image of Trent at The Green Filmmaking Competition. Photo by Daria Mnych.