Exec Producer and Writer Mark Goffman of White Collar Talks Aaron Sorkin, President Obama, and Patrick Swayze's Final Show
Mark Goffman, a veteran TV writer and producer, has worked on a wide range of shows and films, including mega-hits like The West Wing and Law & Order: Special Victims Unit. He's currently a writer and executive producer on USA Network's White Collar (the new season starts on January 22 at 10/9 central), about a criminal who agrees to help the FBI catch his brothers-in-crime using his expertise as an art and securities thief.
Mark's journey into the world of TV and film might never have happened had a script he wrote not been discovered on a kitchen table, nor would he have produced his play were it not for an amazing real-life experience. From a miraculous deathbed recovery to meeting a certain young senator from Illinois in 2004, Mark's made his own luck and become a successful television writer and executive producer.
The Credits spoke to Mark about his journey from writing for a magazine in Belgium to what he learned from working with Aaron Sorkin, and what it was like to work with the late Patrick Swayze on his very last project.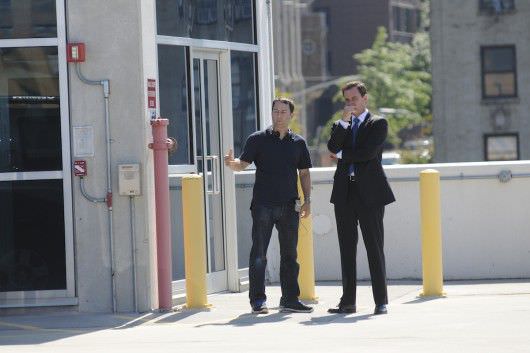 How did you break into the business?
In grad school, I wrote a short story about a 12-year old boy who becomes mayor of a small town in New England. I gave it to my brother, who was the only person reading my fiction at the time. He happened to be dating an assistant at a talent agency in New York. One night he left the story out on his kitchen table, and she read it.
She sent the story to an agent in LA, who sent it to a producer, and the next thing I know I got a call to fly out to LA. I met with this producer in Pacific Palisades. The script was called Short Term.
That led to my first produced credit, a comedy on ABC called Odd Man Out. I had gotten in to the Warner Bros. Writers Workshop. It's a fantastic program where each year they take a few young writers, and over the course of 10 weeks you get to write a script under their direction. Warner Bros. showcases these scripts to their executive producers. Ed Decter and John Strauss (producers on There's Something About Mary), the creators of Odd Man Out (a show for ABC about a teenage boy living with five women), liked my script and hired me for the new series.
Where have you taken your inspiration?
Me Too, a play that was produced at the Stella Adler Theater, was loosely based on my grandfather. He was a concert violinist and was a big influence in my life. When he was in his 80's, my grandmother, his wife of 50 years, passed away. As often happens, his health over the next year started to deteriorate. One day he had a heart attack, then a stroke, and he went into a coma. I got a call to come to the hospital to say my goodbyes.
I got there and the cellist in his quartet, a woman he had been playing music with for 25 years, was there and asked if she could have a few minutes alone with him in the ICU. She went in there and confessed she had loved him since the day she met him, and had never been able to say anything out of respect for my grandmother. But a year had passed, and she couldn't let him die—this was supposed to be their time.
Well, 30 seconds later my grandfather woke from his coma. She nursed him back to health and, six months later, they married. I'm convinced she brought him back, and that theme was really fun to explore on stage.
That's amazing. It just got a little dusty in our offices. Tell us how you got involved with The West Wing?
As soon as The West Wing premiered, I was blown away. I sat down and wrote a spec script. My agents sent it in to the show, and I was lucky that Aaron Sorkin read it and called me in for a meeting.
It's funny because I prepared for that meeting as if I were about to argue a case in the Supreme Court. I read every book I could find on the White House, presidential biographies, and every insightful column about every recent current event that involved White House decision-making. I didn't sleep much for a few weeks. In the meeting with Aaron, none of that came up. We talked about writing, our backgrounds and personal experiences. He was much more interested in getting to know me as a person.
What did you learn working on The West Wing?
I got to learn from two of the best writer/show runners around, Aaron Sorkin and John Wells [who took over in season five]. It was exhilarating. We would start every day with a good amount of vamping about things happening in our lives, and issues of the day. Aaron encouraged us to share our ideas, disagree and joke around. Very often these sessions led to inspirations for stories.
The way the writers room functioned was that we pitched story ideas to Aaron. If he liked them, we worked directly with him on that storyline. He would then work with a few other writers and Kevin Falls (co-executive producer) on the other storylines and compose the episode. It was like watching Aaron compose a symphony. He often spoke in musical terminology. Aaron focused on every scene and every character being special. There was no writing to get to another place. Where you were had to be worth showing, or you don't show it. And often there would be a moment out of nowhere that hit you in the gut.
Any specific memories from your West Wing years stand out?
I remember getting to meet then Senator Obama at a 2004 Inaugural Ball. We had a fairly lengthy conversation and I was convinced he would one day be President. I actually have a written prediction from 2005 and another one in 2006.
Law & Order: SVU is such a beloved show…there's a very solid formula for the narratives for the show, can you tell me how an episode of SVU gets written?
SVU was different from any show I had been in that there was no writer's room. That was an adjustment coming from shows where we beat out much of the story on a white board in a room. They had a highly gifted staff, many of whom had been for almost a decade — especially Neal Baer, a brilliant writer, doctor and show runner.
Neal asked me what kinds of stories I liked to write. I had just read an article about a woman who was sent to prison for marijuana use for five years due to the three strikes law, and was raped and murdered by a corrections officer. It seemed insane to me that more than half the prison guards were male in a population of woman that were mostly non-violent addicts and sex offenders. These are women highly susceptible to abuse.
I got to visit a women's prison and wrote up a 12-page outline. On SVU, the writers also produce the episodes and I remember shooting inside an actual prison for the scenes in the basement with Mariska Hargitay. There's a brutal sequence where she is trapped and fighting for her life against a guard who's trying to rape her. Her performance still kind of haunts me, it was so chilling.
You worked with Patrick Swayze on his last project, The Beast. Can you tell me a little about that experience?
My first day visiting the set in Chicago, I got there around ten at night. I knew Patrick had been diagnosed with stage four pancreatic cancer and was undergoing chemo on the weekends. So I expected him to be exhausted after shooting all day—I was exhausted and all I had done was sit on a plane the last few hours. But his trailer doors blew open and he greeted me with a big bear hug. We bonded over being fellow Texans and then he proceeded to spend the next several hours talking about his character, the episode, the series and life. He had so much energy and enthusiasm. Finally, at about two a.m., I told him if he wanted me to incorporate any of this into the script, I had to go back to the hotel to write it before we started shooting again. As I left, he said something to the effect of, well, I don't know how much longer I'm going to be around, so we have to make today count. He was fearless. In the entire run of the show, he never missed a day of production.
Finally, let's talk about White Collar. What do you guys hope to accomplish with the show?
What I love about White Collar is that the crimes themselves are often as beautiful as the works of art being stolen. So instead of dealing with bodies, we're investigating high-end museum thefts, heists, cons and forgeries. The series is a bit of a love letter to New York so we celebrate its elegance and style rather than its grit. In fact, a study recently found us one of the safest crime shows on television—the characters rely on their wits rather than weapons to get what they want.
Also unlike a lot of mysteries, we usually identify the crime and suspect by the end of the teaser. So the fun of the episode is how to catch them. Neal Caffrey (Matt Bomer) is a world-class forger and thief, who consults to White Collar FBI Special Agent Peter Burke (Tim DeKay), in exchange for being released from prison on an anklet. It's an unlikely pairing, and Matt and Tim are phenomenal. They can—and do—do anything. I've gotten to write about a heist at Yankee Stadium, boosting Lamborghinis, treasure hunts through Manhattan, stealing from NASA and breaking in and out of the most secure and iconic spots in New York.
But the best part is navigating the uneasy relationship between a con artist and an FBI agent. We really get to explore the boundaries between crime and law enforcement, and the gray areas where the two work together to serve a higher purpose. There's a very natural hidden agenda between the two, which helps drive the stories. And Matt and Tim play it brilliantly.
We also have perhaps some of the most talented artists, prop masters and set designers in the business working on this show.
White Collar is the first show I've gotten to Executive Produce. We just wrapped Season Four of White Collar and will start shooting Season Five in April. I can't wait to come back.
Related Articles:
-Check out our interview with Argo, Killing Them Softly, and the upcoming Promised Land actor Scoot McNairy.
-Creator of Freaks and Geeks, director of Bridesmaids, and overall mensch Paul Feig sat down for an interview with The Credits.
-Turning 2D inton 3D is no small task, especially when it's for Tim Burton's labor-of-love, the stellar stop-animation masterpiece Frankenweenie. Meet the team that pulled it off.
Featured image of Matt Bomer as Neal Caffrey from White Collar, season 4—Photo by: Giovanni Rufino/USA Network