Disney Gets Awesomely Technical on Latest Wonder Wreck-It Ralph
To satisfy today's sophisticated audiences, the technical demands of animation continue to grow exponentially. With the hit film Wreck-It Ralph in theaters now, The Credits takes a look at animation technology today at the studio that's been a leader in the field for over 85 years, Walt Disney Animation Studios.
From Steamboat Willie and Snow White and the Seven Dwarfs to The Lion King and Tangled, Disney pushes the technology of art with each new film.
The technology team led by Chief Technology Officer Andy Hendrickson was tackling the unique challenges of Wreck-It Ralph over two years before the film officially began production. It takes place in several video-game worlds, including an 8-bit game called Fix-It Felix Jr., a first-person-shooter game called Hero's Duty, and a candy-themed cart racing game called Sugar Rush. "We were faced with creating a pipeline and a tool set that could effectively create all the different looks of the worlds without having to be customized," says Hendrickson.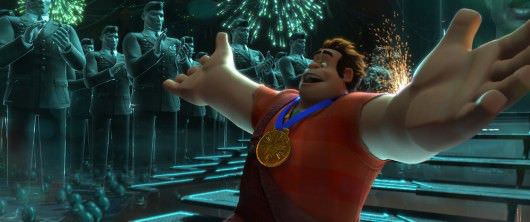 One part of the challenge was realistically conveying how light interacts with all of the various surfaces within each world. For both animators and technologists, research is the name of the game.
Existing theoretical models didn't sufficiently describe what the human eye observes, so the team searched for a better explanation. "We took data of hundreds of materials, shot with multiple angles between the camera and the light source, to build a new mathematical model," Hendrickson says. This meant they were able to use the same math for multiple surfaces. From there, the world-class Disney animators could paint down the variables on each object in a scene, to achieve a variety and volume of looks that would be extraordinarily difficult to do with computer graphics.
For the special challenge of Sugar Rush, where a large portion of the film takes place, they also created a Gummi Shader to accomplish the semi-sheer looks that candy can have.
Not only does Wreck-It Ralph take place in several worlds, but it features nearly 190 distinct characters. Some of these come from classic real-world video games, including Pac-Man, Q-Bert, and Sonic the Hedgehog, and they needed 3D realizations that stayed true to the original graphics. The demands of the characters in Wreck-It Ralph led to the creation of a scripting language that automatically creates the animation controls for the characters in a way that is both flexible and repeatable.
The task of building new technology for Walt Disney Animation's next films is already underway. "We have to stay ahead of the audience expectation," says Hendrickson. "Our technologists are busy building software and systems to support the next generation of animation."
Check out the incredible progression of a frame from storyboard to lighting: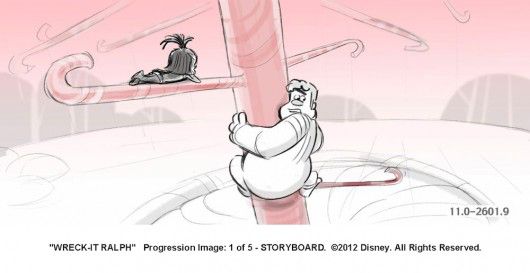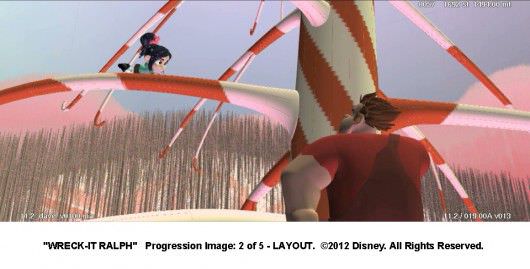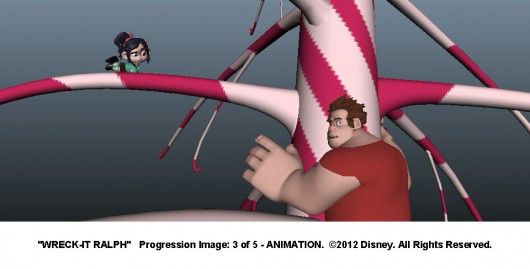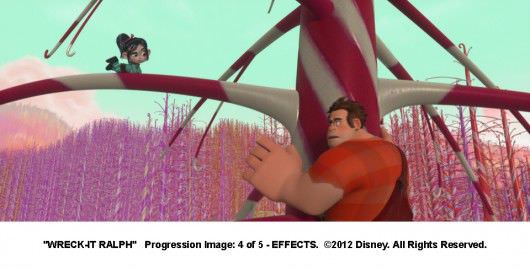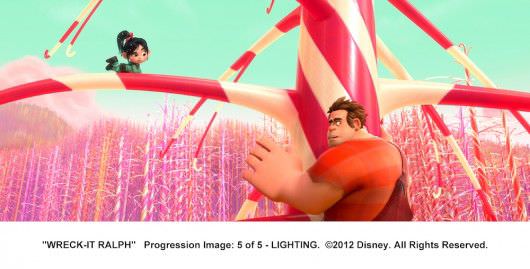 Featured image-GAME CENTRAL STATION — Ralph (voice of John C. Reilly) €"tired of being overshadowed by Fix-It Felix, Jr. (voice of Jack McBrayer), the good guy star of their game sets off on a quest to prove ha€™s got what it takes to be a hero. His arcade-game-hopping journey kicks off at Game Central Station, an industrial power strip that serves as the central hub connecting every game in the arcade ©2012 Disney. All Rights Reserved.