Daniel Craig, Javier Bardem, and Sam Mendes Make Skyfall an Instant Classic, While Taschen Releases the Epic "The James Bond Archives"
James Bond returns with a vengeance in Skyfall, and this superb 23rd entry in the legendary movie series is a smashingly successful tribute to the iconic British spy, who's celebrating his 50th year in movies. After rebooting the 007 franchise with Daniel Craig as the new Bond in Casino Royale (2006), not only one of the best films in the series but one of the best films of that year, the series dipped a bit with its follow-up, the compact Quantum of Solace (2008). But Daniel Craig's Bond is fully resurrected from that noble if slightly flawed endeavor, and both Bond and the filmmakers themselves give everything they have in this thrilling, utterly epic addition to the series.
Bond's character is enriched and deepened in ways I won't reveal here, and a new group of players enters the scene to support 007 in his fight for Queen and country. Most notable is the lovely assassin Eve (Naomie Harris), who partners with Bond in the film's stunning opening action sequence in Istanbul, with the pair on the hunt to retrieve a stolen MI6 hard drive that contains the names of all undercover NATO agents in worldwide terrorist cells. Ralph Fiennes plays Gareth Mallory, Chairman of the Intelligence and Security Committee, a seemingly modest, dusty bureaucrat with surprising hidden skills. The boyish Ben Whishaw is the new Q, offering Bond only a radio and a handgun as his modes of defense against what turns out to be a maniacal lunatic waging asymmetrical warfare on MI6 – the brilliant operator Raoul Silva, played with devilish, creepy charm by Javier Bardem. Having played a charmless (yet completely compelling) monster in the Coen brothers No Country For Old Men, Bardem once again nearly steals the picture with a new take on monstrosity. The performance is captivating and powerful, offering the stout and commanding Craig a perfect foil to rage against.
The soul of the picture, however, rests on the deepening relationship of Bond with his spymaster M, played with suitable gravitas by Dame Judi Dench. Their dynamic is partly like a long-term marriage, and partly like a mother-son relationship, beneath all the snipping remarks from the elder M and immature, rebellious behavior of Bond lies true respect, and maybe even love.
Filmed and edited in epic, sweeping style, this is the Lawrence of Arabia of Bond movies. Director Sam Mendes and Director of Photography Roger Deakins (a longtime collaborator of the aforementioned Coen Brothers), bring a grand and beautiful lustre to this brutal tale of revenge, loyalty, love, hate, and even transcendence. Superb location work in Istanbul, London, Shanghai, Macau, and the abandoned Hashima Island off the coast of Japan add exotic depth and texture to a movie that builds to a startling finale in the lush, cloudy hills of Scotland.
Now, let's get technical:
Dramatically enhancing this spy tale's epic style is the decision of the filmmakers to make this the first Bond picture to be released simultaneously in standard widescreen format at the 2:40:1 aspect ratio, and in the IMAX format with an aspect ratio of 4:3. Filmed digitally by Deakins on ARRI Alexa cameras, the movie was then up-converted to the larger IMAX format via the company's proprietary DMR (Digital Media Remastering) process. The results even astounded seasoned veteran Deakins.
"The images I have seen in the IMAX theater are simply superb," he told a recent audience over at Studio Daily. Greg Foster, the Chairman and President of IMAX Filmed Entertainment, added in a IMAX press release, "it is an honor and a privilege to be a part of this legendary franchise, whose iconic characters and electrifying action will only be amplified in the IMAX format. We are excited to rejoin forces with our friends at Sony Pictures Entertainment and MGM and so pleased to work with Michael G. Wilson, Barbara Broccoli, and Sam Mendes to bring their vision to IMAX and Bond fans around the world."
The IMAX version is opening a day early, on Thus Nov 8th, and viewers will be able to see 26% more screen information than in the general widescreen release. You can read and see more about it here at the IMAX Blog.
A BOOK FOR BOND FANATICS AND FILM LOVERS BOTH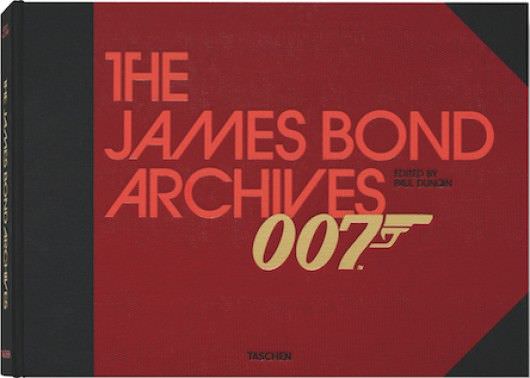 Diehard Bond fans will want to supplement their repeat viewings of Skyfall by treating themselves to the beautiful tome being released by Taschen this month, "The James Bond Archives."

At 600 pages, and with over 1,100 images, this beautifully bound XL-size volume is a treasure trove of James Bond history, with on-set behind the scenes images from the making of all 23 Bond movies, plus, the two "unofficial" movies, the 1967 spoof Casino Royale and 1983's Never Say Never Again starring Sean Connery. The book includes never before seen photos, storyboards, memos, documents, posters, set designs, and more, all accompanied by an oral history as recounted by over 150 cast and crew members covering the last 50 years of all things Bond. It's a book to be enjoyed leisurely, with your dry martini, shaken, not stirred, of course.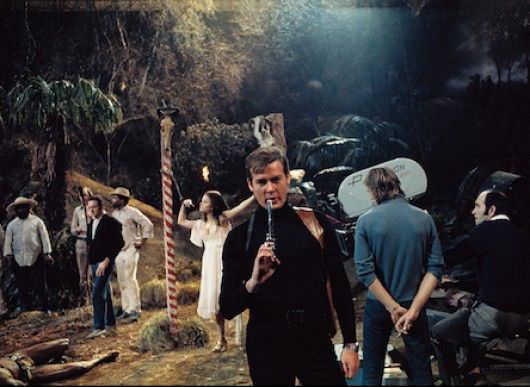 Featured Image of Daniel Craig, who stars as James Bond in Metro-Goldwyn-Mayer Pictures/Columbia Pictures/EON Productions SKYFALL. Photo courtesy Sony Pictures.