36 Chambers of Cult: RZA Nails It With Roth and Tarantino-Presents Film, The Man With The Iron Fists
There is, arguably, no other group more defining of the 1990s counter-culture hip-hop wave that took America by storm than the Wu-Tang Clan. (For admittedly paltry proof, I can personally attest to wearing at least 3 copies of 36 Chambers bare in my stickered Discman.) But unlike other hip hop groups that settled their sights on fast money, easy women, and gang lore, the Wu-Tang Clan had a much more dynamic infatuation: kung-fu. Rooted largely in the niche fan boy culture and cult-status communities of martial-arts worshipping fanatics, the Wu-Tang Clan rapped not about bling, but about traditional staples exclusive to the centuries old art-form of kung-fu martial arts—from the craft's unique weaponry, to embedding trade lingo in their compulsively repeatable verses. So it should come as little surprise—nay, perhaps only surprise that it hasn't happened sooner—that one of the group's forerunners, the inimitable RZA, is the mastermind behind Universal's newest cult kung fu-saturated picture, The Man With The Iron Fists.
From rapping about swords to nicknaming Staten Island, 'Shaolin,'—the lyrics, motifs, and themes of Wu-Tang (named after the 1983 cult martial arts epic Shaolin and Wu-Tang), at moments, resemble a pop culture intro into the cult underbelly of kung fu, one of the oldest niche circles out there. The result was magnificent: listening to a Wu-Tang album made you feel like you had your finger on the pulse of something vital; both timeless and utterly au currant, with just the right notes of pop culture obscurity and traditional mythology. Essentially, Wu-Tang had perfected 'cult' right down to a science. And one needn't look farther than their album covers for proof that cult influence thrummed at the core of the group's identity (see: Wu Tang Chamber Music and Legendary Weapons). Well, fan boys and fan girls everywhere will be contented to know that RZA hasn't skipped a well-timed beat in packing as much cult fetishism into his first directorial debut as possible.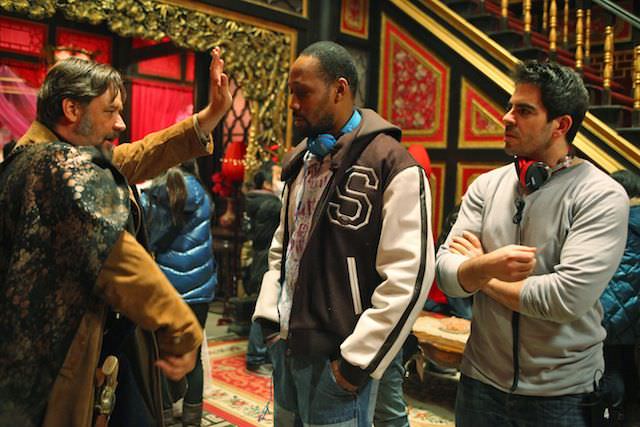 Just check out The Man With The Iron Fists premise: a hunt for gold treasure, a band of assassins, and a perfectly random British soldier battle it out in the rural countryside of China for nearly 2 hours of kung fu-soaked fighting scenes, lush cinematography, and plenty of throwback-pulp references.
And who better to co-write such a script than cult icon Eli Roth, who's responsible for Indiewood megahits like Hostel and Cabin Fever? He's a natural choice, as the themes that prevail in his work—from biting black humor, to medieval-torture depictions, and campy B-horror gore are pretty much in line with any track from the Clan. In fact, you could almost envision this script being written in some far-flung sealed-off torture chamber, alit with dancing torches, wafting frankincense, and martial arts swords tacked to the walls.
But the script is just the beginning. Next stop on the cult train: Quentin Tarantino, and stat. From Reservoir Dogs to Pulp Fiction to Planet Terror and Death Proof, Tarantino, in the realm of cult film, is uncontestably Leader. Just ask Roth, who continually cites him as sole influence and idol (Roth's first undergrad film at NYU was titled Restaurant Dogs, in tribute). For The Man With The Iron Fists, Tarantino not only apprenticed RZA in his first directing role, but ended up snagging a 'presenter' credit for the film.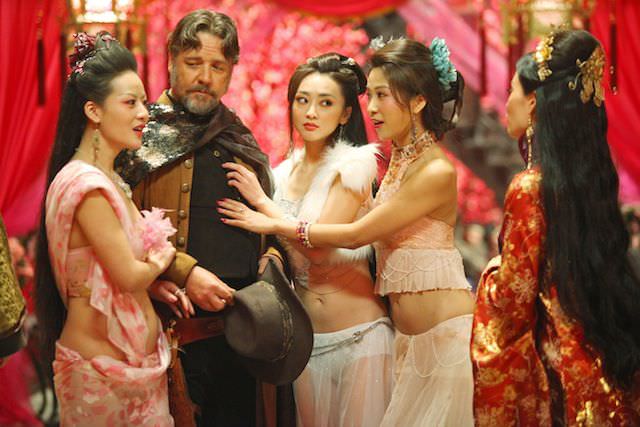 From there, The Man With the Iron Fists shot off like a well-oiled 1971 Chevy Nova SS 424 on a Texas back road. Cult heiress and Kill Bill-super villain Lucy Liu signed on, along with A-lister Russell Crowe, Jackie Brown's Pam Grier—and, really, does it get much more 'cult' than casting WWE superhero and martial arts aficionado David Bautista?
Of course, Wu-Tang fans won't be led astray by the film's score, which features RZA's old entourage, along with pulp-turned-pop icons The Black Keys (who saw their first mainstream hit on the B-tribute Black Snake Moan score), Kanye West (who at one time had one of the most sought-after underground mix tapes on the planet), emo-goth kings My Chemical Romance, and the ultimate underground legend; John Frusciante. You'll also find Chef, er, Isaac Hayes on the album, along with Talib Kweli, Chinese singer Sally Yeh, and Flatbush Zombies. And a little FYI for fan boys late to the trivia mill: RZA's producing experience should shine on this record, seeing as he helped aid Tarantino in scoring Kill Bill, which, in this writer's opinion, is one of the greatest film soundtracks that's ever been gifted to the world.
Yet, despite the film's infatuation with cult, The Man With The Iron Fists doesn't seem poised for straight-to-DVDdom; a sad happenstance for many iconic pulp films. Instead, The Man With The Iron Fists near-perfectly channels the necessary realm for cult mega-hit status, a la Pulp Fiction. That's because RZA was steadfast—and calculating—in sourcing the sundry parts of his first feature length film. From the movie's soundtrack, to it's starring cast, The Man With The Iron Fists, much like the aforementioned 36 Chambers album (which, despite it being a debut album, earned coveted platinum status) is a perfectly-swirled tour de force of A-list quality, juxtaposed with just the right amount of obscure pop culture fetishism. But of course, with Tarantino connected, fan boys and fan girls already know better than to expect anything less.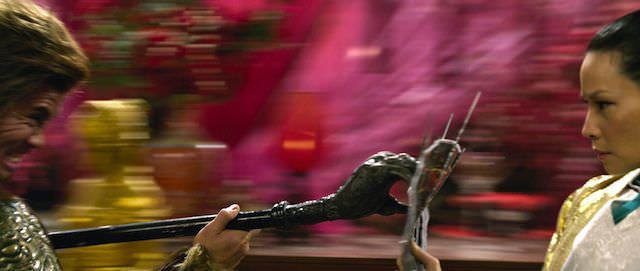 **All photos courtesy of Universal Pictures.