TV Productions Provide Boost To Local Economies
September 12, 2017
In today's Golden Age of television, there is no lack of entertainment. From fantasy thrillers and historical dramas to comedies and zombie sagas, television shows have the power to transport audiences to different times and places.
And yet, many popular films and television shows are brought to life in our own back yards – with the help of thousands of local individuals and businesses. This fall, take a look at where some newcomers and old favorites are filmed:
California: The Orville, This is Us, American Horror Story, American Crime Story, Mayans
Georgia: The Gifted, The Resident, Star, Kevin Probably Saves the World
Illinois: Empire, The Chi
New York: Seven Seconds, The Americans
Texas: Queen of the South
Virginia: Homeland
Hawaii: Inhumans
Louisiana: Cloak and Dagger
Utah: Andi Mack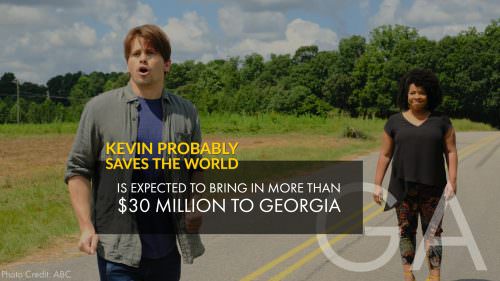 These productions provide an immediate boost to local economies, supporting jobs and bringing in thousands (often millions) in revenue. Taken together, they contribute to an industry that supports two million American jobs in all 50 states and pays out more than $100 billion in wages to cast members, writers, costume designers, make-up artists, stuntmen, set builders, special effects technicians, accountants, dry cleaners, and many more. Here's just a taste of how recent television productions have benefited states across the country:
Empire season 1 contributed more than $25 million to the Illinois economy
The Americans season 5 generated more than $60 million for New York's economy
Mayans hired nearly 400 locals for production in California
Kevin Probably Saves the World's first season is expected to bring in more than $30 million to Georgia
As you enjoy this season's TV shows, remember the many people who contributed to these great stories!