Tropfest Comes to DC
September 29, 2017
Last night, the MPAA, along with the Australian Embassy, hosted a celebration of the global short film festival phenomenon, Tropfest.
The evening included a screening of select Tropfest short films and remarks from MPAA Chairman Senator Chris Dodd and Deputy Head of Mission to the Embassy of Australia Ambassador Katrina Cooper on the relationship between the United States and Australian film industries.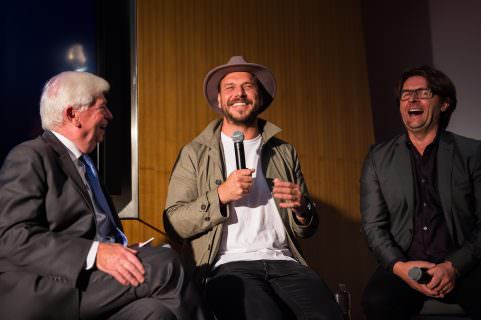 Chairman Dodd also moderated a panel discussion highlighting the success of Tropfest in promoting emerging filmmakers and bringing their stories to a global audience, as well as Australia's recent surge as a global production hub. Participants in the discussion included:
John Polson, award-winning actor, director, producer, and founder and director of Tropfest.
Patrick Hughes, director of high profile short films and commercials, as well as feature films including, Red Hill, The Expendables 3, and The Hitman's Bodyguard.
"There is no denying the wealth of talent that Australia produces year after year," said Dodd. "It has a lot to do with supporting and nurturing young filmmakers as they start out on their careers. Tropfest, the world's largest short film festival, is in large part responsible for stimulating that nurturing environment."
"Tropfest is not just about the directors involved and the actors – it's also the people behind the cameras with those specific skills," added Hughes. "Tropfest certainly opens up so many avenues for them."
These creators in turn benefit global audiences through their entertaining and impactful films.
"I've seen films come through Tropfest that literally cost $20, maybe they're two or three minutes long, and they literally did change the way I thought about the planet – whether it's about poverty…or other things. And I've seen Tropfest audiences change on a dime as well by a powerful story…I think that is a huge part of it," added Polson.
Tropfest is one of the many ways the MPAA not only supports the next generation of filmmakers, but advances great storytelling that reflects the diverse viewpoints and experiences of all creators and audiences.
Featured Image: MPAA Chairman Senator Chris Dodd, John Polson, Deputy Head of Mission to the Embassy of Australia Ambassador Katrina Cooper, Patrick Hughes, and MPA President and Managing Director of the Asia-Pacific Region Mike Ellis.
Photo Credit: Joy Asico.