Study Shows Continued Growth in Audience Choices for Watching Movies and TV Shows Online
March 18, 2016
A new study from SNL Kagan examined the online landscape for viewing movies and TV shows and found that audiences now have more online choices than in previous years, based on a sample that included 857 of the most popular and critically acclaimed films and 933 top television series from 2011 to 2015 on a total of 47 online services.
The study found that 98% of premium films and 94% of premium TV series were digitally available in the United States on at least one of the combined 47 major online video-on-demand (VOD) distributors and TV Everywhere (TVE) on-demand services that were reviewed.
VOD distributors provide access through online platforms in addition to TV set top boxes and includes electronic sell-through, online rental, and subscription VOD. Some examples are Hulu, Amazon Prime, HBO Now, Apple iTunes, Showtime Now, and Crackle. TVE on-demand services provide online access via an authenticated paid subscription, such as HBO GO, XFINITY, and PlayStation Vue – just to name a few.
Through a more narrow scope, the report also found that 97% of films and 93% of TV shows were available on at least one of the online VOD services reviewed. Following the same model, the availability of movies and TV shows are up 3% and 8% since 2013, respectively.
These figures help illustrate today's vibrant and competitive digital marketplace for viewing content, which is rapidly evolving to meet consumer demand and providing more options than ever before. This is especially clear as the study found that 95% of premium films and 84% of premium TV series were digitally available on at least five of the online services reviewed.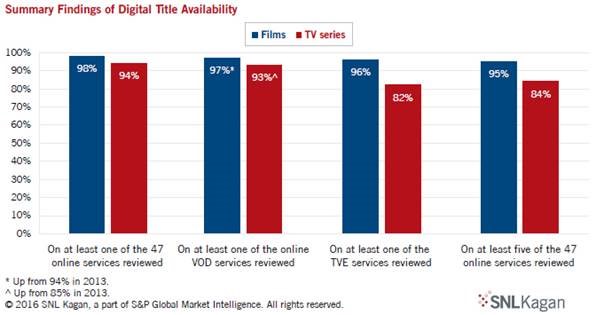 "Content creators and providers have truly embraced digital delivery. According to our research, premier content is highly accessible online for consumers, which is paramount in driving the growth of digital home video. This space is not dominated by one player, but rather, the majority of the content is available from at least five sources," noted Wade Holden, research analyst with S&P Global Market Intelligence. "This competitive landscape has led to an explosion of choices for consumers both in terms of the types of content available and variety of pricing structures."
While there are now over 115 legitimate online services for watching content in the U.S., one of the easiest ways to find digital access to a film and TV show is through WhereToWatch.com, MPAA's one-stop shop search tool. In fact, 98% of the movies and 81% of the TV shows examined in the SNL Kagan report are accessible on multiple services via WhereToWatch.
SNL Kagan is a group within S&P Global Market Intelligence and the study was commissioned by the MPAA. For more information, take a look at the full report: "U.S. Availability of Film and TV Titles in the Digital Age."